10
Jun
(Beyond Pesticides, June 9, 2014) Triclosan, the antibacterial pesticide found in numerous hand soaps, toothpastes, and other cosmetics, has had a ubiquitous presence on the consumer market for over 30 years. But due to public pressure led by Beyond Pesticides, our allies, and concerned supporters, many manufacturers have been washing their hands of triclosan.
Now after years of inaction, the U.S. Food and Drug Administration (FDA) is going to require data to support triclosan's claims of being "safe and effective." The time is now to let the agency know that triclosan is NOT safe or effective for human and environmental health.
Raise your voice with a unique public comment to FDA!
Use the sample letter below for guidance.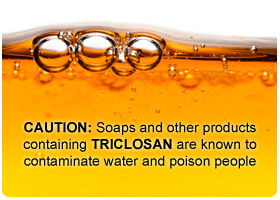 Rising Evidence Against Safety

Beyond Pesticides has generated extensive documentation  of the potential human and environmental health effects of triclosan and its cousin triclocarban. Studies show that triclosan can interfere with thyroid and estrogen hormones, and may promote the progression of cancer cells. This is alarming given that the CDC has found that 75% of the U.S. population contain triclosan in their bodies, even in breast milk, and at levels that are rising. Triclosan is an endocrine disruptor and has been shown to affect male and female reproductive hormones and possibly fetal development. It is also shown to  alter thyroid function. A recent study also linked triclosan to the growth of breast cancer cells.
Additionally, triclosan contaminates waterways, aquatic wildlife, and possibly even drinking water. In a study published last month evaluating sewage sludge (biosolids) contaminants, triclosan was found at the highest concentrations in deeper soils, reaching 156 parts per billion in 7 to 14 inches of soil. A study published in August 2013 found that triclosan altered the bacterial composition of stream communities, resulting in a "dramatic die-off of algae."
No Evidence of Efficacy

Triclosan is no more effective than regular soap and water in controlling germs and bacteria. In fact, an FDA Advisory Committee,   and the American Medical Association both find that there is no evidence that triclosan is effective for its intended use. Instead, triclosan is linked to increasing bacterial resistance and cross-resistance to crucial antibiotic medications – possibly threatening public health. A study published in April found that individuals exposed to triclosan were more likely to carry staph bacteria. Rather than eliminate dangerous bacteria in and on the body, the study found that triclosan promotes the binding of staph to human proteins making them "stickier." Triclosan also allows staph to better attach to other surfaces such as glass and plastic.
States and Corporations Phasing the Chemical Out
Last month, the state of Minnesota took critical steps to protect their residents from exposure to triclosan by banning the chemical in personal care and cleaning products. This follows previous actions by Governor Mark Dayton in 2013, when the Minnesota Pollution Control Agency announced that state agencies were ordered by the Governor to stop buying products that contain triclosan. These policy changes in Minnesota came after a 2013 study  showed triclosan toxicants  accumulating in the bottom of lakes and rivers in Minnesota. Scientists tested  eight sediment samples from freshwater lakes across Minnesota, including Lake Superior and found triclosan in all of the sediment tested.
In addition to state action, multinational corporations such as Johnson & Johnson,  Procter & Gamble  and  Colgate-Palmolive  began reformulating to remove triclosan from their products for several years now. Avon joined these companies earlier in 2014, announcing    it will begin phasing the chemical out of "the few" products in its line that include it.  Avon cites customer concern as its reason for reformulating.
Take Action!
Given the mounting scientific evidence, as well as state and corporate action against triclosan use, FDA must not continue to lag. FDA is accepting public comments on triclosan until June 16, 2014.

Click here to tell FDA that triclosan is not safe or effective and it should be removed from consumer products.
---
For over 30 years, FDA has allowed the use of triclosan to go unchecked. During that time triclosan has become a pervasive presence not only on store shelves, but in our bodies and waterways as well.
There is serious concern based on a substantial body of scientific studies, reports and other sources, that the pervasive and diverse uses of triclosan pose an actual and imminent threat to human health and the environment. FDA must find that triclosan is not safe and effective for intended use based on:
Ӣ The presence of triclosan in the human body (as evidenced by scientific studies of its activity in blood, urine and breast milk) imposes an immense and dangerous body burden. This presence raises concerns about a multitude of threats to humans.
Ӣ Endocrine disruption as a result of triclosan bioaccumulation in the body. This effect, in turn, poses serious threats to thyroid, estrogen, and other hormonal systems, and it can also influence the development of other endpoints of concern, including developmental and carcinogenic effects.
Ӣ Bacterial resistance to antibiotic medications and antibacterial cleansers is just one category of threats emanating from the growing body burden of triclosan. Such resistance renders humans (especially vulnerable subpopulations) wide open to bacteria-induced illnesses and possibly, death.
Ӣ Triclosan is not effective for many of its major intended uses. Therefore, consumers and other users of triclosan products suffer, at a minimum, economic detriment from having purchased a product that fails to perform as indicated, and, at maximum, potential danger to their health and safety.
Ӣ Once in the larger environment, triclosan poses numerous additional dangers including contaminating waterways and aquatic wildlife.

I urge the agency to find that triclosan is not safe or effective for its intended use, and use its statutory authority to ban triclosan from consumer products.

Sincerely,
Xxxxx
---
For additional information on the human health and environmental effects of triclosan see Beyond Pesticides' Antibacterials program page.
All unattributed positions and opinions in this piece are those of Beyond Pesticides.