08
Jul
(Beyond Pesticides, July 8, 2014) [Eds. Note: Because of a procedural glitch in the ordinance, the Ogunquit pesticide ban ordinance was scheduled to be placed on the ballot again on November 4, 2014. The ordinance passed again, this time overwhelmingly.] In another key victory  for public health and the environment, last month residents in the small ocean-side community of Ogunquit, Maine (pop:~1,400) voted to become the first town in the state to prohibit the use of pesticides on public and private property for turf, landscape, and outdoor pest management activities. Ogunquit's ordinance makes the town the second local jurisdiction in the United States in the last year  to ban pesticides on both public and private property, and the first to be passed by popular vote, 206 to 172. The ordinance, modeled in large part on the first private/public pesticide ban in Takoma Park, Maryland last year, was passed after a three-year education and awareness campaign, initiated by the town's Conservation Commission. The law expands on  existing pesticide use restrictions on  town-owned property. The passage of this ordinance positions Ogunquit as a leader in the state for environmental sustainability and the protection of public health, and supports the Conservation Commission's goals to ensure that the town's popular beaches clean and healthy for all those that visit. The law's stated purpose is to "conserve and protect the town's ground water, estuarine, marine and other natural resources, while ensuring preservation of the land."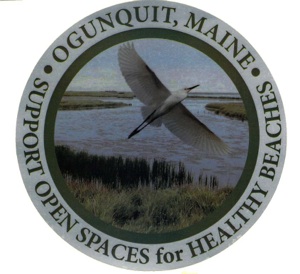 As Ogunquit, ME and Takoma Park, MD show, there is a growing demand from local communities to regulate pesticides in a way that prevents the pollution of local waters, and stops putting residents at risk of pesticide-induced diseases. Of the 30 most commonly used lawn pesticides, 17 are possible and/or known carcinogens,   18 have the potential to disrupt the endocrine (hormonal) system, 19 are linked to reproductive effects and sexual dysfunction, 11 have been linked to birth defects, 14 are neurotoxic, 24 can cause kidney or liver damage, and 25 are sensitizers and/or irritants. Children are especially sensitive to pesticide exposure as they take in more pesticides relative to their body weight than adults and have developing organ systems that are more vulnerable and less able to detoxify toxic chemicals. Perhaps it is by providence that the north end of Ogunquit abuts the Rachel Carson National Wildlife Refuge, named after the world-renowned marine biologist who was inspired by Maine's pristine coasts in her book Edge of the Sea (1955) and encouraged the modern environmental movement with the publication of Silent Spring (1962), which details the damaging effects of chemical pesticide use on migratory birds and the environment.
Ogunquit's ordinance makes tremendous strides in the protection of  the unique salt marsh ecosystems and beaches surrounding the town, home to numerous migratory birds, fish, and mammals, and vernal pools which provide habitat for distinctive amphibians, reptiles and other sea life. Conservation Commission Chairman Mike Horn recounts that the ordinance was spurred by a complaint to the town council from a local resident who was experiencing constant pesticide exposure as a result of drift after lawn care company applications. While localities with state pesticide preemption law can put a stop to  pesticide use on local-owned land, only private property bans can prevent these types of incidents from adversely affecting human health. The state of Maine is one of seven states that does not preempt (or create any impediment to)  the authority of local political subdivisions to restrict pesticides throughout their jurisdictions more stringently than the state rules.
Other localities in Maine are interested in following Ogunquit's lead. "It's growing like Topsy," says Chairman Horn. "We actually expected a lot more negativity because no one else had done this in the state." Similar statements were made about Takoma Park's law; Councilwoman Kay Daniels-Cohen urged activists, "You can take this to the next level. You can take it to the county, and keep going all the way through the state of Maryland"¦I think there are more people out there than you realize who are in your court."
Despite the ordinance's passage by a majority of the town's voters, a procedural glitch has created a slight setback. Because the town did not contact the Maine Board of Pesticides Control seven days prior to the vote, the ordinance is "out in limbo," according Chairman Horn. Although the state has no intention to negate a town's rules and regulations, Ogunquit plans to come up with a way forward later this week to ensure that the ordinance can take effective, as intended by the voters,  on January 1, 2015.
The pro-pesticide lobby  took the town's actions very seriously in the run-up to the vote. Last year, a similar ordinance narrowly failed by 6 votes. Prior to the election, a pesticide industry group called RISE (Responsible Industry for a Sound Environment) launched, by many accounts, an illegitimate and unlawful campaign to distribute flyers to homes of Ogunquit residents. RISE and other pesticide and chemical industry trade groups consistently lobby against localities rights to enact regulations that protect the health of their residents and unique local ecosystems. Groups such as RISE and the American Legislative Exchange Council (ALEC) fueled efforts in the 90's to enact regressive state pesticide preemption laws that prevent localities from enacting any ordinance that regulates pesticides more strictly than state law. The role of local government in imposing pesticide use requirements is critically important to the protection of public health and the environment. This right was affirmed by the U.S. Supreme Court in Wisconsin Public Intervenor, Town of Casey v. Mortier, June 21, 1991. In this case, the Court affirmed the rights of U.S. cities and towns to regulate pesticides that are not explicitly curtailed by state legislatures. The Court found that in conferring on states the authority to "regulate the sale and use of pesticides so long as the state regulation does not permit a sale or use prohibited by the Act [USC 136v(a)]," the Federal Insecticide, Fungicide and Rodenticide Act (FIFRA) "leaves the allocation of regulatory authority to the "˜absolute discretion' of the states themselves, including the option of leaving local regulation of pesticides in the hands of local authorities." After the Supreme Court ruling, the chemical industry, both manufacturer and service provider trade groups, went to state legislatures across the country and lobbied the states to take away or restrict the authority of local political subdivisions to restrict pesticide use on private property. Maine and Maryland, where the Takoma Park Safe Grow Act was passed, are two of the seven states that do not prohibit the adoption of local pesticide legislation.  In  protecting the rights of  local political subdivisions within Maine to exercise their authority to impose pesticide use restrictions, the state is enabling the protection of the health and welfare of Maine residents.
Take action. Whether your state has preemption or not, you can still work to get toxics out of your community. It takes a lot of work and commitment, but it can be done with some perseverance. It's important to find support —friends, neighbors, and other people who share your concerns about environmental health. It's also essential to reach out to your local politicians and government. Beyond Pesticides has resources and factsheets available to help you organize in your community. You can also call (202-543-5450) or email (info@beyondpesticides.org) for one-on-one consultation about the strategies you can take to have an impact.