09
Jul
(Beyond Pesticides, July 9, 2014) Beyond Pesticides is pleased to announce the winners of our first National Pollinator Photo Contest! The much anticipated three grand prize winners to be featured in the Fall issue of Pesticides and You are (pictured left to right below): Delbert Contival, in Kauai HI, with his photo "Bee loves Lotus Flower;" Darla Young, in Sheridan, AR with her photo: "Sitting pretty on a cone flower;" and Pierre Mineau, in Spring Island Canada, with his photo, "Bumble bees at St. John's wort flowers in my backyard."

Winners were chosen by guest judge Deborah Jones, art director for National Geographic Society. Because there were so many excellent shots, Ms. Jones remarked that it took much longer than she anticipated to judge the contest. "During my career at National Geographic as an art director, I have been privileged to work with the best photographs in the world. I am a lifetime gardener and photographer, and I am happy to be a judge for such an important organization, and to help promote the beauty and importance of pollinators," said Ms. Jones, "This was quite a challenge, because there were so many outstanding photographs. I thought in terms of choosing an image that illustrates a story on pollinators. I looked for composition, focus on the subject, color and technical quality."
In addition to having their photos printed in our newsletter, these three winners will receive a Beyond Pesticides 100% Organic Tote Bag and Honey Bee Pesticide Free Zone Sign!
Because it was so difficult to narrow down the selection of choices, in addition to the three grand prize winners, Ms. Jones also has a list of Runner Ups:
Runner Ups: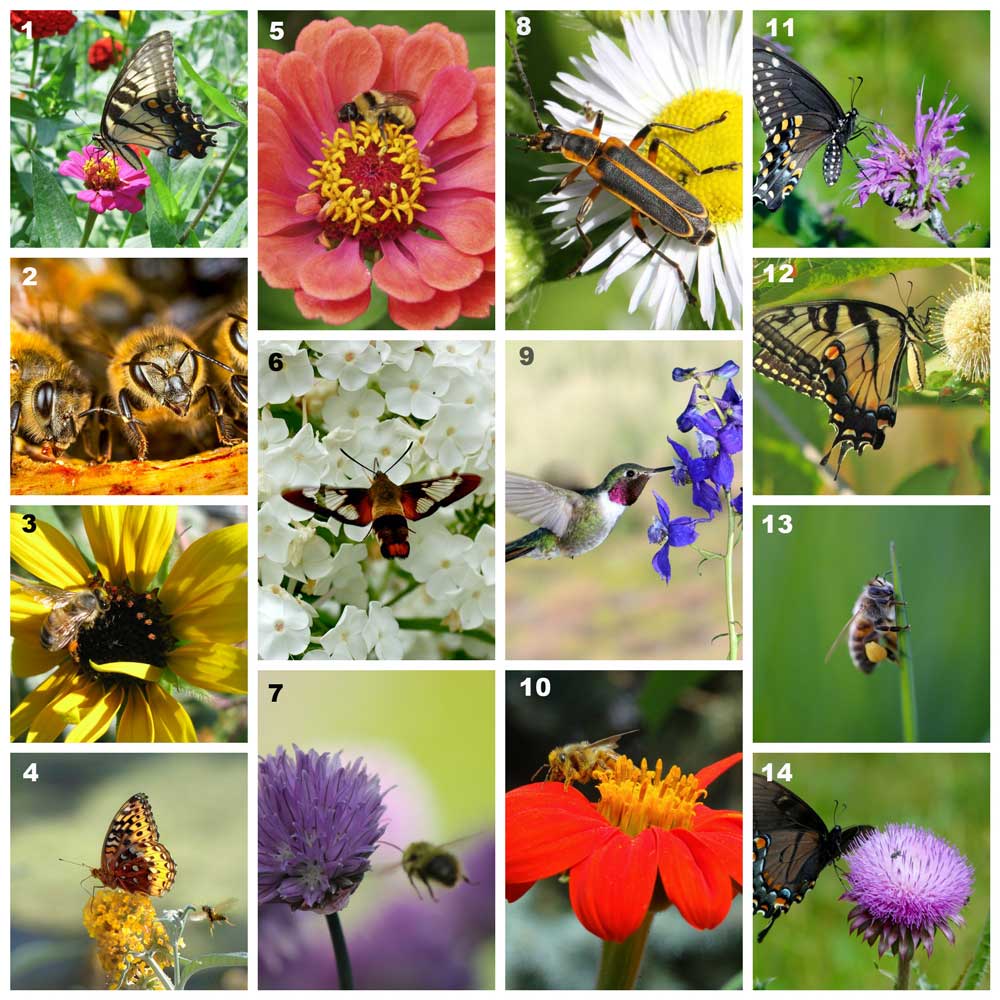 Angela Coday, Nashville, TN: "Swallowtail butterfly in our garden"
Devin Manky, North Vancouver, BC Canada: "Three Honey Bees work with propolis at the top of a hive on Grouse Mountain, BC"
Kim Clymer-Kelley, Sierra Madre, CA: "Bee is for Bishop"
Polly Pitsker, Gardnerbille, NV: "Butterfly feasting on a blossom in my garden, Gardnerville NV"
Art Jacobson, Denver, CO: "A bee's favorite place to bee!"
Diane St John, Durham, CT: "Sphinx moth photo on phlox"
Gina Howe, Kent, WA: "Bees and chives in Kent WA"
Brian Stewart, Middletown, CT: "Soldier beetle, Chauliognathus marinates, on fleabane in my urban/suburban backyard lawn. A pest-eating pollinator!"
David Inouye, Crested Butte: "A male Broad-tailed Hummingbird (Selasphorus platycercus) visiting a larkspur flower (Delphinium nuttallianum) in Colorado"
Susan Jergens, Elkhorn, WI: "These were taken at a bank in Elkhorn"
Ed Szymanski, Franklin, MA: "Black swallowtail on bee balm, backyard garden"
Nancy Mcilroy, Irving, TX: "Eastern Tiger Swallowtail on Buttonbush — beauty in the wild"
Sierra Castillo, Santa Rosa, CA: "A safe return to Pink Palace Honeybee retreat, Santa Rosa CA"
Susan Quals, Algood, TN: "Black swallowtail butterfly on a thistle flower"
Beyond Pesticides would like to congratulate and thank everyone for submitting their photos, and making this first annual pollinator photo contest a wild success! To see even more beautiful pollinator photos, and Beyond Pesticides staff picks (just because there are so many beautiful photographs), see our Facebook Photo Album.
BEE Protective
With one in three bites of food reliant on bees and other insects for pollination, the decline of honey bees  and other pollinators due to pesticides, and other man-made causes demands immediate action. As bees suffer serious declines in their populations, we urge people and communities to plant habitat that supports pollinator populations, and utilize our resources, including our newly launched pollinator-friendly organic seeds and plants directory as well as our BEE Protective Habitat Guide.
Visit Beyond Pesticides' BEE Protective webpage to learn about more about pollinator protection and see what you can do to help.