25
Sep
(Beyond Pesticides, September 25, 2014) Last week, the Borough of Skagway, Alaska passed a comprehensive vegetative maintenance pesticide ordinance, joining a growing number of localities across the country in enacting restrictions that protect human health, wildlife, and the wider environment from the hazards associated with unnecessary pesticide use. Among a number of notable accomplishments, Skagway's Ordinance 14-15 makes it the first municipality in Alaska to ban the use of bee-toxic neonicotinoids by government employees. However the new law goes further, prohibiting the sale and use of neonicotinoid-containing products on all public and private lands in the Borough of Skagway. The state of Alaska is one of seven states that affirms the right of a local jurisdiction  to restrict pesticide use throughout its jurisdiction by not adopting law that preempts localities.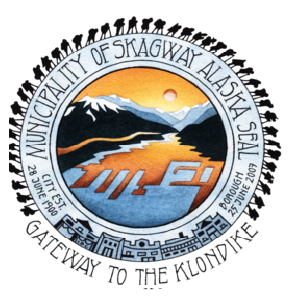 Skagway, Alaska's Ordinance 14-15 also:
Prohibits the sale and use of persistent herbicides (persistent according to the US Composting Council) on public and private property.
Prohibits the use of restricted herbicides within 300 feet of any waterway.
Creates a list of restricted pesticides (based in part upon the list of pesticides restricted in Takoma Park, Maryland).
Although the ordinance establishes a waiver system by which restricted pesticides may be used, there are stringent requirements to receive a waiver, and neonicotinoids and persistent pesticides are never eligible for a waiver that would allow use.
Prohibits the use of restricted pesticides by municipal agents and employees except in extreme circumstances in accordance with the waiver process.
Contains an education component which encourages private landowners to practice organic pest management.

The ordinance does allow private landowners to apply up to 2 gallons of restricted or 90 lbs of weed and feed on their property;
However, the law stipulates that homeowners should consider all least-toxic options before pesticide use on private property is allowed.

Establishes civil fines for noncompliance of $1,000 for each day in violation.
The Borough of Skagway is a major tourist destination 80 miles from the capital of Alaska, Juneau, with a year-round residency of 900 that accommodates over 900,000 visitors in the summer months. Contrary to the notion of Alaska as a bitter cold destination, Skagway is in USDA hardiness zone of 6a, a mild climate with temperature ranges similar to Columbus, Ohio. In 1988, the Governor of Alaska declared Skagway the "Garden City of Alaska." Local activist Kim Burnham, who helped organize and promote the passage of the Skagway ordinance, notes that "there are many private gardens, fruit trees and even a large show garden" in the borough.
Skagway's path towards these strong protections from pesticides is intermixed with state-level politics and the powerful railroad industry, which operates throughout Alaska and Canada's Yukon Territory. In 2013, the Alaska Department of Transportation (ADOT) implemented a new rule that eliminated the opportunity for the public to comment on the proposed use of pesticides on state rights-of-way, essentially allowing spraying to take place without any public knowledge or input. The move met staunch opposition from elected leaders such as state Representative Les Gara (D-Anchorage) and environmental groups like Alaska Community Action on Toxics. In response, Skagway drafted a pesticide ordinance, yet did not yet propose it after determining that the borough did not have jurisdiction to regulate pesticide use on Alaska state-owned lands. However, the municipality drafted a letter to ADOT requesting that the agency refrain from using herbicides in the borough. So far, ADOT has honored that request, though other areas in SE Alaska have not been as lucky.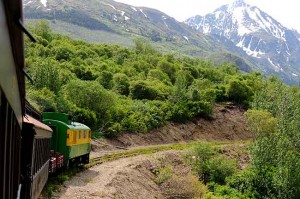 The issue was reignited when, earlier this year, the White Pass and Yukon Route Railroad announced its intent to spray glyphosate-based herbicides along over 65 miles of railroad rights-of-way on both sides of the border. Residents in both Alaska and Canada's Yukon Territory were outraged, citing concerns over water quality, wildlife, and human health. Kim Burnham wrote a letter to the Skagway's local leaders, who then wrote to the railroad. The Yukon Conservation Society (YCS) also spoke out strongly against the planned spraying. "What about salmon? We know the chinook run's a disaster this year," said Lewis Rifkind of YCS to Yukon News. "We're not saying that herbicides could wipe out the chinook, but you know, you get these "˜death by a thousand cuts' scenarios. Why take the risk?"
The railroad did hear community concerns, and decided to "suspend indefinitely" its herbicide program. Although the railroad asserted its right to proceed with the spraying, it also noted in its letter to stakeholders that, "Through the interaction within our communities we have been made aware of alternative, non-herbicide related methods that may also meet our goals, in a way more appreciated by our neighbors."
Although some were satisfied by the railroad's response, Ms. Burnham and numerous other Skagway residents urged the municipality's assembly to resurrect the previously drafted pesticide ordinance to address the potential for any future spraying. Ms. Burnham notes that the lack of preemption language in Alaska's pesticide laws helped create the impetus to move forward with the ordinance.
Community input led to a number of revisions, available to view through Skagway's government website, but ultimately arrived at an ordinance which broadened the scope of pesticide restrictions in light of scientific evidence of adverse impacts to humans and the wider environment (see the "Whereas" declarations in Ordinance 14-15).
"The neonicotinoid ban was added mainly due to good timing," Ms. Burnham says. "During the early stages of the ordinance (Aug 2013), there was a surge of media reporting evidence that neonics were a main cause for pollinator declines. A short time after bringing the ordinance forward, there was more evidence pointing to these same pesticides being  responsible for bird declines, and I also became aware of evidence that insects, especially butterflies, may be migrating northward in  response to climate change.  These additional findings may make the neonicotinoid part of the ordinance that much more pertinent to our area." As a result, Ms. Burnham says that the assembly integrated the BEE Protective Community Pollinator Resolution into its ordinance.
As for the outright ban on persistent pesticides, the municipality is planning on creating a composting program in the future. Persistent herbicides like clopyralid and aminiopyralid have been linked to contamination and damage in home gardens, farmer's fields, as well as municipal compost piles. Aminiopyralid has been banned for sale and distribution in New York, and is restricted from use on pastures in six other New England states.
Skagway's story is another example of the power residents can harness when they engage with local leaders and the broader community. The municipality's actions follow a successful vote earlier this year in another vacation destination, Ogunquit, Maine. In both cases, pesticide protections were crafted to responds to the community's  unique local needs. In 43 states, pesticide preemption effectively prevents localities from enacting legislation that protects a locality's distinct environment from chemical hazards. And even in states where no explicit preemption language is present, industry has challenged the rights of localities to respond to their own unique needs, as has occurred in Kauai, Hawaii.
We strongly encourage residents pushing for pesticide protections not to be discouraged by the current make-up of state laws, and push their local and state leaders to fight against these regressive policies. Where local private property bans are not currently possible under state law, work towards restrictions on pesticide use on public property. Whether a small municipality or a large city, education and action on unnecessary pesticide use makes an enormous difference; for our own drinking water, for the most sensitive among us, children, and the elderly, for our pollinators, and for the unique environment and the flora and fauna where you live.
For additional tools to support your efforts to adopt  pesticide  policy in your community, see Beyond Pesticides' Tools for Change, and visit the BEE Protective webpage, or give us a call at 202-543-5450.
All unattributed positions and opinions in this piece are those of Beyond Pesticides.
Source and Photo Credit: Skagway.org, Yukon News
Update: While the original article described the ordinance as restrictions on "cosmetic" pesticides, this was changed to "vegetative maintenance" to more accurately reflect the intent of the ordinance.