15
Sep
(Beyond Pesticides, September 15, 2014) The Town of North Hempstead on Long Island, New York has passed a new law requiring warning labels on the utility poles that are treated with the hazardous wood preservative, pentachlorophenol  (PCP). At the town board meeting on September 9, a vote of 7-0 mandated the labeling with the following warning: "This pole contains a hazardous chemical. Avoid prolonged direct contact with this pole. Wash hands or other exposed areas thoroughly if contact is made."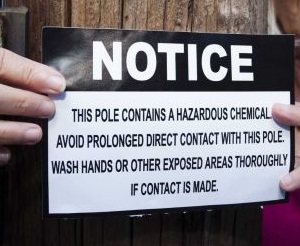 Since the Long Island Power Authority (LIPA), operated by Public Service Enterprise Group (PSEG), installed thousands of new hurricane-resistant utility poles that are thicker and taller, it shed  more light on the community hazards  associated with use of pentachlorophenol. Of the 324,000 utility poles on Long Island, about 95,000 have been treated with PCP. Even though there is a prohibition  of PCP for residential uses within the U.S., it still can be used on utility poles, railroad ties and other industrial uses under  federal law. The U.S. Environmental Protection Agency (EPA) defines pentachlorophenol as "extremely toxic" to humans even from short-term exposure and is listed as a "probable human carcinogen." The inhalation or ingestion can lead to cancer, Hodgkin's disease, soft tissue sarcoma and acute leukemia. Penta is neurotoxic and  contains a mixture of volatile  polycyclic aromatic hydrocarbons (PAHs), and is contaminated with dioxin, furans, and hexochlorobenzene. Beyond Pesticides has long called for the banning of PCP, having unsuccessfully sued the EPA to ban utility pole use. Penta and its contaminants are considered the United Nations Environmental Program to  be persistent organic pollutants (POPs). These contaminants are restricted under the Stockholm Convention on Persistent Organic  Pollutants signed by the United States in 2001 and banned by numerous countries across the globe.
"People need to know that the poles have this hazardous chemical in them," Town Supervisor Judi Bosworth said in a statement to Newsday.
Even with residents pleading to have untreated poles or at least warning signs, the PSEG spokesman stated (also to Newsday) that Penta (PCP) "has a long and proven track record for utility poles. We do not deem it necessary to put up warning signs."
"In my opinion it's definitely a health issue," said Craig Mazzola, a resident of Williston Park, where two new poles are being installed. "Kids can go running around a pole, playing around a pole, and they [the utility] don't care," he said.
According to Beyond Pesticides' Pole Pollution, EPA has calculated that children face a 220 times increase in the risk of cancer from exposure to soil contaminated with PCP leaching out of the utility poles. These utility poles are ubiquitous across our country. However, there are alternatives to using chemically treated poles: alternatives range from poles made from cement, fiberglass, or recycled metals, as well as simply laying utility lines underground. Currently, the long term costs of purchasing, installing and maintaining fiberglass and concrete poles makes them competitive to treated wood utility poles.
Since the mid-1980s, Beyond Pesticides has done extensive work to address the risks of exposure to penta and the other two heavy-duty wood preservatives, inorganic arsenicals (such as chromated copper arsenate, or CCA) and creosote. In addition to Pole Pollution, Beyond Pesticides also published Poison Poles, which examines the toxic trail left by the manufacture, use, storage and disposal of the heavy-duty wood preservatives from cradle to grave. On December 10, 2002, a lawsuit led by Beyond Pesticides was filed in federal court by a national labor union, environmental groups and a victim family to stop the use of arsenic and dioxin-laden wood preservatives, which are used to treat lumber, utility poles and railroad ties. The litigation argued that the chemicals, known carcinogenic agents, hurt utility workers exposed to treated poles, children playing near treated structures, and the environment, and cites the availability of alternatives.
For more extensive information about pesticide-treated wood, see Beyond Pesticides Wood Preservatives program page.
All unattributed positions and opinions in this piece are those of Beyond Pesticides.
Source: Newsday