03
Dec
(Beyond Pesticides, December 3, 2014) The U.S. Department of Agriculture (USDA) announced last week that nearly 2,500 applicants will receive disaster assistance through the Emergency Assistance for Livestock, Honey Bees, and Farm-Raised Fish Program (ELAP) for losses suffered from Oct. 1, 2011, through Sept. 30, 2013. The program, re-authorized by the 2014 Farm Bill, provides disaster relief for farmers and producers not covered by other agricultural disaster assistance programs. Beekeepers who reported losses due to colony collapse disorder will be eligible, a move that many in the beekeeping industry welcome.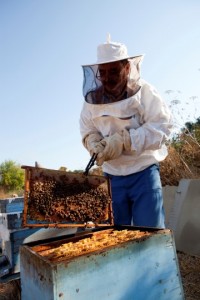 ELAP provides disaster relief to livestock, honey bee, and farm-raised fish producers not covered by other agricultural disaster assistance programs. Eligible losses may include excessive heat or winds, flooding, blizzards, hail, wildfires, lightning strikes, volcanic eruptions, and diseases, or in the case of honey bees, losses due to colony collapse disorder. According to USDA, beekeepers, most of whom suffered honey bee colony losses, represent more than half of ELAP recipients. Enrollment for the program began last spring and ended in August 2014, and eligible farmers, beekeepers and producers must have submitted documentation of losses for enrollment in the program.
Beekeepers have been experiencing historical losses in their bee hives and operations. On average, losses have been over 30% annually, with some beekeepers report 100% losses to their operations. This presents significant ramifications for beekeepers' livelihoods, crops that rely on pollination and the agricultural economy. Pollination services, provided by bees and other pollinators, are worth billions of dollars to the agricultural economy, given that one in three bites of food is dependent on pollination. Mounting scientific evidence points to the role of pesticides in bee declines across the globe, especially to the neonicotinoid class of insecticides, currently applied to fields across the U.S. as seed treatment. These pesticides have been shown to, even at low levels, impair foraging, navigational and learning behavior in bees, as well as suppress their immune system to point of making them susceptible to pathogens and parasites. Read: No Longer a Big Mystery. Beekeepers have taken legal action against neonicotinoids and other pesticides that have been shown to be highly toxic to bees.
The Farm Bill caps ELAP disaster funding at $20 million per federal fiscal year. To accommodate the number of requests, which exceeded funds available for each of the affected years, payments will be reduced to ensure that all eligible applicants receive a prorated share of assistance. This year over 2,500 applicants are eligible for assistance. USDA stated the agency has begun issuing payments – less than three months after the enrollment deadline.
ELAP is made possible through the 2014 Farm Bill, which according to USDA, builds on historic economic gains in rural America over the past five years, while achieving meaningful reform and billions of dollars in savings for the taxpayer. ELAP assistance is provided for losses not covered by other disaster programs like the Livestock Forage Disaster Program (LFP) and the Livestock Indemnity Program (LIP). Also from USDA, pollinators may find some help in efforts to expand pollinator habitat and forage. The agency announced this fall that more than $4 million in technical and financial assistance will be provided to help farmers and ranchers in the Midwest improve the health of honey bees. The announcement renews and expands on a $3 million pilot investment last spring to create pollinator-friendly habitat in five Midwestern states. According to the agency, it will provide help implementing the planting cover crops or rangeland, pasture management to reduce erosion, increase soil health, and inhibit invasive species, as well as providing quality forage and habitat for honey bees and other pollinators.
Since enactment of the Farm Bill, USDA is tasked with providing disaster relief to farmers and ranchers; strengthening risk management tools; expanding access to rural credit; funding critical research; establishing innovative public-private conservation partnerships; developing new markets for rural-made products; and investing in infrastructure, housing and community facilities to help improve quality of life in rural America.
"As promised, we're making sure that thousands of producers who suffered through two and a half difficult years without Farm Bill assistance, are getting some relief," Agriculture Secretary Tom Vilsack said.
2014 Farm Bill and Pollinator Health
After nearly two years of debate, missed deadlines, and Congressional dysfunction, President Obama signed into law on February 7, 2014, the Agricultural Act of 2014, known as the Farm Bill. Passage of the bill was met with mixed reviews on all fronts. While national headlines focused on the issues of supplemental nutrition assistance program (SNAP, or food stamps) cuts, subsidies, and crop insurance, the near 1,000-page law also addressed critical issues relating to health and the environment.
Falling far short of what advocacy groups had hoped would bring much needed scientific attention, funding, and federal regulatory focus on pollinator declines, the final Farm Bill left most pollinator-friendly provisions in the cut pile on the conference committee floor. One amendment in particular, Protection of Honey Bees and Other Pollinators, Â sponsored by Rep. Alcee Hastings (D-Fl), seeks to create a federal task force, requires research, and provides for an allowance for beekeepers to use federal forest lands. The amendment passed in an earlier House version of the Farm Bill by a vote of 270-146 with 79 Republicans and 191 Democrats voting in favor. Â  However, this amendment failed to make it into the final version of the bill. The 2014 Farm Bill now only requires interagency collaboration to produce guidance on enhancing pollinator health and long-term viability. Conservation programs that commit to pollinator habitat also receive new preferences. These minor nods to the severe problem facing pollinators lack any true incentives for long-term change or meaningful protections. See here for a comprehensive breakdown of the 2014 Farm Bill.
Even though the U.S. has been slow to act in protecting pollinators from hazardous pesticide use, in spite of the recent Presidential Memorandum directing federal agencies to act, beekeepers can at least now find some financial relief for their losses and hopefully continue to provide the important pollination services that our nation needs.
Source: USDA Press Release
All unattributed positions and opinions in this piece are those of Beyond Pesticides.