29
Jan
(Beyond Pesticides, January 29, 2015) State legislators in Hawaii will soon be introducing a proposal to establish pesticide-free zones around schools and hospitals throughout the state. Not yet filed or finalized, the proposed bill would prohibit farmers from using large amounts of pesticides within a specified distance of schools and hospitals, known as buffer zones. While the exact distance of the buffer zones in Hawaii are yet be determined and will be open to discussion and input from experts and the public, lawmakers are focusing on a distance of 500 to 1,000 feet.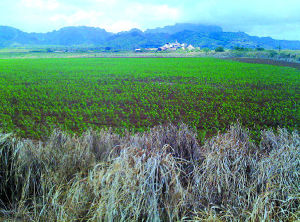 "We want to provide meaningful protections that are going to keep pesticides from drifting into our schools and hospitals and affecting our kids," said State Rep. Chris Lee, chair of the State House environmental protection committee and intended sponsor of the bill. "I think protecting our kids from chemicals is a common sense thing that everybody can get behind."
Beyond this common sense reason and general concern for the health of children and those already facing compromised health, Hawaiians have also experienced numerous pesticide drift and exposure incidents at schools in the past years. These incidents spurred a similar bill to that proposed by Rep. Lee, which ultimately failed.
The proposed bill has garnered wide support across Hawaii, with many groups and individuals, including Kauai Council Member Gary Hooser, coming together during a rally last week to ask for passage of these much needed pesticide protections. "It's not just the environmental fringe, it's not just the activists, these are regular people on the street who are concerned about this issue and it's the legislature's responsibility to act on that," Hooser told reporters at the rally.
Many of the supporters come from localities, such as Kauai and Maui, where local ordinances were passed in an attempt to establish similar pesticide-free buffer zones, as well as genetically-engineered (GE) crop cultivation restrictions. After legal challenges from the likes of Syngenta, BASF, and DuPont, however, many of these local efforts have been invalidated or remain in legal limbo.
Opponents of the measure argue that the proposed bill would harm small farmers and that measures are already in place that protect surrounding areas like schools. But supporters of the bill, including Rep. Lee, strongly disagree on both points.
Additional background on the fight for increased protections on the Hawaiian Islands, including testimony Beyond Pesticides provided in support of Kauai's Bill 2491, can be found here. For more information on the hazards that continue to be associated with the pesticide drift and the role of organic agriculture as a solution, see Beyond Pesticides Getting the Drift on Chemical Trespass and Organic Food webpage.
Join us as we continue the conversation on pesticide impacts to farmworkers and farming communities this spring at Beyond Pesticides' 33rd National Pesticide Forum in Orlando, FL, April 17-18th 2015. Early bird registration is in effect until March 15, so make your plans to register today!
All unattributed positions and opinions in this piece are those of Beyond Pesticides.
Source: Hawaii News Now