21
Jan
(Beyond Pesticides, January 21, 2015) Public Service Enterprise Group Incorporated (PSEG) Long Island and Long Island Power Authority (LIPA) filed suit against the Town of North Hempstead, New York on Thursday, seeking to impede a 2014 ordinance requiring utility companies to post warning signs on utility poles treated with the hazardous chemical pentachlorophenol (PCP).  The chemical has been listed as a possible carcinogen, is typically contaminated with various forms of dioxins and furans —known carcinogens that persist in the environment.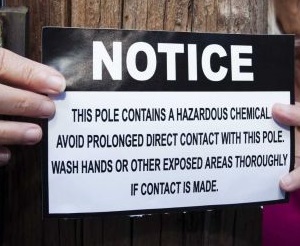 The ordinance, passed in fall 2014, requires warning labels on utility poles  that are treated with the hazardous wood preservative  PCP. The warning states:  "This pole contains a hazardous chemical. Avoid prolonged direct contact with this pole. Wash hands or other exposed areas thoroughly if contact is made."  PCP is highly toxic and has been listed as a possible carcinogen by national and international agencies. Concerns  have been raised throughout the years over the U.S. Environmental Protection Agency's (EPA) continued registration of PCP in the U.S. despite having been banned in all European Union member states, China, India, New Zealand, Indonesia, and Russia.
The suit, filed in the U.S. District Court in Central Islip, asserts that the law violates the utility companies' right to free-speech by forcing them to post warning signs containing "disputed phrases and accompanying text urging the public to take action." Additionally, the suit describes the placement of signs on the poles as "unworkable," partly because the utilities would have to coordinate with Verizon, which owns many of the poles. It also states that the possible adoption of similar laws by other municipalities puts utilities in the "untenable position" of having to create differently worded signs depending on the location of the poles.
Astoundingly, LIPA, which filed suit under its corporate name, the Long Island Lighting Co., and PSEG charge they are "irreparably harmed both by being forced to carry the town's message against their will and by being prevented from carrying messages of their own choosing."
North Hempstead town attorney Elizabeth Botwin responded, "We are confident that it is legal to require PSEG to warn town residents about the hazards of touching penta-treated poles when they put the exact same warning on their website."
The suit also takes issue with the mandated use of the term "hazardous chemical," calling it "vague and provocative," and that there is a "complete lack of any evidence in the legislative record of any risk of actual harm from minimal contact" with poles.
However, the U.S. Environmental Protection Agency (EPA) says short-term ingestion and inhalation of PCP is "extremely toxic to humans." Inhaling the chemical for even for short periods has resulted in neurological, blood, and liver effects, according to EPA. Additionally, chronic, long-term inhalation can affect the respiratory tract, blood, kidney, liver, immune system, eyes, nose, and skin. EPA also notes a link between exposure to PCP and cancer —the agency has classified the chemical as a Group B2, probable carcinogen.
Residents of East Hampton, some of whom have filed suit to have the poles removed, also have objected to the use of PCP on poles, although the town doesn't require warning signs. North Hempstead and East Hampton have called on PSEG to take down the poles and bury the lines. The utility has said it would do so if communities paid the costs, which could amount to tens of millions of dollars.
Since the mid-1980s, Beyond Pesticides has done extensive work to address the risks of exposure to penta and the other two heavy-duty wood preservatives, inorganic arsenicals (such as chromated copper arsenate, or CCA) and creosote. In addition to  Pole Pollution,  Beyond Pesticides also published  Poison Poles, which examines the toxic trail left by the manufacture, use, storage and disposal of the heavy-duty wood preservatives from cradle to grave.  On December 10, 2002, a lawsuit  led by Beyond Pesticides was filed in federal court by a national labor union, environmental groups and a victim family to stop the use of arsenic and dioxin-laden wood preservatives, which are used to treat lumber, utility poles, and railroad ties. The litigation argued that the chemicals, known carcinogenic agents, hurt utility workers exposed to treated poles, children playing near treated structures, and the environment, and cites the availability of alternatives.
For more extensive information about pesticide-treated wood, see Beyond Pesticides  Wood Preservatives program page.
Source: Newsday
All unattributed positions and opinions in this piece are those of Beyond Pesticides