10
Jun
(Beyond Pesticides, June 10, 2015) Activists and concerned parents have been working for years in Connecticut to extend the current prohibition of pesticide use on daycare centers and K-8 school grounds to include high schools, athletic fields, municipal parks and town land. Now, the state Senate approved legislation to ban pesticides from public playgrounds, but there will still be no extension of the ban on high school lawns or fields under the bill language. Activists claim a partial victory and vow to continue working on a full ban, despite heavy opposition from industry forces.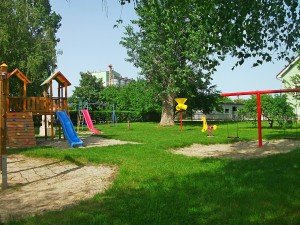 Connecticut was the first state to prohibit the use of toxic pesticides at K-8 schools and daycare centers, but high schools, athletic fields, parks and playgrounds were exempted from the ban. On May 27, 2015, a bipartisan bill (SB366) extending the ban to public playgrounds passed the Senate 34-2 and now goes to the House. The new legislation would extend the ban to municipal playgrounds, except for situations that the authors say could threaten human health, such as hornet nests or tick infestations. The bill also calls for parents of high school students to be promptly notified by email of any pesticide applications at schools. Additionally, it would also allow the use of nontoxic microbial or biochemical pesticides to combat grubs on school properties and playgrounds. Strong opposition from many municipalities and the pesticide industry has prevented the inclusion of language that would extend the ban to high school grounds and fields, despite calls from parents and local activists.
"There is growing evidence that pesticides do far more harm than good to our communities," said Sen. Ted Kennedy Jr., D-Branford and co-chairman of the environment committee. Sen. Kennedy has repeatedly warned that research shows pesticide ingredients have been linked to health problems ranging from cancer to neurological disorders. "By keeping pesticides off playgrounds and [K-8 grade] school property, we are protecting those who are most susceptible to the health impacts of pesticide exposure," he said.
Previous attempts to extend the ban have also fallen short over the years. In 2013, the then-proposed bill 6385 to extend a pesticide ban from pre-K through eighth grade to include high schools stalled and a task force to study pesticides was set up, despite a favorable vote in the education committee to move the bill along. Another bill to extend the ban, which Ā also included a ban on the use of genetically engineered (GE) lawn and turf seed, passed the Senate last year, but was eventually rejected in the House. There have even been attempts to repeal the existing ban for daycare centers and K-8 schools, with legislation allowing pesticide use as part of a weak ā€œintegrated pest managementā€ (IPM) system. Current state law, adopted in 2005 and amended in 2007 and 2009 to cover facilities from day care centers up through grade 8, prohibits pesticides on playgrounds and playing fields at schools (except under emergency situations), allowing instead for non-toxic pest and fertility management.
Industry groups and local land managers argue the myth that banning pesticides from fields would cost schools and municipalities more money because of pest damage and could make playing fields hazardous. However these myths have been debunked by studies and real world successes of organically managed fields. First, fields that are intensively managed with chemicals are at greater risk for disease and weed infestation (leading to a dependence on chemical inputs) compared with those whose practices build healthy, balanced soil. Similarly, chemically-managed fields are generally harder and more compacted due to a loss of natural soil biology, while organic management focuses on cultural practices, such as aeration, that alleviates compaction and provides a softer, better playing surface. Any field with irregular surfaces, whether organically managed or not, can lead to falls or twisted ankles. Banning pesticides from playing fields also will not cost more in the long-term. While initial costs to transition a chemical-dependent field to organic care can be higher, in the long-run costs will be lower as inputs, like fertilizer and water, decrease, along with the absence of the cost of annual chemical treatments. Read the factsheet: Pesticides and Playing Fields
But there is still hope for Connecticut. New York, the only state that has banned pesticides on the grounds of all schools, pre-K through 12th Ā grade, saw previous versions of its Ā bill defeated nine times. New York's Child Safe Playing Field Act passed in 2010 with over 8,000 letters sent to legislators in favor of the bill and over 18,000 people signed to a petition. Similar efforts are underway in New Jersey.
The need for legislation to protect vulnerable children from the hazards of toxic pesticides is clear. Studies show that pesticides are associated with several human health risks including cancer, learning/behavioral disabilities and reproductive and sexual dysfunction. The Pesticide-Induced Disease Database documents the association between pesticide exposures and the onset of disease. This is supported by the findings of the American Academy of Pediatrics, which concluded in December 2012 that, ā€œChildren encounter pesticides daily and have unique susceptibilities to their potential toxicity.ā€ Ā The report went on to discuss how kids are exposed to pesticides every day in air, food, dust, and soil. Children also frequently come into contact with pesticide residue on pets and after lawn, garden, or household pesticide applications.
All unattributed positions and opinions in this piece are those of Beyond Pesticides.
Source: Hartford Courant