23
Jul
(Beyond Pesticides, July 23, 2015) A recent study looks at the detrimental effects of neonicotinoids (neonics) on molluscan herbivores and their non-target insect predators, finding that slug exposure to neonics results in the secondary poisoning of beneficial predatory beetles. The study, authored by Maggie Douglas, PhD candidate at Penn State University, was presented earlier this month at a congressional briefing, An Expert Briefing to Discuss Pollinators and Efforts to Protect Them. The briefing was organized by Center for Food Safety and attended by the sponsors of Saving America's Pollinators Act (H.R. 2692), Representatives John Conyers (D-MI) and Earl Blumenauer (D-OR).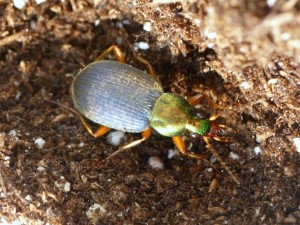 The study specifically looks at the pest slug Deroceras reticulatum and its predator beetle, Chlaenius tricolor. Ms. Douglas and her co-researchers find that neonicotinoid seed-treated soy beans can unintentionally impact predatory, beneficial insects through a previously unexplored pathway. Here are some highlights of the study's methods and findings:
Soy beans were treated with the neonicotinoid thiamethoxam.
The seed treatments had zero effect on pest slugs, and instead were bioaccumulated and then transferred through the slugs into their insect predators, impairing or killing >60%.
This resulted in a loss of crop due to a decline in beneficial insect predators and an increase in pest slug population.
Generally, these findings indicate that the use of neonicotinoid seed treatments, which are intended to decrease the use of pesticides, can actually increase the necessity of these toxic chemicals by killing off natural, beneficial insect predators. Thus, these seed treatments are ineffective and cause more harm than good. It would better serve famers and the environment to actively encourage natural predation, rather than rely on toxic chemicals that only perpetuate the dangerous cycle of pesticide use.
Ms. Douglas' findings add merit to the influx of research regarding neonicotinoids and their impacts on pollinators and other non-target beneficial species. Neonicotinoids are a relatively new class of insecticides that share a common mode of action that affect the central nervous system of insects, resulting in paralysis and death. While the issue of pollinator declines is diverse and complex, with many factors potentially contributing to the cause, pesticides have consistently been implicated as a key factor, not only through immediate bee deaths, but also through sublethal exposure causing changes in bee reproduction, navigation and foraging. Further research has demonstrated that neonicotinoids create increased vulnerability to diseases through exposure, impact a wide range of habitats, and have persistent, long term implications.
Earlier this year, researchers found that chronic exposure to neonicotinoids increases neuronal vulnerability to mitochondrial dysfunction in the bumblebee. Exposed bees will have greater difficulty, for instance, in recognizing the smell of a flower, or how to find their way back to their colony. In June 2015, researchers demonstrated that honey bees exposed to imidacloprid, a toxic neonic, are more susceptible to heat shock. Researchers have also found that bees can become addicted to neonicotinoids in the same way that humans can become addicted to cigarettes. Non-target effects of rampant neonicotinoid use include bird population declines and monarch butterfly loss.  More research can be found on Beyond Pesticides' What the Science Shows page, where studies are listed to highlight the impact of pesticides on these organisms.
The implications of the findings described above only strengthen the need for meaningful policy change on the federal level. Saving America's Pollinators Act  requires the Environmental Protection Agency (EPA) to suspend the registration of all neonicotinoid insecticides that are registered for use in seed treatment, soil application, or foliar treatment on bee attractive plants, trees and cereals until EPA has fully determined that these toxic chemicals do not cause unreasonable adverse effects on pollinators.  You can help to protect America's pollinators by submitting a letter to your representative, urging them to support Saving America's Pollinators Act. Let's  BEE Protective  and support a shift away from the use of these toxic chemicals by encouraging organic methods and sustainable land management practices in your home, campus, or community.
Neonicotinoids are undoubtedly highly toxic to honey bees, and EPA acknowledges this fact. However, little is being done at the federal level to protect bees and other pollinators from these pesticides. With unlimited resources behind them, the chemical industry —the pesticide manufacturers, landscaping, horticultural and agricultural trade groups, have all come out to deflect attention away from pesticides as a major culprit in pollinator decline. To learn more about how industry agents try to manipulate the message to say that neonics are not the main cause, see our report addressing industry myths on pollinator decline.
In light of the shortcomings of federal action  to protect these beneficial creatures, it is left up to us to ensure that we provide safe havens for pollinators by creating pesticide-free habitat and educating others to do the same. Beyond Pesticides has created a small pesticide-free garden at our offices in DC to provide habitat and forage for our local pollinators. You too can pledge your green space as pesticide-free and pollinator-friendly. It does not matter how large or small your pledge is, as long as you contribute to the creation of safe pollinator habitat.  Sign the pledge today. Need ideas on creating the perfect pollinator habitat? The  Bee Protective Habitat Guide  can tell you which native plants are right for your region.
Source: Journal of Applied Ecology
Photo Source: Penn State University
All unattributed positions and opinions in this piece are those of Beyond Pesticides. Â