03
Dec
(Beyond Pesticides, December 3, 2015) Last month, the European Commission and member states approved the new pesticide flupyradifurone. The department, known as Directorate-General for Health and Food Safety, authorized the approval of the pesticide, which is an insecticide in  the chemical class  butenolides. Bayer Crop Sciences, the creator of flupyradifurone, touts the insecticide as a "safe" alternative to neonicotinoids (neonics), although both neonics and butenolides are systemic, persistent, and acutely toxic to adult honey bees. Already launched in the United States, Mexico, Nicaragua, Guatemala, Honduras, and the Dominican Republic, advocates are pointing to the hasty nature of flupyradifurone's approval and the lack of scientific research supporting its use.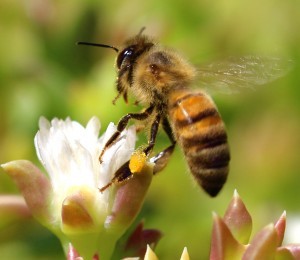 Flupyradifurone, marketed as "Sivanto prime" in Europe, is approved for use in the EU on sucking pests that feed on fruits and vegetables as well as specialty crops such as hops.  It is also approved for use in seed coatings. The chemical is neurotoxic and can inhibit nicotinic acetylcholine receptors (nAChR) in the nervous system. Neonicotinoids, widely  criticized for their harmful effects on bees,  affect the nervous system in the same way.
Matthias Haas, Ph.D., Global Project Manager at Bayer CropScience says, "It combines efficacy and convenience for the grower with excellent safety characteristics and will lead to better quality of produce. When applied at the proposed label rates, Sivanto prime is not associated with any adverse effects on honey bees and bumble bees."
In 2013, the European Commission voted to place a moratorium on three bee-killing neonics. Unfortunately, big agriculture has found legal loopholes in the form of exemptions and nonregulation to continue the use of neonics.
Bee-friendly groups are asking scientists to look at the long-term and synergistic effects of butenolides, so as not to unknowingly place harmful insecticides on the market. This request is not baseless, as it follows the Guidance Document that accompanied the moratorium two years ago. The document addressed proper risk assessment concerning pesticides and bees. Martin Dermine, Pesticide Action Network (PAN) Europe's bee expert, spoke to the disregard of risk assessment in the EU, "In the meantime, neonicotinoid pesticides like sulfoxaflor and now flupyradifurone are being authorised without a proper risk assessment and despite EFSA's comments either on their toxicity or on the lack of data to assess their safety."
In the U.S.,  flupyradifurone was registered by the Environmental Protection Agency (EPA) in January of this year. EPA  believes flupyradifurone is less toxic than current insecticides on the market, including neonicotinoids. In fact, comparing toxicity values of flupyradifurone and imidacloprid, flupyradifurone is less toxic by the oral route (LD50  3.4ug/bee) than imidacloprid (LD50  0.004ug/bee). EPA believes that in spite of the acute oral toxicity, flupyradifurone has no measurable impact on bee colonies and that there is "compelling evidence" in the chemical's favor. The agency has concluded,  "While the acute oral toxicity study indicates that flupyradifurone is highly  toxic to individual adult honey bees, longer-term laboratory-based studies of both larval and adult bees show no adverse effects up to the highest dietary concentration tested."  Environmental groups are asking that EPA and other foreign agencies look more carefully at  the long-term effects.
When taking action against  bee-killing insecticides like butenolides and neonics, legislators need to know that bees, butterflies, and other pollinators need improved  protections from pesticides, given the sharp declines in the population of  managed and native bees,  birds,  and butterflies. The  Saving America's Pollinator's Act of 2015  remains an avenue for Congress to address the pollinator crisis.  Contact your U.S. Representative  about this important legislation today. You can also get active in your community to protect bees by advocating for policies that restrict their use. Montgomery County, Maryland recently  restricted the use of a wide range of pesticides, including neonics, on public and private property.  Sign here  if you'd like to see your community do the same!
All unattributed positions and opinions in this piece are those of Beyond Pesticides.
Source: Pesticide Action Network Europe
Photo Source: Gary T, CA