22
Dec
(Beyond Pesticides, December 22, 2015) Beyond Pesticides is pleased to announce the 34th National Pesticide Forum, which will be held April 15th-16th, 2016 at the University of Southern Maine, in Portland, ME. Leading scientists on  the lineup of speakers for the upcoming forum include: Aaron Blair, Ph.D., a National Cancer Institute researcher (retired), author of more than 450 publications on occupational and environmental causes of cancer,  and the overall chair  the International Agency for Research on Cancer's (IARC) evaluation panel that found  glyphosate (Roundup) to be a carcinogen; and Jonathan Lundgren, Ph.D., a top U.S. Department of Agriculture (USDA) entomologist who received a prestigious national award for civic courage  (Entomologist in the Crosshairs of Science  and Corporate Politics) for his work on neonicotinoids and pollinator decline in the face of agency attempts to suppress his work.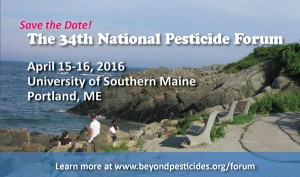 Beyond Pesticides is collaborating with local groups, including the Maine Organic Farmers and Gardeners Association (MOFGA), Toxics Action Center, and Protect South Portland, as well as other local environmental and human health advocacy organizations. The 34th National Forum provides an opportunity for grassroots advocates, scientists, and policy makers to share our efforts and build local, state and national strategies for strength and growth. This year's conference will focus on the adoption of policies to protect human health and the environment, and organic land and building management strategies. The conference brings together top scientists, policy makers, and public health and environmental advocates to interact, engage in dialogue, and strategize on solutions that are protective of health and the environment.
Register Today
Reserve your spot at the 2016 Forum and get the Early Bird Discount rate ($5 off). Registration starts at $45 and includes access to all sessions as well as organic food and beverages. In addition to access to amazing speakers and networking opportunities, we will serve light refreshments and organic drinks Friday night, and organic breakfast, lunch, dinner and drinks on Saturday. Scholarships are also available. For more details about registration, click here.
Featured Speakers
Jonathan Lundgren, Ph.D., is a Senior Research Entomologist and Lab Supervisor for the Agricultural Research Service (ARS) in South Dakota. Until recently, Dr. Lundgren worked for the United States Department of Agriculture (USDA) for eleven years with great success, and his cutting edge research has drawn national attention and international recognition. In April 2015, Dr. Lundgren published a study in The Science of Nature demonstrating that clothianidin, a neonicotinoid seed treatment, kills monarch butterfly larvae in the laboratory. On August 3, 2015, USDA imposed a 14-day suspension against Dr. Lundgren for submitting the Science of Nature study and for a paperwork error in his travel authorization for his invited presentation about his research to a panel of the National Academy of Sciences, as well as to a USDA stakeholder group, the Pennsylvania No-Till Alliance. Previously, Dr. Lundgren filed a complaint of violations of USDA Scientific Integrity Policy with the Scientific Integrity Office stating that allegations of his misconduct stemmed from ulterior motives.
Aaron Blair, Ph.D., is chair of the International Agency for Research on Cancer (IARC) Working Group, a branch of the World Health Organization that announced its finding that one of the world's most popular pesticides, glyphosate (Roundup), is a human cancer causing agent based on laboratory animal studies. He ran the National Cancer Institute's Occupation Studies Branch and is the author of over 450 publications on occupational and environmental causes of cancer. He has received the National Institutes of Health (NIH) Director's Award, the PHS Special Recognition Award, NIH Merit Award, the DHHS Quality of Work Life Award, the University of North Carolina H.A. Tyroler Distinguished Alumni Award, the John Goldsmith Award for Outstanding Contributions to Environmental Epidemiology from the International Society for Environmental Epidemiology, and The Harriet Barr Distinguished Alumnus Award from the Public Health Alumnus Association of the University of North Carolina and the NIH Director's Award for the Deepwater Horizon Gulf Oil Spill Study. He has served on numerous review groups for IARC, EPA, and other agencies and organizations.
Stay Tuned…
Check back as we add information about speakers and sessions at the upcoming conference.
If your group is interested in co-sponsoring the 34th National Pesticide Forum, please email us.
If you would like more information about the conference, please email [email protected], or call 202-543-5450.
Videos from Last Year's Conference
See Beyond Pesticides' Youtube page for videos of all the speakers, panels, and workshop discussions from the 33rd National Pesticide Forum! Check out our past conferences here.