16
May
(Beyond Pesticides, May 16, 2016) Pesticide exposure may increase the risk of amyotrophic lateral sclerosis (ALS), according to a study entitled Association of Environmental Toxins With Amyotrophic Lateral Sclerosis, which was  published in JAMA Neurology. ALS, also known as Lou Gehrig's disease, is a progressive neurodegenerative disease that affects nerve cells in the brain and spinal cord. The study, which investigated a total of 122 persistent environmental pollutants, including organochlorine pesticides (OCPs), polychlorinated biphenyls (PCBs), and brominated flame retardants (BFRs), found that pesticide exposure increased ALS risk five-fold.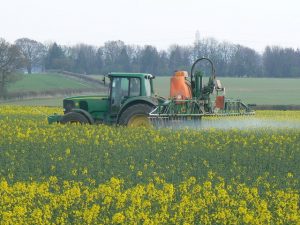 Researchers conducting the study  looked at 156 patients with ALS and 128 without the disease. Participants were asked about occupational and residential exposure to environmental toxicants  and blood samples were taken to measure their concentrations. Researchers found that the organochlorine pesticides pentachlorobenzene and cis-chlordane increased ALS risk two-fold and nearly six-fold, respectively.
This study does not prove that pesticides cause ALS, but it does build on an association suggested in previous research, study co-author Stephen Goutman, MD, told  HealthDay. Dr. Goutman recommends avoiding pesticides. This is especially wise for anyone with a family history of ALS, he added.
The link between pesticide exposure and neurological damage has been studied extensively. In 2008, a team of University of Michigan scientists discovered that interactions between genes and organophosphate exposure cause some forms of motor neuron disease (MND). In a 2013 study, researchers found that individuals with a genetic mutation linked to Parkinson's disease are more likely to develop the neurodegenerative disease if they are exposed to pesticides typically found in conventional, chemical-intensive agricultural areas, including paraquat, maneb, and rotenone. More recently, a class of fungicides known as strobilurin was found to produce patterns of genetic changes in the neurons of mice that are similar to genetic changes seen in humans with autism and Alzheimer's disease.
Beyond Pesticides tracks the scientific liteerature  related to pesticide exposure through the Pesticide Induced Diseases Database (PIDD). For more information on the multiple harms pesticides can cause, see PIDD pages on Alzheimer's, Parkinson's, and other diseases. Studies such as these highlight the importance of buying, growing, and supporting organic. Consumer choices encourage the protection of the people who help put food on our table every day by purchasing organic. By buying organic, you support an agricultural system that does not permit the application of dangerous pesticides. For more information on how organic is the right choice for both consumers and the farmworkers that grow our food, see Beyond Pesticides webpage, Health Benefits of Organic Agriculture.
Source: HealthDay News
All unattributed positions and opinions in this piece are those of Beyond Pesticides.