15
Aug
(Beyond Pesticides, August 14, 2016) According to recent reports, the illegal misuse of pesticides in Dubai has left ten people dead within the last year. The culprit? Domestic use of a pesticide containing highly toxic aluminum phosphide sold on the black market, touted as a way to fight bed bugs for low-income families that may not have the education level or means to research and pursue other options. While the government acknowledges a significant problem given the common occurrence of these  deaths, those in positions of power are admittedly at a loss when it comes to finding a solution, with some calling for a crack down on those selling the pesticides illegally, and others wanting to punish those that buy and use it. Regardless of the actions, elected officials decide to pursue, embracing organic pest management systems, as well as a robust education campaign, will be critical in curbing these deaths. Given the availability of greener, safer alternatives, Beyond Pesticides opposes any registration or allowance of phosphide fumigants and other highly toxic chemicals that can be easily misused.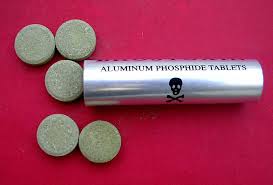 Phosphide fumigants, including aluminum phosphide, are known to be acutely toxic when ingested or inhaled. Symptoms of mild to moderate acute exposure include nausea, abdominal pain, tightness in the chest, excitement, restlessness, agitation and chills. Symptoms of more severe exposure include, diarrhea, cyanosis, difficulty breathing, pulmonary edema, respiratory failure, tachycardia (rapid pulse) and hypotension (low blood pressure), dizziness and/or death. Already subject to stringent government oversight in Dubai, aluminum phosphide is only allowed for use by licensed companies on palm plantations, and is completely banned from use in homes. Additionally, for any application taking place, the Dubai Municipality has to approve its use, know when and where it will be deployed, and have an official present while it is being used.
Hisham Al Yahya, head of public health and pest control at Dubai Municipality, points to people as the source of the problem, mostly blue-collar workers who want to kill bedbugs, choosing to ignore the warnings and use the toxic pesticide because it is cheaper than using exterminators. "They resort to these methods and buy the pesticides illegally or from the black market. However, they may not only be harming themselves but also their neighbors," said Mr Al Yahya. He also warned that phosphide gas is not easily detected because it is colorless and odorless. The inability to detect the pesticide was likely a main factor in an incident that claimed the lives of a mother and child when aluminum phosphide seeped into their home through air conditioning ducts after a neighbor applied the pesticide.
"In almost all cases, the people affected are neighbors, as the people who use them leave their apartment because they know it's poisonous." said Amina Mustafa, a 29-year-old Dubai resident who feels the government must act to combat the use of these dangerous pesticides.
Dubai is not the only country to see tragic and unnecessary deaths occur because of the misuse of aluminum phosphate, often referred to in the United States by its product name, Fumitoxin.  In 2010, investigators in the U.S. found that the deaths of two young sisters  in Layton, Utah was caused by phosphide pesticide, which was used to kill voles, a small burrowing rodent. The pesticide was applied in their family's front yard. The death of these children and the poisoning of the family raises serious issues about the adequacy of the pesticide's label restrictions, approved by the U.S. Environmental Protection Agency (EPA), and its enforceability.
That same year, just a few months before the untimely death of the one and four year old sisters, EPA  imposed  restrictions on aluminum and magnesium phosphide  products in an attempt to better protect people, especially children, from dangerous exposures. The new restrictions prohibits all uses of the products around residential areas and increased buffer zones for treatment around non-residential buildings that could be occupied by people or animals from 15 feet to 100 feet. However, human exposure to these toxic chemicals continues because of their availability for use on athletic fields and playgrounds, around non-residential buildings, and in agricultural production.
As concern over the misuse of these pesticides in Dubai continues to grow, many feel that a government response should target those who sell the pesticide on the black market, as opposed to those buying the products. Calls for the identification and prosecution of anyone who knows of the deadly potential of aluminum phosphide pesticides and opts to make money by selling it to others who do not appreciate the risks ring loud and clear. Though  anything sold on the black market is difficult to regulate, the government must take the necessary steps to stop the misuse of toxic chemicals, and encourage safer practices, before more deaths occur.
Beyond Pesticides and other organizations have raised concerns about chemicals that volatilize as gas and chemical fumigants that move through the air from the target site (be it an animal burrow or an agricultural crop) in the past. In June 2009, Beyond Pesticides and 27 groups from across the country sent then-EPA Administrator Lisa Jackson a letter indicating that the agency's new fumigants policy "continues an outdated EPA approach to pesticide regulation that adopts unrealistic and unenforceable standards as risk mitigation measures, in an age of safer, greener approaches to agricultural pest management." As a solution to the problem, Beyond Pesticides believes that organic or integrated pest management (OPM/IPM) is a vital tool that aids in the rediscovery of non-toxic methods to control pests like bed bugs or rodents, and facilitates the transition toward a pesticide-free (and healthier) world. A well-defined IPM or organic pest management program offers the opportunity to eliminate or drastically reduce pesticide use and to minimize the toxicity of and exposure to any products that are used. Sanitation, structural repairs, mechanical and biological control, pest population monitoring are all safer  methods that have proven successful. To find out more, visit our webpage on  Integrated Pest Management, and our program page on bed bugs.
Source: The National UAE
All unattributed positions and opinions in this piece are those of Beyond Pesticides.