19
Aug
(Beyond Pesticides, August 19, 2016) A study published earlier this week has found that the increasing use of neonicotinoid (neonic) insecticides is correlated with a steep decline in butterfly health and reproductive success — as more neonics are used, butterflies are struggling to survive. This study adds to previous evidence that demonstrates, in addition to bees, neonics can cause serious harm to other important pollinators.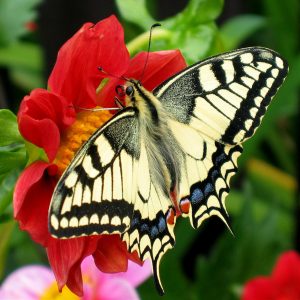 The study, Increasing neonicotinoid use and the declining butterfly fauna of lowland California, looks at 67 species of butterfly fauna in the lowlands of Northern California at four sites that were  monitored for approximately 30-40 years. The sites include Suisun Marsh, West Sacramento, North Sacramento, and Rancho Cordova. While controlling for land use and other factors, the researchers found a correlation between butterfly population decline and increasing neonic applications, which also appeared to be more severe for smaller-bodied species. According to the researchers, the results suggest that neonics could influence non-target insect populations when applied nearby.
This study contributes to the mounting evidence that neonicotinoid insecticides are linked to pollinator decline. Neonics have increasingly been the subject of studies that highlight a relationship between neonicotinoid exposure  and harmful effects to pollinators. These effects are being identified by scientists all over the world, consistently  negating industry criticism of study design. Neonics are most well-known for their association with decreased learning, foraging and navigational ability, as well as increased vulnerability to pathogens and parasites, in bees. But, in addition to toxicity to bees, pesticides like neonicotinoids have been shown to adversely affect butterflies, birds, aquatic organisms and contaminate soil and waterways, and overall biodiversity.
In November 2015, a study published in the United Kingdom used over 1,000 sites cataloged from 1984 to 2012 in the UK Butterfly Monitoring Scheme (UKBMS) database to point to the strong association between neonic use and butterfly population decline. The lead author of the study expressed serious concerns about their findings, stating, "Our study not only identifies a worrying link between the use of neonicotinoids and declines in butterflies, but also suggests that the strength of their impact on many species could be huge." While the  study authors found  that the main cause for butterfly decline is habitat deterioration, they concluded that neonic use is either acting as a proxy for or helping to quantify the agricultural intensification that is contributing to habitat deterioration.
In February 2015, research from the University of Minnesota presented some of the first evidence linking the bee-killing insecticides to monarch butterfly deaths. The study found that milkweed plants, which monarch butterflies need to survive, may also retain neonicotinoids from nearby plants, making milkweed toxic to monarchs. During the course of the study, larvae from monarch butterflies and painted lady butterflies fed on plants treated with the insecticide imidacloprid, a neonic, for seven days. Researchers found that all of the monarch larvae perished, and only a few painted lady larvae made it through the trial. Monarchs lay eggs exclusively on plants in the milkweed family, and population numbers have fallen by 90% in less than 20 years.
Neonicotinoids are not the only pesticide implicated in the downfall of butterfly populations. A 2014 study on monarchs attributed the disappearance of milkweed plants primarily to the use of GE corn and soybean crops. Scientists also point to the prolific use of herbicides in the Midwest eliminating these plants, and found that 70% of the losses of milkweed between 1995 and 2013 were located in agricultural areas.
Critical to the survival of monarchs, other pollinators, and organisms essential to ecological balance is the large-scale  adoption of organic farming practices. Beyond Pesticides supports  organic agriculture  as effecting good land stewardship and a reduction in hazardous chemical exposures for workers on the farm. The pesticide reform movement, citing pesticide problems associated with chemical agriculture, from groundwater contamination and runoff to drift, views organic as the solution to a serious public health and environmental threat. To attract beneficial insects like butterflies and protect their habitats in your own backyard, there are  several steps  you can take. Like any other living organisms, pollinators need food, water, and shelter in order to thrive. For more information, see  Managing Landscapes with Pollinators in Mind  and  Hedgerows for Biodiversity: Habitat is needed to protect pollinators, other beneficial organisms, and healthy ecosystems.  You can also visit the  BEE Protective Habitat Guide  and  Do-It-Yourself Biodiversity  for more ways in which you can protect our pollinator friends.
Source: Conservation Magazine
All unattributed positions and opinions in this piece are those of Beyond Pesticides.