21
Sep
(Beyond Pesticides, September 21, 2016) The U.S. Environmental Protection Agency's (EPA) Office of Pesticide Programs released last week  its Glyphosate Issue Paper in which the agency is proposing to classify glyphosate as "not likely to be carcinogenic to humans at doses relevant for human health risk assessment." Glyphosate, the controversial active ingredient in Roundup, was classified in 2015 by the World Health Organization (WHO) as a "probable carcinogen" and numerous studies have associated the chemical with cancer and other human health issues. However, EPA's proposed a classification that is contrary, not only to WHO's, but also a position  it had previously held. The issue paper was released in preparation for the Federal Insecticide, Fungicide, and Rodenticide Act (FIFRA) Scientific Advisory Panel (SAP) meeting, October 18-21, which convenes to review EPA's evaluation of the carcinogenic potential of glyphosate.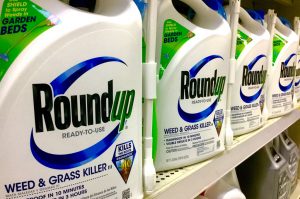 Glyphosate, produced by Monsanto, is one of the most popular weedkillers in the U.S., and the active ingredient in Roundup. Glyphosate is often promoted by industry as a "low toxicity" chemical and "safer" than other chemicals, yet has been shown to have  detrimental impacts  on humans and the environment. Given its widespread use on residential and agricultural sites, its toxicity is of increasing concern.
The carcinogenic potential of glyphosate has been reviewed and disagreed on many times. EPA, in 1985, originally classified glyphosate as a chemical "˜possibly carcinogenic to humans,' based on tumors in laboratory animals,  but changed its classification to evidence of non-carcinogenicity in humans years later, allowing the chemical to grow to  the most widely used pesticide in the U.S.  But now, according to EPA's document, in September 2015, the agency reviewed relevant glyphosate data, including studies submitted by the registrant and studies published in the open literature. This evaluation resulted in a classification of glyphosate as "Not Likely to be Carcinogenic to Humans."  However, many of these industry studies are not publicly available, and their findings may not have been peer-reviewed.
To clarify, EPA's hierarchical  categories of carcinogens,  recognized by the 2005  Guidelines for Carcinogen Risk Assessment  are:
Carcinogenic to Humans
Likely to be Carcinogenic to Humans
Suggestive Evidence of Carcinogenic Potential
Inadequate Information to Assess Carcinogenic Potential
Not Likely to be Carcinogenic to Humans
Debate has been raging in Europe about the continued use of glyphosate in light of the 2015 classification by the World Health Organization's (WHO) International Agency for Research on Cancer (IARC) of  glyphosate as a "probable human carcinogen." However, confusion peaked when a few short months later the European Food Safety Authority (EFSA)  published its report  finding that glyphosate is "unlikely to pose a carcinogenic hazard to humans." However, EFSA's report is limited in that it reviewed glyphosate alone, unlike IARC, which reviewed glyphosate and its formulated products (Roundup) which are more relevant for evaluating risks to human health. The European Commission has since issued a  limited license extension for glyphosate, after member states were unable to come to a formal decision. The extension also comes with some restrictions, including obligations for member states to minimize use on playgrounds, and a ban on formulations with the ingredient POEA,  which can kill human cells, particularly embryonic, placental and umbilical cord cells.
In addition to IARC's findings,  previous studies  have linked the toxicant to non-Hodgkin's lymphoma and multiple myeloma. It is also an endocrine disruptor, causes reproductive effects, kidney and liver damage, and is toxic to aquatic organisms, according to studies. In September 2015, a study published in Environmental Health News found that  chronic, low-dose exposure to glyphosate  led to adverse effects on liver and kidney health. Roundup formulations can also induce a dose-dependent formation of DNA adducts (altered forms of DNA linked to chemical exposure, playing a key role in chemical carcinogenesis) in the kidneys and liver of mice. Human cell endocrine disruption on the androgen receptor, inhibition of transcriptional activities on estrogen receptors on HepG2, DNA damage and cytotoxic effects occurring at concentrations well below "acceptable" residues have all been observed. Similarly, a study released this year finds that glyphosate  can cause changes to DNA function resulting in the onset of chronic disease, including diabetes, obesity, and Alzheimer's disease.
The  FIFRA SAP  is made up of biologists, toxicologists, and other scientific experts who consult the EPA on "a wide-range of health and safety issues related to pesticides." EPA's selection of advisory board members and past FIFRA SAP nominees have been criticized because of conflicts of interest, but it is not known how this particular panel will react to EPA's proposal. After their meeting, the FIFRA SAP will have 90 days to submit a written report to the EPA for their review. All of this action is a part of EPA's most current effort to publish glyphosate's human health and ecological risk assessments, scheduled for release in spring 2017.
We encourage you to submit written comments for the FIFRA SAP to review and consider during their meeting. This can be done using identification docket identification (ID) number EPA-HQ-OPP-2016-0385; online  here, by mail: OPP Docket, Environmental Protection Agency Docket Center (EPA/DC), (28221T), 1200 Pennsylvania Ave. NW., Washington, DC 20460-0001, or in person  following these instructions.  More details on how to submit comments can be found  here.
Given the mounting evidence of glyphosate's hazards environmental groups, like Beyond Pesticides, are urging localities to restrict or eliminate the use of the widely-used weedkiller, like Tracy Madlener, a mother of two,  successfully did last year. Beyond Pesticides promotes these actions and many more through our  Tools for Change  page. This page is designed to help activists and other concerned citizens organize around a variety of pesticide issues on the local, state, and national level. Learn how to  organize a campaign  and talk to your neighbors about pesticides with our  factsheets. See Beyond Pesticides' article  Glyphosate Causes Cancer  for more information.
All unattributed positions and opinions in this piece are those of Beyond Pesticides.
Source:  NPR  ,  American Council on Science and Health