01
Sep
(Beyond Pesticides, September 1, 2016) With the apparent mosquito transmission of the  Zika virus in Florida, local officials around the United States have been feeling pressure to step-up preemptive mosquito spraying, prior to the virus actually emerging  locally in infected mosquitoes. The Zika virus has been contributing to public anxiety in the U.S. for several months and, because of this, the state of Maryland has started spraying with hazardous insecticides. The state has made targeting mosquitoes its  number one priority, while many argue that the state's spraying  puts the well-being of residents at risks.
As of August 24, there are 77 travel-associated cases of Zika in the state of Maryland. Without a finding of infected mosquitoes in the state, the Maryland Department of Agriculture's (MDA) Mosquito Control Program is focusing its  control actions on female (the ones that bite) aedes albopictus, commonly known as Asian tiger mosquitoes, the most common type of mosquito in Maryland that studies indicate "has the potential" to transmit the Zika virus.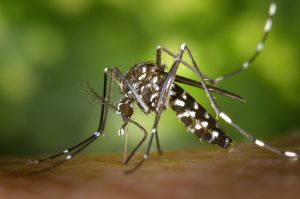 MDA's Mosquito Control Program implements the state's mosquito management, which is conducted in accordance with an undefined  Integrated Pest Management (IPM)  program; basing the  approach broadly on prevention, monitoring, and control of mosquitoes. As a result, recently, MDA has conducted an increased number of unannounced insecticide  sprayings throughout the state, leaving citizens uninformed of spray schedules.  
An "˜unannounced' spray is unscheduled and not posted on program's website, intended to be conducted by state officials after they they detect the "presence of a mosquito-borne disease." Typically, in order to detect a disease threat, investigators set up mosquito traps overnight, and return to check on them the next day. If there are 12 female aedes albopictus mosquitoes found in a trap, officials define a 450 feet spraying radius around the trap. Despite the agency's claim that it sprays when a disease is present, in fact, the agency is spraying mosquitoes that do not necessarily have the Zika virus, and are not tested for the virus when caught.
Whoever lives within the radius is then notified about the intention of spraying using a reverse 9-1-1 method via their landline. To notify the general public, a press release is sent out on the MDOA Mosquito Control Program's website, as well as a "˜tweet,' stating the approximate time and general location where the spray will occur. Maryland residents choose to opt out of spraying on  their property because they are labeled as "disease-control sprayings," necessary for public safety against mosquito-borne disease. Concerned for their health, many Maryland residents  have expressed their frustration at the burdensome process of monitoring twitter for information. Oftentimes, the range of time announced was anywhere from 4-8 hours long, leaving many individuals unsure of whether they are safe in their own house over night. Up until this week, there was no supplemental effort being made to inform chemically sensitive citizens of these sprayings, including those registered on the Maryland Pesticide Sensitive Individual Program list. Starting next week, when a press release is sent out before an unscheduled spray, the chemically sensitive residents who  have previously indicated being a liaison of information to a bigger group of people, along with beekeeping organizations, will be informed as well.
Many communities around the country have a history of using ineffective and pesticide-intensive mosquito management strategies, due to a lack of adequate information. The spraying of pesticides has long been used for mosquito control, but many experts believe that these methods fail to sufficiently manage mosquito populations.
The use of pesticide spraying as a preventive method increases and accelerates the likelihood that mosquitoes will become immune to the chemicals being sprayed once the disease actually arrives in a certain area. The potential for immunity comes from the fact that mosquitoes have a very short life cycle, often times being less than a week. After spraying, each succeeding generation is an opportunity for random mutations to occur that predispose a group of mosquitoes to be immune to the pesticides being used. Spraying of these pesticides also oftentimes kills other species that would have acted as a natural predator to mosquitoes.
Washington D.C., Maryland's neighbor, has taken a different approach over the years, acknowledging the potential adverse effects chemical usage imposes to human, animal, and environmental health. The D.C. Department of Health has an extensive mosquito monitoring system, capturing and testing over 12,000 mosquitoes this year alone, zero of which have tested positive for any mosquito-borne disease. Of these mosquitoes, less than 20 total have been aedes aegypti, the mosquito most known to carry the Zika virus where it has been found.
Consider contacting Beyond Pesticides for 25 free mosquito doorknob hangers to encourage best management practices in your neighborhood.  For more information, see Beyond Pesticides' Public Health Mosquito Management Strategy (also mosquito management strategy summary), an integrated approach that emphasizes education, aggressive removal of standing water (which are breeding areas), larval control, monitoring, and surveillance for both mosquito-borne illness and pesticide-related illness. Control of disease-carrying mosquitoes can be successful when emphasis is placed on public education and preventive strategies. Community-based programs should encourage residents to employ these effective techniques, focus on eliminating breeding sites on public lands, and promote monitoring and action levels in order to determine what, where, and when control measures might be needed. Through education of proper cultural controls, and least-toxic and cost effective biological alternatives, the use of hazardous control methods, such as toxic pesticides, can be eliminated.
All unattributed positions and opinions in this piece are those of Beyond Pesticides.