06
Oct
(Beyond Pesticides, October 6, 2016) According to a report published last week by the Iowa Environmental Council (IEC), the associations between elevated levels of nitrate in drinking water and health risks go well beyond the "blue-baby syndrome" and nitrate concentrations lower than the drinking water standard may be harmful through long-term exposure. The lead author of the report, Ann Robinson, Agricultural Policy Specialist at IEC, stated that the focus was on "significant findings that multiple studies have associated with nitrate in drinking water, including birth defects, bladder cancer and thyroid cancer."  Nitrate is a common groundwater contaminant that is sourced mainly from chemical fertilizers and animal waste.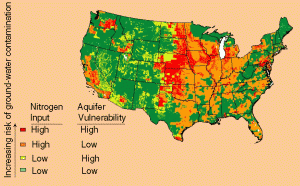 Nitrate is a common contaminant of drinking water, particularly in agricultural areas where nitrogen fertilizers are used. In 1962, the U.S. Environmental Protection Agency (EPA) established the drinking water standard of 10 mg/L of nitrate to prevent blue baby syndrome, a fatal infant blood disease. In addition to Iowa, the U.S. Geological Survey has also identified the following states as areas with high risk clusters from nitrate contamination to groundwater: Oklahoma, Kansas, Nebraska, North and South Dakota, Illinois, Minnesota, Pennsylvania, and Maryland.
The report reviewed studies conducted in the U.S., Canada, and Australia that found statistically significant associations between elevated levels of nitrate in drinking water and birth defects including neural tube defects such as spina bifida, oral cleft defects, limb deficiencies, and other skeletal system deformities. Studies conducted in Iowa, Spain, Germany, and Taiwan all reported similar increased risk for bladder cancer when nitrate concentrations in drinking water increased. And finally, two large long-term studies conducted by the National Cancer Institute and the National Institutes of Health concluded that there was an increased risk for thyroid cancer with increased intake of nitrate through drinking water and other sources.
Ann Robinson said in a statement that, "While more research is needed, the current findings offer compelling reasons to accelerate efforts to reduce pollution from nitrate flowing into our surface and ground water from farm fields, urban yards, livestock facilities, water treatment plants and other sources." High rates of fertilizer application may also increase the natural nitrate levels found in certain vegetables, such as lettuce and root crops. Prior research has indicated that long-term exposure to nitrates through food and water may increase the risk of thyroid disease. In the body, nitrate competes with uptake of iodide by the thyroid, thus potentially affecting thyroid function.
Iowa has been at the center of a growing debate about synthetic fertilizer use and the harmful effects caused by high nitrate levels in drinking water systems. This heavily agricultural state relies on a tile drainage system running under millions of acres of land that initially transformed the swampy land into highly productive farmland. This tile system is extremely problematic when it comes to non-point source pollution from nitrates, which leach into Iowa's waterways by way of the drainage pipes. This issue has received heightened attention following the Des Moines Water Works lawsuit against three drainage districts in northwest Iowa over the high nitrate levels in the city's water supply. Additionally, Iowa is a leading contributor to the nutrient pollution from nitrogen and phosphorus that contributes to the large "dead zone" in the Gulf of Mexico.
State and federal officials must address the root of the problem""including the extreme levels of nutrient buildup and the dangerous amount of nitrogen and phosphorus found in the water, caused by excess fertilization runoff from both chemically-intensive agricultural and residential sources. Drinking water treatment, which has been advocated for by some, is a short-term, band-aid option to a problem that is persistent and must be addressed through preventive, long-term solutions. Beyond Pesticides has long supported "feed-the-soil" approaches to all types of landscape management. Understanding the role of healthy soils in creating healthy landscapes and plants, Beyond Pesticides promotes a systems approach that centers on management of soil health and proper fertilization that eliminates synthetic fertilizers and focuses on building the soil food web and nurturing soil microorganisms.
Organic farming and land management uses natural, less soluble sources of nitrogen, phosphorous and magnesium; including cover crops, compost, manure and mineralized rock, in order to promote increases in soil organic matter and a healthy soil structure. Healthy soil structure allows water to infiltrate the ground slowly, rather than escaping across the surface and carrying soil particles, nutrients, and other inputs with it. Also, it allows plants to establish vibrant root systems that resist erosion. For more details, see Beyond Pesticides fact sheet  Organic Land Management and the Protection of Water Quality.
Source: Iowa Environmental Council, TakePart
All unattributed positions and opinions in this piece are those of Beyond Pesticides.