18
Oct
(Beyond Pesticides, October 18, 2016) A Wisconsin family is speaking out against groundwater contamination after their son fell ill two years ago, prompting them to test their well water. The test results found the water contaminated with fertilizers and pesticides, most notably the weed killer atrazine, which has been banned in their area for 20 years. Atrazine has been registered for use since 1958. Although many residential turf grass uses of the chemical have been eliminated voluntarily, homeowner uses do persist. The chemical has been linked to human health impacts such as childhood cancer, and rare birth defects, including gastroschisis, and choanal atresia.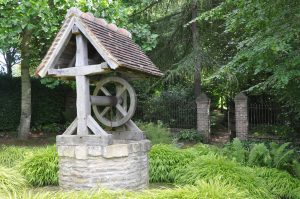 According to Minnpost, in the spring of 2014, Jacob, son of Doug and Dawn Reeves, fell mysteriously ill. His body became swollen and he developed an unusual rash. He was finally diagnosed with juvenile dermatomyositis, a rare inflammatory disease that affects the muscles, skin and blood vessels. The cause of the disease is unknown, so the Reeves family began their own hunt as to why Jacob became sick. When they received the test results from Wisconsin State Laboratory of Hygiene, it showed that their well contained atrazine at twice the state and federal drinking water health standard. Follow up testing by the state Department of Agriculture, Trade and Consumer Protection (DATCP) found 8.2 parts per billion of atrazine — almost triple the state health standard.
While there is currently no link between atrazine exposure and juvenile dermatomyositis, the DATCP warned in a letter that, "Long-term exposure to atrazine may cause a variety of health problems, including weight loss, heart damage and muscle spasms." Testing also revealed 19.2 parts per million of nitrate, which is almost double the state health standard of 10ppm. Nitrate is a common groundwater contaminant that is sourced mainly from chemical fertilizers and animal waste, and has been linked to birth defects, cancers and thyroid problems.
Wisconsin regulators have already taken steps to mitigate the effects of atrazine. In 1991, the state created a rule that allowed DATCP to set maximum application rates and even prohibit the use of atrazine in certain areas. The last update was in 2011, with 101 prohibition areas covering 1.1 million acres. Unfortunately for the Reeves family, these restrictions were not enough. Their well was poisoned even though they are in the middle of a prohibition zone where atrazine use is banned. The Reeves family has installed filtration systems to remove the contaminants, but are worried about other chemicals.
Stan Senger, DATCP's environmental quality section chief, expressed similar concerns. "My biggest concerns are in the cocktail of very low impacts of pesticides and their metabolites that are showing up in wells," Mr. Senger said to Minnpost. "So you'll find four or five of these pesticide components in a water sample, and you don't know what to tell the homeowners." Joanna Ory, a USDA National Institute of Food and Agriculture pre-doctoral fellow at the University of California-Santa Cruz, who studied Wisconsin's approach to atrazine, stated to Minnpost that, "There may be negative synergistic effects if groundwater contains a "˜chemical soup' of pesticides."
There is a growing body of research on the interactive effects of pesticides on human health and the environment. A 2002  study by Warren Porter, PhD., professor of zoology and environmental toxicology at the University of Wisconsin, Madison, examined the effect of fetal exposures to a mixture of 2,4-D, mecoprop, and dicamba exposure ""frequently used in lawn products like Weed B Gone Max and Trillion, and in conventional agriculture ""on the mother's ability to successfully bring young to birth and weaning. Researchers looked at pesticide concentrations diluted to levels that are considered "safe" by EPA and found that it is capable of inducing abortions and resorptions of fetuses at very low parts per billion. The greatest effect was at the lowest dose. For more information on pesticide synergy, see our 2004 article, "Synergy: The Big Unknowns of Pesticide Exposure."
Drinking water treatment plans and filtration systems are a short-term, band-aid option to a problem that is persistent and must be addressed through preventive, long-term solutions. Beyond Pesticides has long supported "feed-the-soil" approaches to all types of landscape management. Understanding the role of healthy soils in creating healthy landscapes and plants, Beyond Pesticides promotes a systems approach that centers on management of soil health and proper fertilization that eliminates synthetic fertilizers and focuses on building the soil food web and nurturing soil microorganisms.
Organic farming and land management uses natural, less soluble sources of nitrogen, phosphorous and magnesium; including cover crops, compost, manure and mineralized rock, in order to promote increases in soil organic matter and a healthy soil structure. Healthy soil structure allows water to infiltrate the ground slowly, rather than escaping across the surface and carrying soil particles, nutrients, and other inputs with it. Also, it allows plants to establish vibrant root systems that resist erosion. For more details, see Beyond Pesticides fact sheet  Organic Land Management and the Protection of Water Quality.
Source: Minnpost
All unattributed positions and opinions in this piece are those of Beyond Pesticides.