02
Nov
(Beyond Pesticides, November 2, 2016) A California-based company, Steep Hill, revered as the global leader in cannabis testing and analytics, recently released a report on the prevalence
of pesticide contamination in the medical cannabis supply chain in California. The results reveal that 84% of samples tested positive for pesticide residues, a number significantly higher than experts had previously expected, causing great cause for concern for California medical cannabis consumers.
While the issue of illegal pesticide use in states with legalized recreational marijuana markets, such as Colorado, Oregon and Washington State, has become an area of concern for consumers and public health groups in recent years, this data is significant in that it looks specifically at the medical marijuana market and the impact pesticide-contaminated marijuana may have on medical marijuana consumers, who are often individuals suffering from chronic disease or illness. A law intended to address this issue, the Medical Marijuana Regulation and Safety Act, was passed in 2015, but its oversight provisions, which include mandatory testing, will not go into effect until 2018, leaving California consumers to fend for themselves when it comes to determining if their cannabis has been contaminated by pesticides.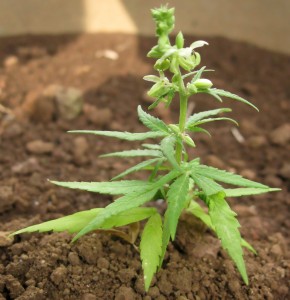 In its  analysis, Steep Hill found residue of the chemical myclobutanil, a key ingredient in pesticide Eagle 20, in more than 65 percent of samples tested during a 30-day period. Eagle 20, a fungicide, has not been approved for use on marijuana, and its active ingredient  myclobutanil is an  endocrine (hormone) disruptor classified as "toxic" by Beyond Pesticides.  Myclobutanil is also listed as a reproductive toxicant in the California Environmental Protection Agency  Proposition 65: Chemicals Know to the State to Cause Cancer or Reproductive Toxicity. In Colorado, the presence of Eagle 20 in testing marijuana was enough to cause the Denver Department of Environmental Health (DDOH) to quarantine tens of thousands of marijuana plants, effectively keeping them off the market, an action to protect consumers that was eventually supported by a U.S. District Court judge. In 2015, two marijuana users in Colorado, one of whom suffers from a brain tumor and holds a medical card to use the product, sued a large marijuana company over illegal use of Eagle 20 in their medical marijuana, asking for damages.
When burned, myclobutanil turns into a poisonous hydrogen cyanide, a colorless and extremely poisonous compound that can be lethal in high doses. Hydrogen cyanide affects organs most sensitive to low oxygen levels, including the brain, cardiovascular system and lungs, according to the Centers for Disease Control and Prevention. Hydrogen Cyanide is also a Schedule 3 substance under the Chemical Weapons Convention.
"Those in the cannabis community who feel that all cannabis is safe are not correct given this data. Smoking a joint of pesticide-contaminated cannabis could potentially expose the body to lethal chemicals," says Jmichaele Keller, president and CEO of Steep Hill. He went on to point out the problems with pesticide regulation in marijuana, as seen in Colorado, Washington, and Oregon, where officials are trying to navigate the issue of regulation in the recreational cannabis markets, as well as medical markets.
"As far as we're concerned, medicine should always be clean, safe, and effective. Unfortunately, our recent study discovered that 83.2% of the samples assessed by our triple quadrupole mass spectrometer contained pesticides that would have failed under the Oregon regulations. As of today, this tainted product could be sold in most dispensaries throughout the State of California without any way of informing the patients about the risks of pesticide exposure," said Keller.
In order to do this, Steep Hill believes that better tests, like the one it has  developed, are necessary across the board to protect public health and safety from pesticide contaminated marijuana.  Steep Hill compared their results to those from SC Labs, another testing company, and found they detected pesticides in less than 3% of the samples tested over a 30-day period ending October 10, 2016. During the same period, Steep Hill tested and reported pesticides in over 84% of cannabis which would have failed under the State of Oregon's pesticide regulations. The discrepancy in findings between labs demonstrates the need for the state to pass regulations that would ensure all marijuana undergo the same rigorous testing before products are made available for sale.
While moves by California and other states to curb illegal pesticide use in marijuana represent steps in the right direction, they also contain significant pitfalls and loopholes that allow contaminated cannabis to enter the market where it threatens public health. Beyond Pesticides continues to encourage states to take a stronger approach to regulating this budding industry, so that it blazes an agricultural path that protects its most sensitive at-risk users. Three elements must be passed and enforced in order to do so. They are:
1. A prohibition on the use of federally registered pesticides on cannabis;
2. Allowance of pesticides exempt from federal registration, but not those that are only exempt from tolerances and;
3. Requirements for an organic system plan that focuses on sustainable practices and only 25b products as a last resort.
Implementing these three requirements will ensure the sustainable growth of a new agricultural industry, and lead to the protection of public health. For more information and background this important issue, see Beyond Pesticides' report  Pesticide Use in Marijuana Production: Safety Issues and Sustainable Options.
All unattributed positions and opinions in this piece are those of Beyond Pesticides.
Source: Steep Hill Press Release