15
Dec
(Beyond Pesticides, December 15, 2016) On Monday, the U.S. Environmental Protection Agency (EPA) released the Certification of Pesticide Applicators final rule on restricted use pesticides (RUP) for publication in the Federal Register. According to EPA, the rule creates a national minimum age requirement of 18 for certified applicators, requires all applicators to renew their certifications every five years, and establishes "first time annual safety training for persons working under the direct supervision of a certified applicator." States have up to three years to create their programs to implement the new rules for RUPs, and can build upon existing programs if they are equivalent or exceed the updated standards. While EPA's rule represents a tightening of the restricted use provision, critics have long maintained that all persons handling restricted use pesticides —including those who work for companies that work in and around  homes and communities— should be certified because the supervision requirement does not ensure adequate oversight and protection. Those supervising non-certified applicators are not required to be on site, but, can be in telephone contact.
Restricted use pesticides are not available for purchase by the general public, and may only be applied by a certified pesticide applicator or a non-certified individual working under their direct supervision. To highlight the danger associated with the use of these chemicals, EPA estimates that these changes in oversight will save between $13.2 and 24.3 million per year, directly attributable to fewer acute pesticide incidents to people. However, in its cost-benefit analysis, EPA failed to quantify the willingness to pay to avoid possible symptoms of pesticide exposure, and only estimated the avoided medical costs and lost wages.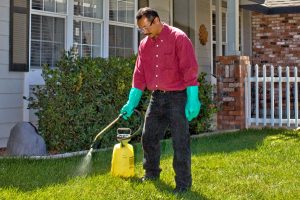 The EPA rule will cover all individuals that apply restricted use pesticides, including private applicators (individuals certified to use pesticides in agricultural settings), commercial applicators (individuals certified to use pesticides in non-agricultural settings), and those under the direct supervision of certified applicators. It is important to note that many states have already implemented a number of EPA's standards. States have primary enforcement authority under the Federal Insecticide, Fungicide and Rodenticide Act (FIFRA) by agreement with EPA. However, these rules provide a new floor from which states can craft further measures to protect public and environmental health from highly toxic chemicals.
EPA's rule establishes certification categories for private and commercial applicators covering higher risk application methods, including soil fumigation, aerial pest control, seed treatment, and forest pest control. At present, federal rules for private applicators have no specialized categories of certification, and commercial applicators require no additional certification to use specific application methods. Moreover, all certified applicators would be required to re-certify after a five-year period. Under current federal rules, certified applicators are only required to take a certification test once in their lifetime.
Many businesses and farm groups believe the new standards are too burdensome on pesticide applicators, citing increased time to meet training requirements and increased costs. However, with recent tragic pesticide poisonings, where preliminary evidence has been clear that pesticide applicators made gross errors in judgement and were possibly negligent, it is more important than ever for applicators to raise their standards of competency in making applications of hazardous pesticides.
Beyond Pesticides submitted comments to EPA last December when the rule revision was open for public comment. It is unfortunate that the standards were weakened from the originally proposed recertification every three years to every five years. The three-year recertification requirement would have harmonized the disparate recertification requirements across states. It is critical that states, which are charged with oversight for pesticide compliance and enforcement, are provided with the necessary resources to ensure pesticide applicators and applications are compliant with the new rules, and can conduct thorough investigations of reported incidents.
A current list of pesticides classified by EPA as restricted use is  available on the agency's website. While strengthening requirements regarding the use of these chemicals has been viewed as a necessary update, public health and environmental advocates have called for an overall shift away from toxic pesticide use, given the availability of safer alternative practices and products. The advocates have urged EPA to utilize its FIFRA authority to protect against "unreasonable adverse effects" by withdrawing registrations of pesticides for which there are less toxic alternatives. In fact, the agency acknowledges the qualitative benefits  of the new rule to include reduced chronic effects, such as Non-Hodgkins lymphoma, prostate cancer, Parkinson's disease, lung cancer, chronic bronchitis, and asthma to workers, handlers, and farmworker families. See Beyond Pesticides'  Pesticide Induced Diseases Database for more information on the relationship between public health effects and pesticides.
While any strengthening of applicator standards is commendable, they do not solve the complex pesticide problems associated with pesticide mixtures and emerging science that threaten the functioning of organisms and ecosystems.  EPA's rule represents an incremental step forward. It is necessary to simultaneously reduce the overall approval, sale and use of pesticides that are proven to be hazardous to human and environmental health and for which there are safer alternatives. Through experience, Beyond Pesticides has found that nearly every pest problem can be adequately addressed through close adherence to cultural, mechanical, structural practices. Within an organic systems approach that seeks to avoid pesticide use, ecologically compatible biological products and least-toxic pesticides can be employed to address remaining issues. Organic methods of growing food and controlling pests are now tried and true, and present a stark contrast to the conventional, chemical-intensive pest control industry. Rarely, if ever, should such highly toxic chemicals that may result in life-altering health effects be employed by any individual. To learn more about the benefits of supporting organic, see Beyond Pesticides  program page. For information on how to deal with pest problems through least toxic means, see  ManageSafe database.
Sources: EPA, Farm Futures
All unattributed positions and opinions in this piece are those of Beyond Pesticides.