23
Jan
(Beyond Pesticides, January 23, 2017) Last week, the U.S. Environmental Protection Agency (EPA)  released its final Biological Evaluations of Three Chemicals' Impacts on Endangered Species, which finds that chlorpyrifos and malathion likely have detrimental effect on 97 percent of all species listed and protected under the Endangered Species Act (ESA), while diazinon adversely affects 78 percent. According to EPA's release on the subject, this is the "first-ever draft biological evaluations analyzing the nation-wide effects" of these registered chemicals on endangered species after decades of widespread use. The evaluations stem from a legal settlement with the Center for Biological Diversity (CBD) in which CBD sued EPA in April 2014 for its failure to comply with ESA, which requires the agency to carry out consultations with federal wildlife agencies while registering pesticides.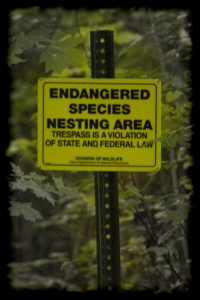 According to Nathan Donley, Ph.D., a CBD senior scientist, "We're now getting a much more complete picture of the risks that pesticides pose to wildlife at the brink of extinction, including birds, frogs, fish and plants. When it comes to pesticides, it's always best to look before you leap, to understand the risks to people and wildlife before they're put into use. The EPA is providing a reasonable assessment of those risks, many of which can be avoided by reducing our reliance on the most toxic, dangerous old pesticides in areas with sensitive wildlife."
The next step in this settlement involves both the National Marine Fisheries Service and the U.S. Fish and Wildlife Service. Along with the evaluations from EPA, the two agencies must issue biological opinions and determine steps to protect these endangered species from agricultural pesticide use. In accordance with the legal settlement, these biological opinions must be finalized by December 2017. Additionally, chlorpyrifos, widely used in agriculture, is awaiting a decision by EPA that, it was thought prior to the new administration, could result in it being banned for use on food crops.
The implicated chemicals are all organophosphates (OPs), derived from World War II nerve poisons that are a common class of chemicals used as pesticides. This class of pesticides affect neurodevelopment, weaken the immune system, and impair respiratory function, among other severe health risks. OPs are a widely used agricultural pesticide, with millions of pounds applied yearly across the country and are acutely toxic to bees, birds, mammals, aquatic organisms and certain species of algae at low doses. OPs method of entry into the environment can vary from pesticide drift, volatilization, and runoff from soil erosion.  Once present in the environment, organisms that come into contact with the pesticides will have difficulty performing basic survival and reproductive functions. A 2014 study by the United States Geological Service determined that an estimated six million pounds of the three chemicals combined are sprayed for agricultural use.
Studies document that exposure to even low levels of OPs during pregnancy can impair learning, change brain function, and alter thyroid levels of offspring into adulthood. In 2012, researchers at the University College London found that long-term low level exposure to organophosphate pesticides cause lasting damage to neurological and cognitive functions. The study notes, "The majority of well-designed studies found a significant association between low-level exposure to [organophosphates] and impaired neurobehavioral function which is consistent, small to moderate in magnitude and concerned primarily with cognitive functions such as psychomotor speed, executive function, visuospatial ability, working and visual memory." Children have an increased risk from OPs which has led the creation of "no-spray" buffer zone for sensitive areas such as schools and hospitals.
Ultimately, the widespread adoption of organic management is necessary to protect consumers and the environment in the long-term. Beyond Pesticides has long sought a broad-scale marketplace transition to organic practices that, as a default, prohibits the use of toxic synthetic pesticides by law (unless subject to rigorous health and environmental standards and recommended by the National Organic Standards Board) and requires a systems-based approach that is protective of health and the environment. This approach never allows the use of highly toxic synthetic pesticides, such as the toxic organophosphates, and advances a viable, scalable path forward for growing food. Find out more about why organic is the right path forward for the future of farming by going to Beyond Pesticides' organic agriculture webpage.
Source: Center for Biological Diversity
All unattributed positions and opinions in this piece are those of Beyond Pesticides.