31
Jan
(Beyond Pesticides, January 31, 2017) A tentative ruling last week by Fresno County Superior Court Judge Kristi Culver Kapetan moves California closer to listing glyphosate (Roundup) as a carcinogen under the state's Safe Drinking Water and Toxic Enforcement Act of 1986 (Proposition 65). Monsanto, a leading manufacturer of glyphosate under its Roundup brand, sued California to stop the listing, as it would require cancer warning labels be placed on its end-use product. The company indicates it will challenge the tentative ruling.
California's proposed to list glyphosate as a carcinogen after a 2015 determination of the International Agency for Research on Cancer, a United Nations body under the World Health Organization, that the chemical is a cancer-causing agent for humans based on laboratory studies. Monsanto refutes these claims, and since the determination has worked directly, and through proxy organizations, to discredit and attack IARC, as well as individual scientists that have participated in its decision-making process. Shortly after IARC's Monograph on glyphosate, the German Federal Institute for Risk Assessment (BfR), a Monsanto-supported group, released a report dismissing glyphosate's link to cancer. In October of last year, the U.S. House of Representatives' Committee on Oversight and Government Reform, led by Rep. Jason Chaffetz (R-UT), questioned the National Institutes of Health on taxpayer contributions to IARC. Croplife America, a trade association for chemical companies, worked last year to undermine the U.S. Environmental Protection Agency's public review process of glyphosate's carcinogenic properties.  Just last week, the American Chemistry Council, another consortium of agrichemical giants, including Monsanto, Bayer, Dow, and Dupont, attacked IARC for its monograph program.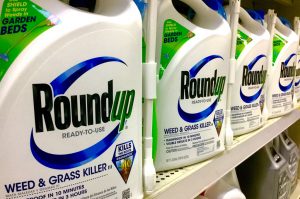 Outside observers see Monsanto's efforts as attempts to scuttle the science of independent researchers in order to protect its bottom line. California, in its court filing, called IARC's monographs the "gold standard" for determining the carcinogenicity of chemicals in our environment. Many farmers who believe their exposure to glyphosate resulted in their cancer diagnosis are applauding the court ruling. "I don't want anyone to go through what I have gone through," said John Barton, a Bakersfield farmer with non-Hodgkin lymphoma he asserts was caused by Roundup exposure, to the Fresno Bee. In an interview with the Los Angeles Times, Teri McCall said she thinks a warning on Roundup products would have saved her late husband. "I just don't think my husband would have taken that risk if he had known," McCall said to the Los Angeles Times.  Monsanto is facing a large number of personal injury lawsuits, and a potential mass tort action, over the link between glyphosate and non-Hodgkin's Lymphoma.
As evidence of the hazardous effects of glyphosate continue to mount, environmental groups like Beyond Pesticides are urging localities to ban or restrict the use of the chemical and other toxic synthetic pesticides. These groups maintain that California's glyphosate listing is certainly a step in the right direction; however, further steps toward a restriction or ban will be needed to protect the public's health. Being  the number one agricultural producing state, California's action may help to move glyphosate off the market, which would serve as a victory for the low-income communities in the southern part of the Central Valley that are exposed to glyphosate at higher levels than the general population.
For those who would be unaffected by California's listing, the best way to avoid glyphosate and other harmful pesticides is to support organic practices in landscapes and agriculture and purchase organic food. Beyond Pesticides has long advocated for organic management practices as a means to foster biodiversity, and research shows that organic land management does a better job of protecting biodiversity than its chemical-intensive counterparts. Instead of prophylactic use of pesticides and crops bioengineered with insecticides, responsible organic practices focus on fostering habitat for pest predators and ecological balance, and only resort to judicious use of least-toxic pesticides when other cultural, structural, mechanical, and biological controls have been attempted and proven ineffective.
Source: Los Angeles Times, Fresno Bee
All unattributed positions and opinions in this piece are those of Beyond Pesticides.