08
Feb
(Beyond Pesticides, February 8, 2017) As the controversy surrounding the Trump Administration and GOP Congress's plan for the Environmental Protection Agency (EPA) continues to grow, a nonpartisan group of 447 former EPA employees united to write a strongly-worded letter urging the Senate to block Scott Pruitt's confirmation as EPA Administrator. Citing EPA's "fundamental obligation to act in the public's interest based on current law and the best available science," the group, whose members served under both Democratic and Republican presidents, calls into question Pruitt's qualifications, given his longstanding record of opposing "longstanding tenets of U.S. environmental law." This letter is just the latest in the constantly evolving debate over the need for environmental protection.
In the past two weeks, the EPA has been under attack by the Trump Administration and Republican lawmakers who would continue to undermine the environmental protections required for clean water, clean air, and healthy natural resources. Myron Ebell, head of Trump's EPA transition team, suggested last week that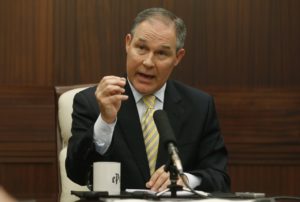 the agency's already understaffed workforce be cut from about 15,000 employees to 5,000, with potentially more cuts to follow. Trump himself then issued an executive order proposing that for every new regulation promulgated, two must be repealed, an initiative that could have a dramatic and devastating effect on environmental protections. Perhaps inspired by the blatant attacks by party leadership on the EPA, this week saw freshman Representative Matt Gaetz (R-FL) introduce a bill aimed at dissolving the EPA completely, demonstrating GOP willingness to discard more nearly 50 years of environmental progress in the United States.
While, as documented by Beyond Pesticides, EPA's regulation of pesticides is flawed, EPA plays a critical role in reviewing science and implementing laws protecting human health and the environment. Science itself has been under attack by the Trump Administration, as evidenced by its issuance of scientific grant and hiring freezes at EPA and other agencies nationwide, along with a ban on science communications through social media platforms. The grant freezes affected scientists working on a multitude of important issues, including those set to perform critical research on pollinator declines. The grant freezes have since been retracted –likely due, at least in part, to public outcry. The agency, under Trump's transition team, also made a statement in January that scientists will now face an unspecified vetting process before sharing their work outside the agency. However, this kind of review is at odds with EPA's own scientific integrity policy, which "prohibits all EPA employees, including scientists, managers, and other Agency leadership, from suppressing, altering, or otherwise impeding the timely release of scientific findings or conclusions."
With the confirmation of Scott Pruitt still pending, many, including the authors of the letter, are calling on the Senate to slow down Trump's assault on the environment by blocking his pick to lead the EPA. Highlighting the "tremendous progress" the agency has made to ensure that "every American has clean air to breathe, clean water to drink and uncontaminated land on which to live, work and play" the authors conjure up images of cities such as Beijing, where citizens often wear face masks to protect themselves from the air pollution, to drive home their point that EPA's gains over the past fifty years should not be taken for granted. They also point to preparation for "emerging new threats" like climate change and the need to address current gaps in protections, such as those that led to the Flint, MI water crisis, as key functions of the agency that might be lost under Pruitt. In fact, Pruitt's "reluctance to accept and act on the strong scientific consensus on climate change" is the former EPA employees' greatest concern about his potential appointment.
Opposition to Pruitt is not unfounded. In his role as Oklahoma Attorney General, the letter points out, Pruitt went to "disturbing lengths to advance the views and interests of business," often siding with the fossil fuel industry in actions against the EPA. Their concern is that Pruitt "does not share the vision or agree with the underlying principles of environmental law," poses a huge threat to the future of environmental progress in the United States, and would take us further away from, not closer to, achieving the environmental protections we need and deserve in order to ensure public health and safety. While Beyond Pesticides and others have resorted to suing EPA to force the agency to do its job, Pruitt did the opposite, suing EPA to prevent the agency from enforcing the law.
The U.S. Environmental Protection Agency is a federal agency with an annual budget of just over $8 billion with 15,376 employees as of 2016. Among its responsibilities is implementing the Federal Insecticide, Fungicide and Rodenticide Act (FIFRA), a regulatory and licensing law that oversees the registration of pesticides and their use. The Trump Administration plans to cut more than $800 million from the EPA's budget, an alarming 10% for those who value the implementation of environmental laws. According to Ken Kimmell, President of the Union of Concerned Scientists, "the inevitable consequence of budget cuts of that magnitude would be a reversal of about the last 50 years of improvements in air quality, improvements in water quality, and greater safety from chemicals that cause diseases in people." Additionally, the director of the European Union's (EU) Environmental Agency, Hans Bruyninckx, recently spoke out about Trump's climate skeptic policies, saying that there's "not a snowball's chance in hell" of containing global warming without US cooperation.
Environmentalists advise remembering the environmental tragedies of decades past and taking preemptive action to stop the Trump Administration and Scott Pruitt. Beyond Pesticides urges citizens to act now by calling or emailing elected representatives in Congress to let them know that the Trump administration's silencing of EPA will not be tolerated and demanding transparency and science-based standards going forward. Environmentalists advocate following the lead of the 447 former EPA employees by calling Senators to tell them to vote against the confirmation of Scott Pruitt to Administrator of EPA.
Source: Washington Post, Huffington Post, Bill Moyers
All unattributed positions and opinions in this piece are those of Beyond Pesticides.