16
Mar
(Beyond Pesticides, March 16, 2017) In a lawsuit filed by cancer victims, a federal judge on Tuesday unsealed documents that raise questions of collusion between officials at the U.S. Environmental Protection Agency (EPA) and Monsanto to fight a cancer classification for the company's flagship product, Roundup (glyphosate). The judge's ruling comes in a lawsuit against Monsanto, charging that the company's herbicide caused the plaintiffs' non-Hodgkin's lymphoma.
According to the New York Times, the court documents "include Monsanto's internal emails and email traffic between the company and federal regulators [and] suggested that Monsanto had ghostwritten research that was later attributed to academics." The California lawsuit was brought on following the determination and listing of glyphosate as a probable human carcinogen by the World Health Organization's International Agency for Research on Cancer (IARC) in 2015.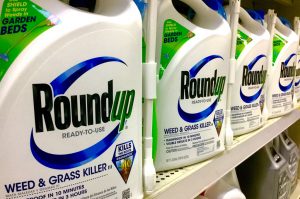 The released files show that Monsanto was "tipped off to the [IARC] determination by a deputy division director at the EPA, Jess Rowland, months beforehand. That led the company to prepare a public relations assault on the finding well in advance of its publication," according to the released documents. According to Monsanto's internal emails, Mr. Rowland had promised to fend off efforts by the Department of Health and Human Services (HHS) to conduct a separate review of the chemical, which never ended up occurring. The documents show a refusal by both EPA and HHS to protect public health over industry interests and advance the science on issues such as carcinogenicity of chemicals. This revelation comes as the Trump administration adopts positions that undermine scientific reviews and funding of regulatory oversight.
On Wednesday, Congressman Ted Lieu issued the following statement regarding the released files and questions on glyphosate safety.
"New questions about the safety of Monsanto weed killer Roundup are deeply troubling. I worked on the glyphosate issue last term and I believe consumers should immediately stop using Roundup, whose core ingredient glyphosate has been labeled a likely carcinogen and has been linked to non-Hodgkin's lymphoma by the International Agency for Research on Cancer. We need to find out if Monsanto or the Environmental Protection Agency misled the public."
"Reports suggest that a senior official at the EPA worked to suppress a U.S. Department of Health and Human Services review of glyphosate, and may have leaked information to Monsanto. I believe that a Department of Justice investigation is warranted to look into any potential misconduct by employees of the EPA. I also believe a congressional hearing is immediately warranted."
In addition to these released documents, a judge in another case in California has ruled that California can require Monsanto to label any products containing glyphosate as cancer causing. The final ruling came on Friday, a year after Monsanto initially sued California's Environmental Protection Agency's Office of Environmental Health Hazard Assessment over its notice of intent to add glyphosate to the state's Proposition 65 list of cancer-causing chemicals. Monsanto will now be required to place cancer warning label on its Roundup (glyphosate) products.
The chemical at issue in both of these cases, glyphosate, has historically been touted as a "low toxicity" chemical and "safer" than other chemicals by EPA and industry and is widely used in food production and on lawns, gardens, parks, and children's playing fields. Glyphosate is one of the most widely used herbicides in the U.S., with more than 276 million pounds applied in 2014. Glyphosate has been linked to cancer in the independent scientific literature and epidemiologic studies have found that exposure to glyphosate is significantly associated with an increased risk of non-Hodgkin's lymphoma, which is the same type of cancer that plaintiffs in the current lawsuit are suffering, or have lost someone who suffered, from.
Since the release of the IARC determination, Monsanto has made several efforts to discredit the scientific findings of this well respected, international body, as detailed in the documents associated with this case. In a February 8 filing, Monsanto submitted a court brief arguing that, "The IARC classification of glyphosate as a probable human carcinogen is not relevant to the question of whether or not Roundup caused the plaintiffs' cancers." It goes on to claim that "IARC's approach is "less rigorous" than EPA's in evaluating scientific evidence, and IARC's conclusions are "scientifically unreliable,"" a conclusion that is unfounded, to say the least. In a separate document filed on February 10, Monsanto went a step further, claiming that there is no evidence that the products at issue are "defective or unreasonably dangerous," and "no evidence of carcinogenicity in glyphosate or Roundup."
The mounting evidence of glyphosate's hazards is piling up and environmental groups, like Beyond Pesticides, are urging localities to restrict or ban the use of the chemical. Beyond Pesticides promotes these actions and many more through the Tools for Change webpage. This page is designed to help activists and other concerned citizens organize around a variety of pesticide issues on the local, state, and national level. Learn how to organize a campaign and talk to your neighbors about pesticides with our factsheets.
Consumers can also avoid glyphosate exposure by buying and supporting organic food and agriculture. Beyond Pesticides has long promoted the importance of organic in a sustainable food system, and works to promote the widespread transition of conventional farmland to organic production. By utilizing ecological pest management strategies, organic practices, and solutions that are not chemical-intensive are the most appropriate and long-term solution to managing unwanted plants, or weeds. To find out more about the work Beyond Pesticides is doing on organic integrity, check out Keeping Organic Strong, or to see all the reasons to go organic, visit Eating with a Conscience.
Sources: New York Times, Los Angeles Times
All unattributed positions and opinions in this piece are those of Beyond Pesticides.