03
Mar
(Beyond Pesticides, March 3, 2017) A new report identifies antibiotic use in conventional plant and animal agriculture as contributing to bacterial resistance to critical life-saving human medicines and the importance of organic agriculture in eliminating antibiotic use. The report, Agricultural Uses of Antibiotics Escalate Bacterial Resistance, published in the latest issue of Pesticides and You, finds that while antibiotic use in animal agriculture is widely acknowledged as harmful, the use of antibiotics in chemical-intensive crop production also pose unnecessary and significant risks. The World Health Organization in 2016 identified bacterial resistance to antibiotics as "one of the biggest threats to global health."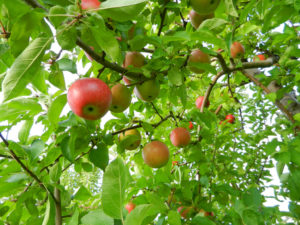 The report notes that the herbicide glyphosate, one of the most widely used pesticides in the U.S., is patented by its manufacturer, Monsanto, for its antibacterial properties. As a result, glyphosate leads as the most   widely used antibiotic in agriculture and around homes, gardens, schools, and communities in the U.S. Other antibiotics used widely in apple and pear production are oxytetracycline and streptomycin, which is also used in the production of peaches, beans, celery, peppers, tomatoes and potatoes. These uses at environmentally relevant levels increase bacterial resistance to important antibiotics in medicine.
"Resistant bacteria move from farms to families, through the environment to the human population, said Jay Feldman, executive director of Beyond Pesticides. Adding to the problem, he said, "The ability of antibiotics to disturb or kill the gut micro-biota in humans can lead to autoimmune and other 21st century diseases, including diabetes, obesity, food allergies, heart disease, antibiotic-resistant infections, cancer, asthma, autism, irritable bowel syndrome, multiple sclerosis, rheumatoid arthritis, celiac disease, inflammatory bowel disease, and more."
Regulation of antibiotic use in agriculture is divided between the Food and Drug Administration (FDA) and the U.S. Environmental Protection Agency. Widespread criticism over the use of antibiotics in animal production led to FDA's 2016 Veterinary Feed Directive, which limits livestock use of medically important antibiotics for humans to therapeutic use only with the oversight of a veterinarian –a restriction with significant loopholes for continued antibiotic use.
The report calls for (i) stringent regulations to eliminate use of antibiotics in food production, which leads to antibiotic resistance, residues in manure, and contamination of waterways, and (ii) a widespread shift to certified organic food production, which prohibits all antibiotics. The National Organic Standards Board (NOSB) moved to eliminate the last allowed use in organic crop production, on apples and pears, in 2013.
A fully cited version of this Pesticides and You report is available at bit.ly/PAYantibiotics.
This year's National Pesticide Forum, Healthy Hives, Healthy Lives, Healthy Land, will feature a variety of speakers. You can register today by clicking here, and see below for a sneak peak of some key speakers that will touch on this subject:
David Montgomery is a MacArthur Fellow and professor of geomorphology at the University of Washington. He is an internationally recognized geologist who studies landscape evolution and the effects of geological processes on ecological systems and human societies. He is the author of several books, including The Hidden Half of Nature, an exploration of how microbes are transforming the way we see nature and ourselves―and could revolutionize agriculture and medicine.
William Arnold is a Distinguished McKnight University Professor and the Joseph T. and Rose S. Ling Professor and Associate Head of the Department of Civil, Environmental, and Geo- Engineering at the University of Minnesota. His research focuses on the fate of organic chemicals in natural and engineered aquatic systems. Arnold's research was influential in helping lawmakers, other researchers, and regulators understand the levels of triclosan and triclosan related dioxins in Minnesota lakes.
All unattributed positions and opinions in this piece are those of Beyond Pesticides.
Visit our National Pesticide Forum webpage for further information.