29
Mar
(Beyond Pesticides, March 29, 2017) The U.S.  House of Representatives voted last week to pass H.R. 1029, the Pesticide Registration Enhancement Act of 2017 (PREA), reauthorizing the Pesticide Registration Improvement Act of 2003 (PRIA) under the nation's pesticide law, the Federal Insecticide, Fungicide and Rodenticide Act (FIFRA). When passed in 2003, PRIA established the legal authority of the Environmental Protection Agency (EPA) to collect fees from pesticide makers for safety reviews and market approval. Over time, PRIA has been supported by pesticide manufacturers that are seeking approval for pesticide products, and public health and environmental groups seeking rigorous review and restriction of pesticides to protect human health and the environment. In a time of great uncertainty for the future of EPA, given proposed large-scale budget cuts, swift passage of H.R. 1029 with bipartisan support may signal acknowledgement by Congress that EPA performs a regulatory function that all sides agree is necessary, even though there is rarely agreement on the positions that the agency may take.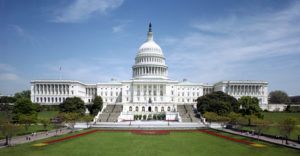 Proposed reductions in EPA staff speak to the idiosyncrasies inherent in the Trump administration's promise to reduce regulatory burdens while simultaneously making sweeping cuts to agency staff. E&E News points out that Trump's plan to cut 1 in 5 EPA employees and to cut the agency's budget by up to 25% may complicate pesticide reviews. Without adequate staff, not only will pesticide companies have to wait much longer for approval, but thorough vetting of the chemicals and their impact on human health and the environment is likely to suffer in the process.
"We're very concerned." said Ethan Mathews, director of public policy for the National Corn Growers Association, speaking about the proposed cuts to EPA. "[The Agency does] serve a very important role
"This is a very narrow thing that we can all agree on," Mae Wu, senior attorney with the Natural Resources Defense Council and member of the PRIA Coalition, told Bloomberg BNA.
Under current law, FIFRA dictates that any new chemical a company wants to put on the market undergo an extensive review by EPA before it can be registered. Additionally, all registered pesticides must undergo an EPA review every 15 years, a process that has been the subject of numerous critical reports.
While public health and environmental advocates work to improve pesticide restrictions associated with the registration process, there are concerns that a dismantled program will exacerbate problems of weak regulation. For instance, a weakened EPA program may see a spike in conditional registrations of pesticides, which has already been the subject of criticism. Under this program EPA conditionally registers pesticides without having received all the necessary data required to fully register it. Essentially the agency assumes that while it waits for additional data, the product will not cause adverse impacts that would prevent an eventual full registration. This raises major safety concerns, however, as chemicals or pesticides without all the data required for a full understanding of human and environmental toxicity are allowed on the market. A recent report (2013) from the Government Accountability Office, entitled EPA Should Take Steps to improve Its Oversight of Conditional Registrations, strongly criticizes this process, citing poor internal management of data requirements, constituting an "internal control weakness."
Beyond Pesticides has been a critic of EPA's pesticide program and its reliance on risk assessment and risk mitigation measures that have proved limited in their protection of public health and the environment. However, under a dismantled EPA, even the limited advances may be undermined. For instance, after an EPA review, Dow AgroSciences withdrew from the market in 2001 the residential uses of its organophosphate insecticide chlorpyrifos, which is associated with numerous adverse health effects, including reproductive and neurotoxic effects. Others, like propoxur, diazinon, carbaryl, aldicarb, carbofuran, and endosulfan have seen their uses restricted or canceled after years on the market due to unreasonable human and environmental effects, as EPA reviews led to cancellations. A product manufactured by DuPont, Imprelis, with the active ingredient aminocyclopyrachlor, was removed from the market only two years after EPA approval under conditional registration.
Originally passed by Congress as an amendment to FIFRA, PRIA created a registration service fee system for registering new pesticides, with the goal of creating a more predictable evaluation process. The fee system has been reauthorized twice before, once in 2007, and again in 2012. If the current bill (PREA) fails to pass the Senate and be signed in to law, the fees are set to expire September 30, 2017, removing funds necessary to EPA's pesticide programs.
Bloomberg reports that the future of the bill is unclear, as the Senate Agriculture Nutrition and Forestry Committee did not immediately say whether it would give the legislation a hearing or vote. In addition to calling on Congress to pass the bill, an unlikely alliance of chemical manufacturers, industrial agriculture proponents, and environmental groups have come together to urge adoption of the legislation to authorize funding for EPA's Office of Pesticide Programs (OPP). This may be difficult, however, as OPP has already seen a 25% decrease in full time employees over the last three years, and the Trump administration and its newly confirmed EPA administrator Scott Pruitt have vowed to make more cuts to EPA funding.
Traditionally, in order for EPA to assess fees under PREA, Congress must meet a funding threshold for OPP.  Supporters of the update to PRIA are asking both chambers to fund OPP at $128.3 million per year, the trigger amount for assessment fees. However, even if the funding threshold is not met, it is unlikely that the shortage would equate to a stop in the collection of fees, as Congress has successfully issued waivers in the past that allow EPA to continue collecting fees, despite Congress' lower spending. In fact, funding for the program has steadily decreased since 2010, dropping from $143 million per year to about $120 million.
In addition to continuing the registration program and the health and safety reviews that accompany it, PRIA also continues to provide funds for farmworker safety and training by setting aside a percentage of maintenance fees, up to $1 million. The bill also sets aside money to support products that claim efficacy against pests of significant public health or economic importance, including bed bugs and other crawling or flying insects, which could include those that transmit diseases, like mosquitoes. While there are many ways to control bed bugs and mosquito populations without using pesticides, Beyond Pesticides does recognize the importance of providing adequate funding to combat potential threats to public health and safety. PREA will also require EPA to track any changes to product labels pesticide companies are asked to make after a product has been reviewed for safety. All things being said, the bill will allow EPA to raise nearly 12% more in fees than that allowed under the last PRIA authorization, in hopes of maintaining the registration and, more importantly, safety review levels of existing pesticides.
While EPA is not without flaws in the way it regulates pesticides, the clear attacks on public health and the environment through proposed budget cuts by the Trump administration and EPA administrator Scott Pruitt demands urgent action. We must ensure that the public health and environmental protections that we depend upon for clean water, clean air, and healthy natural resources are not slashed, as we seek to ensure that the agency do its job..
Click here to contact your member of congress and tell them to oppose proposed cuts to EPA funding.
All unattributed positions and opinions in this piece are those of Beyond Pesticides
Source: Bloomberg BNA, GreenWire, EPA, H.R. 1029