11
Apr
(Beyond Pesticides, April 11, 2017) New data presented last week at a children's health conference show that glyphosate, the active ingredient in the popular Roundup weed killer, is detected in pregnant women and could lead to adverse pregnancy outcomes, including shorter gestation times and lower birth weights. The researchers here are calling for more biomonitoring of the presence of glyphosate in the public, in spite of industry and government efforts to undermine the science surrounding the human health impacts of the herbicide.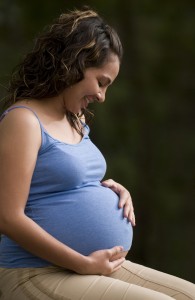 Researchers tested and tracked 69 expectant mothers and found that the presence of glyphosate levels in their bodily fluids correlated with unfavorable birth outcomes. The research is still in preliminary stages and is a project of the Children's Environmental Health Network (CEHN), which is studying the reproductive and children's health impacts of rising herbicide use in the Midwest. The preliminary results were presented at CEHN's conference last Thursday in Washington DC. Learn more about the project here.
This is a huge issue," said Paul Winchester, M.D., member of the research team involved with this study, medical director of the neonatal intensive care unit at the Franciscan St. Francis Health system and professor of clinical pediatrics at Riley Hospital for Children in Indianapolis, Indiana. Dr. Winchester said this is the first U.S. study to demonstrate glyphosate is present in pregnant women. "Everyone should be concerned about this."
Preliminary work detected glyphosate in the urine of 63 of 69 (91 percent) pregnant women receiving prenatal care through an Indiana obstetric practice. Researchers collected the data over two years, from 2015-2016, and found that women with high levels of glyphosate in their bodies has significantly shorter pregnancies, with lower adjusted birth weights. Low birth weights and shortened gestation are seen as risk factors for many health and/or neurodevelopmental problems over the course of an individual's life. Additionally, women living in rural areas had higher mean glyphosate levels than women in urban/suburban regions. This suggests that proximity to corn and soybean fields that are heavily treated with glyphosate is a route of exposure for these women. For more about the pesticides and human health impacts, visit the Pesticide-Induced Disease Database.
According to Dr. Winchester, much more research on glyphosate's impacts is needed, and more data is needed on levels of exposure through food. His team is calling on the Centers for Disease Control to include glyphosate and its primary metabolite, aminomethylphosphonic acid (AMPA) in biomonitoring work it does to track levels of pesticides and other chemicals in urine and blood.
Debate has been raging about the continued use of glyphosate in light of the 2015 classification by the World Health Organization's (WHO) International Agency for Research on Cancer (IARC) of glyphosate as a "probable human carcinogen." In addition to IARC's findings, previous studies have linked the toxicant to non-Hodgkin's lymphoma and multiple myeloma. One study found that chronic, low-dose exposure to glyphosate  led to adverse effects on liver and kidney health. Roundup formulations can also induce a dose-dependent formation of DNA adducts (altered forms of DNA linked to chemical exposure, playing a key role in chemical carcinogenesis) in the kidneys and liver of mice. Human cell endocrine disruption on the androgen receptor, inhibition of transcriptional activities on estrogen receptors on HepG2, DNA damage and cytotoxic effects occurring at concentrations well below "acceptable" residues have all been observed.
Since the release of the IARC determination, Monsanto has made several efforts to discredit the scientific findings of the international body. The company even submitted a court brief arguing that, "The IARC classification of glyphosate as a probable human carcinogen is not relevant to the question of whether or not Roundup caused the plaintiffs' cancers." It goes on to claim that, "IARC's approach is 'less rigorous' than EPA's in evaluating scientific evidence, and IARC's conclusions are 'scientifically unreliable,'" a conclusion that is not based on scientific fact.
However, a New York Times report revealed collusion between the U.S. Environmental Protection Agency (EPA) and Monsanto to suppress cancer findings in EPA's carcinogenic review of glyphosate. According to the report, court documents from another case "include Monsanto's internal emails and email traffic between the company and federal regulators [and] suggested that Monsanto had ghostwritten research that was later attributed to academics." The documents go on to state that EPA made an effort "to protect Monsanto's interests and unfairly aid the agrichemical industry." Just last month the U.S. Department of Agriculture (USDA) cancelled plans to test the U.S. food supply for the presence of glyphosate residues, even though the monitoring program was criticized by the Government Accountability Office (GAO) in 2014 for its failure to test for the widely used herbicide.
The mounting evidence of glyphosate's hazards is piling up and environmental groups, like Beyond Pesticides, are urging localities to restrict or ban the use of the chemical. Beyond Pesticides promotes these actions and many more through the Tools for Change webpage. This page is designed to help activists and other concerned citizens organize around a variety of pesticide issues on the local, state, and national level. Learn how to organize a campaign and talk to your neighbors about pesticides with our factsheets.
Consumers can also avoid glyphosate exposure by buying and supporting organic food and agriculture. Beyond Pesticides has long promoted the importance of organic in a sustainable food system, and works to promote the widespread transition of conventional farmland to organic production. By utilizing ecological pest management strategies, organic practices, and solutions that are not chemical-intensive are the most appropriate and long-term solution to managing unwanted plants, or weeds. To find out more about the work Beyond Pesticides is doing on organic integrity, check out Keeping Organic Strong, or to see all the reasons to go organic, visit Eating with a Conscience.
Yesterday, Beyond Pesticides and Organic Consumers Association sued Monsanto for misleading and deceptive labeling, claiming no effect on people and pets, despite scientific evidence that glyphosate impairs the functioning of the human gut bacteria, essential human health.
All unattributed positions and opinions in this piece are those of Beyond Pesticides.
Source: Huffington Post, CEHN