13
Apr
(Beyond Pesticides, April 13, 2017) With pesticide use rising in Southeast Asia, a new study is highlighting the importance of education and social dynamics in driving farmers' decisions to spray. When women oversee agricultural pesticide use, according to the study, these farms use approximately 42% less pesticide than other farms. The research, published in Science of the Total Environment this month, aims to provide insight on methods that may be used to intervene and reduce pesticide dependence. The investigation comes at a critical time, as international bodies like the United Nations indicate that rampant pesticide use has the potential to negatively impact human rights, especially in developing countries.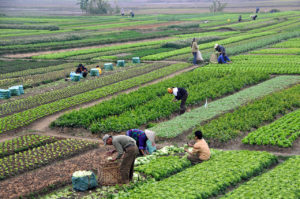 In Cambodia, Laos, and Vietnam, pesticide imports are growing at an annual rate of 61%, 55%, and 10%, respectively. These trends have international implications, as food imported from these countries is subsequently found contaminated with pesticides, with for example, 33% of crops imported to the European Union from Vietnam containing pesticide residue above maximum acceptable limits.
To uncover the factors driving increased pesticide use in the region, researchers queried 900 vegetable farming households on their knowledge, attitude, and practices. Knowledge included understanding about best practices in agriculture, such as the difference between pest and beneficial insects. Attitudes were related to views regarding the effectiveness of pesticides and their potential health impacts. Practices are related to farmers' agricultural use of pesticides, including how much product was purchased, the type of pesticide, and how much and how often products were sprayed.
When shown pictures of common insects, farmers were better able to identify pests, at a rate of 69%, than beneficial bugs, which were only identified correctly 23% of the time, on average. Under 50% of farmers were aware that honey bees, earthworms, and spiders were beneficial for their crops. Less than 5% of farmers on average knew that lacewings and ladybird larvae were beneficial. Analysis showed that farmers with a good ability to identify insects sprayed 48% less pesticides.
While 59% of farmers were aware that pesticides could have a dangerous impact on health, researchers found a number of prevalent mistaken beliefs. Though on average 86% of farmers worried about getting cancer from applying pesticides, 68% thought a pesticides' toxicity could be determined through smell, 31% believed herbicides are not risky for humans, and 17% believed drinking alcohol after applying pesticides eliminated any side effects.
An average of 79% of farmers also thought that mixing multiple pesticides together would increase their effectiveness, and 66% thought that "good pesticides" were those that killed all insects immediately. Interestingly, researchers did not find a strong association between knowledge of pesticide health hazards and a decrease in their use. However, farmers that believed pesticides were necessary and effective used 66% more than their peers.
Social factors also provided insightful results. Despite a general belief that pesticide spraying was a man's job, 49% of women in Vietnam oversaw pesticide use, as well as 38% in Laos and Cambodia. When this was the case, these farmers sprayed roughly 42% less pesticide than other farms. Furthermore, when farmers pursued advice from neighbors they used 48% less pesticides. Researchers determined that pesticide retailers had one of the more significant impacts on pesticide use. When farmers looked mainly to pesticide shopkeepers for advice on controlling pests, their use was 251% higher than the average farm surveyed.
This research provides a number of routes through which government and civil society can make an impact and slow pesticide use. By building awareness and the ability to identify insect pests, more farmers will be likely to take advantage of natural pest control, rather than work to indiscriminately kill all the insects in their fields. By further empowering women to engage in pest management decisions, farms will likely apply less chemicals. And by building local knowledge-sharing capacity, farmers will be more likely to turn to their neighbors than to pesticide applicators.
Despite a general belief by farmers than pesticides were necessary, an average of 82% reported that organic agriculture is a good alternative to conventional agriculture. As researchers explain, slow adoption of non-toxic alternative pest management practices, biopesticides, and ecological management was likely a result of availability of products and government support for these programs. By encouraging broader adoption of ecological and organic pest management practices, there is the potential for significant progress in reducing hazardous pesticide use.
It is important to note that these trends are not confined to developing countries. A major point of concern among authors in a recent French study which found that pesticides do not increase farmer profits, indicated that much of the advice farmers received regarding pest control came from pesticide companies. Farmers had little access to alternative information, the researchers noted.
Despite the structural barriers, organic agriculture continues to represent a viable, scalable path forward for both the developing and developed world. Consumers can play an important role in facilitating this needed change by voting with their wallet. Purchase organic products whenever possible to support a system that restricts toxic pesticide use, and encourages alternative pest management practices that aim to foster rather than eliminate ecological and natural pest services.
All unattributed positions and opinions in this piece are those of Beyond Pesticides
Sources: ScienceDirect, PhnomPenhPost