30
May
(Beyond Pesticides, May 30, 2017) U.S. beekeepers lost an unsustainable 33% of their hives over the past year, according to new data from the Bee Informed Partnership. While this year's numbers are lower than those recorded last year, which found nearly half of U.S. honey bee colonies died off, there is no cause for celebration. Declines are still well above acceptable loss rates of 15% or less, and the data indicate a continuing trend of substantial losses during the summer months. Without real changes to U.S. policy that effectively eliminate pollinator exposure to highly toxic and persistent pesticides such as neonicotinoids, there is little likelihood that these unsustainable losses will subside.
Despite the overall dour projections for U.S. pollinators, Bayer, the major manufacturer of neonicotinoid pesticides implicated in pollinator declines, attempts to spin the news in its favor. Last week, the company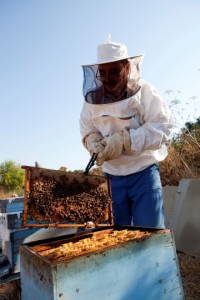 put out a press release titled "Welcome News for Honey Bees," and went on the praise itself for its efforts to protect pollinators.
The chemical industry continues to use public relations tactics, in a similar vein to those previously employed by the tobacco industry, to downplay the nature of the crisis, spin the science, and blame everything but their own products for the ongoing crisis in our food supply. The good news is that there is no shortage of scientific, peer-reviewed studies linking toxic pesticides to adverse impacts on pollinator health. The key however, is the difficulty in translating this overwhelming evidence to policy-makers and the public, the subjects of the chemical industry's misinformation campaigns.
For example, Bayer praised the Bee Informed Partnership's results, noting "It's the lowest winter loss rate since these surveys began." However, behind this year's "low" 21% winter loss rate, is a 10-year average of total winter losses which remains at 28.4%. And beekeepers are seeing more and more of their colonies die off in the summer months, a time when there should be few stressors on bee hives. As persistent, systemic chemicals are used year after year, they begin to build up in field margins and present substantial risks to honey bees both during and after crop pollination.
Indeed, as survey director Dennis vanEnglesdorp, PhD, notes in phys.org, "…I would stop short of calling this 'good' news."
Without honey bees and other pollinators, U.S. consumers would lose one out of every three bites of food. And the crops that pollinators support are those that are the healthiest, most flavorful, vitamin and nutrient dense foods, meaning a world without pollinators is a world with bland food that endangers global health. There is already evidence that the pollinator crisis is affecting crop yields, as a study earlier this year revealed that wild bees are declining in 139 key agricultural communities in the country.
In spite of the chemical industry's tactics, certain governments in the U.S and abroad have begun to tackle the issue through substantive action. After suspending neonicotinoid insecticides for 3 years, the European Commission recently proposed a complete ban on agricultural uses of these chemicals. The states of Minnesota, Connecticut, and Maryland have also taken steps to eliminate the use of pollinator-toxic products, and many local communities throughout the U.S. have passed pesticide reform policies.
Change always starts from the local level. If you're interested in getting involved to protect pollinators in your community, reach out to Beyond Pesticides at info@beyondpesticides.org or 202-543-5450. On our Bee Protective webpage, we have resources and educational materials to get you started.
Source:  Bee Informed Partnership
All unattributed positions and opinions in this piece are those of Beyond Pesticides.