04
May
(Beyond Pesticides, May 4, 2017) This week, a study released in the Proceedings of the Royal Society found evidence of reduced egg development and impact on feeding behavior in wild bumblebee queens after exposure to the neonicotinoid thiamethoxam. The study, led by researchers from the University of London, investigates the impact of field-relevant levels of thiamethoxam exposure on four wild species of bumblebee queens. In a BBC News article, lead author, Dr. Gemma Barron, Ph.D., stated, "We consistently found that neonicotinoid exposure, at levels mimicking exposure that queens could experience in agricultural landscapes, resulted in reduced ovary development in queens of all four species we tested. These impacts are likely to reduce the success of bumblebee queens in the spring, with knock-on effects for bee populations later in the year."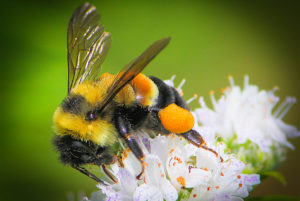 The study focuses on sublethal effects of neonicotinoids, as wild bumblebees are more likely to be exposed to low doses of these chemicals, rather than higher lethal levels. The queen bumblebees of four species were collected in the spring of 2014, with a total of 506 being used in the initial study groups. These queens were divided into three treatment groups and exposed to either a high level, low level, or no dose of thiamethoxam-treated syrup, reflecting pesticide levels found in pollen and nectar from wildflowers and oilseed flowers.
In their analysis, the researchers find that exposure to the high dose of thiamethoxam-treated syrup leads to a decline in ovary development through a reduction in the length of the reproductive cells, or oocytes, of the queens of the four species. After exposure to the high dose syrup, there is also a reduction in feeding by B. pratorum and B. pascuorum queens and no difference in feeding for the other two bumblebee species, which suggests that species sensitivity to this chemical may differ.
This research follows on the heels of another recent publication which reveals that exposure to thiamethoxam affects honey bee flight patterns as well as their physical ability to fly in ways that may be detrimental to their survival. The study is the latest in a growing body of science linking pesticide use to honey bee declines, raising concerns about overall honey bee health and longevity in the face of continued neonicotinoid use.
Thiamethoxam is a neonicotinoid insecticide used to coat seeds prior to planting. When the coated seed germinates, the resulting plant takes the chemical up through its vascular system and expresses the pesticide through pollen, nectar, and guttation droplets, and pollinators are exposed when they forage. Thiamethoxam is very closely related to the neonicotinoid insecticide clothianidin. When insects ingest thiamethoxam, their digestive system metabolizes it to clothianidin, killing the insect. These pesticides, which in addition to thiamethoxam include imidacloprid, dinotefuran, and clothianidin, have been found by a growing body of scientific literature  to be linked to pollinator decline in general.
In January of this year, the U.S. Environmental Protection Agency (EPA) released a major risk assessment documents on pollinator exposure to bee-toxic neonicotinoid insecticides, finding no significant risks, despite the large and continually expanding body of science identifying the pesticides' hazards. In the documents, EPA identifies risks posed to bees by several neonicotinoid insecticides, but suggests that no restriction on uses are imminent. And in the same month, EPA, in regulating the sale and use of pesticides in the U.S., released the ecological (aquatic) assessment for imidacloprid, which finds elevated risks to aquatic organisms. However, imidacloprid's aquatic assessment has not been published in the Federal Register to solicit public comments, which are necessary to ensure transparency and independent vetting of EPA's science and risk assessment conclusions. It is not clear whether EPA, under the leadership of Administrator Scott Pruitt, will follow through on the regulatory review, and, if it does, whether it will reverse earlier scientific findings of the agency.
Federal inaction, which has allowed for continued pollinator decline, points to the growing need for action from private companies to combat known threats to pollinators. In 2016, Aldi Süd, the German supermarket chain with stores in the U.S., became the first major European retailer to ban pesticides toxic to bees, including the neonicotinoids thiamethoxam, imidacloprid, and clothianidin, from fruits and vegetables produced for their stores. Beyond Pesticides recently led a marketplace effort to urge Amazon to remove neonicotinoid products from its website, with consumers taking direct action to contact the company's CEO.
In light of the shortcomings of federal action in the U.S. to protect organisms critical to ecosystem health, it is left up to us to act. For more on what you can do to help pollinators, visit our Bee Protective program page. To assist local garden centers and hardware stores in transitioning their customers to organic practices, Beyond Pesticides released the Well-Stocked Hardware Store, which provides the products and tools necessary to support a move to healthy organic landscapes. This guide complements Beyond Pesticides' Model Pesticide Policy and Implementation Plan for Communities, but can be used independently for hardware stores and garden supply centers looking to encourage the use of products and practices that protect the health of their customers, community, and the wider environment.
Sources: BBC News, Proceedings of the Royal Society B
All unattributed positions and opinions in this piece are those of Beyond Pesticides.