22
May
(Beyond Pesticides, May 22, 2017) Last week, the Maine Legislature's Committee on State and Local Government unanimously voted to reject a bill that would have prohibited the right of municipal governments to restrict pesticide use on private property. This victory protects the 27 cities and towns across Maine which are exercising their right to adopt pesticide restrictions that incentivize land management practices supporting healthy environments and allows other communities to follow suit. Opponents of the Governor's bill successfully argued that its weakening of local control could violate the Maine Constitution. Proponents of the bill included industry trade groups, lawn care companies, and golf courses, who argued that the legislation was necessary to address the growing "patchwork" of local regulations. There is no evidence of this, and on the contrary, there has been a long history of local communities adopting ordinances to respond to matters of public health and welfare.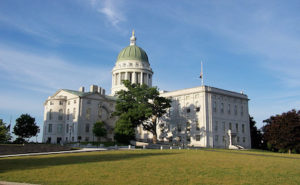 According to the Portland Press Herald, the bill, LD 1505, was a "late introduction on behalf of [Governor] Paul LePage and reportedly mirrored model legislation promoted by the American Legislative Exchange Council, a conservative policy group that works with state lawmakers." This group and others aim to suppress or preempt local democratic action to adopt public health and environmental protections in order to allow the unimpeded marketing of their products. Those industry groups that lead the charge to preempt local government action have a vested economic interest in selling toxic products and services and stifling the movement of the market toward greener alternatives. Passage of the bill in Maine would have been a significant blow to many local communities that currently regulate pesticides more stringently than the state.
There were 77 pieces of testimony submitted by individuals and organizations on the Governor's bill, with the large majority opposing it. Many Maine residents and local organizations expressed extreme concern over this piece of legislation, based on its undemocratic basis and failure to comply with the intent of the state constitution. Maine communities want to be able to adopt standards that exceed or are more stringent than state standards as a matter of public health and environmental protection, resulting in improved quality of life. Beyond Pesticides submitted comments on behalf of its Maine members opposing LD 1505, which can be viewed by clicking here.
Legislation incorporating preemption language has led to a battle for local control of the democratic process, as more and more local grassroots organizations mobilize effectively with knowledge of the hazards that accompany many lawn care products containing pesticides and the availability of alternative products and land management systems. For a more detailed explanation of state preemption law and how it affects local communities, please see Beyond Pesticides' State Preemption Law factsheet.
Some of the most critical victories in recent years as far as the ability local communities to regulate pesticides have come from Maine. In 2014, the town of Ogunquit became the first town in the state to prohibit the use of pesticides on public and private property for turf, landscape, and outdoor pest management activities. The ordinance was passed after a three-year education and awareness campaign, initiated by the town's Conservation Commission, and expanded upon existing pesticide use restrictions on town-owned property. More recently, in 2016 the town of South Portland passed an ordinance banning the use of toxic lawn pesticides on private and public land. Both of these ordinances would have been affected by LD 1505, as the language of the bill states that, "An ordinance regulating the sale or use of pesticides adopted prior to the effective date of this subsection is void."
Local policies incentivize the adoption of lawn care practices that meet community expectations by nurturing soil biology to support the natural cycling of nutrients, resulting in resilient turf systems and plants. Because the use of toxic materials undermines the soil food web by harming soil microbial life, identifying ecologically compatible products is an essential component of the system. To find out more about these ecologically sensitive products, see Beyond Pesticides' List of Products Compatible with Organic Landscape Management.
Take Action Today
It is more important than ever to build upon the growing number of local policies and to take action to protect public health and the environment. Community activism is the best way to get your town to adopt a policy that limits toxic pesticide use similar to those passed by the town of Ogunquit or South Portland. For assistance in proposing a policy to your city council, contact Beyond Pesticides at [email protected] or 202-543-5450. For more information on joining the growing organic lawn care movement, see Beyond Pesticides Lawns and Landscapes program page. Let your neighbors know your lawn and garden are organic by displaying a Pesticide Free Zone sign.
Source: Portland Press Herald
All unattributed positions and opinions in this piece are those of Beyond Pesticides.