14
Jun
(Beyond Pesticides, June 14, 2017)  Oak trees in Iowa may be the latest victim of widespread chemical-intensive agriculture, according reports in the Des Moines Register. The newspaper indicates that the Iowa Department of Natural Resources (IDNR) has received roughly one thousand calls this spring from residents concerned about the state of their oak trees. Leaves are 'tattered' down to the vein, in an appearance one would first think was related to pest damage, according to the newspaper article. However, foresters with IDNR indicate the cause is likely the use of chloroacetanillide herbicides, which are applied throughout the state and region. Advocates say that this situation contributes to mounting environmental problems associated with chemical-intensive food production that support the need for the adoption of non-toxic weed management strategies.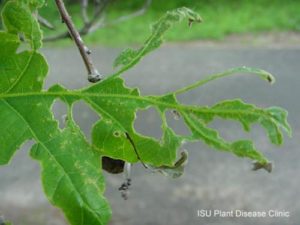 Past research has found associations between the use of chloroacetanillide herbicides, such as acetochlor and metolachlor, and oak leaf tatter syndrome. State officials indicate that the increase in resident complaints is likely related to a colder March, which may have retarded leaf development. By the time leaves began unfurling in early spring, herbicide use was at its height, leading to high ambient concentrations of the chemicals in the atmosphere, according to IDNR officials that spoke with the Des Moines Register.
"Our concern is, if this would happen in multiple years, year after year, that's heavy defoliation," said DNR forester Mark Vitosh to Radio Iowa. "It can cause stress which can induce other insects and other things to attack them."
State officials told the Des Moines Register that the phenomenon is likely not a result of farmer herbicide misuse. While some herbicide defoliation may be related to direct pesticide drift, widespread use brings chloroacetanilide herbicides into the air, and rainfall can bring the herbicides back down to the ground, affecting oaks far away from the original application site.
"In Iowa, we have a significant decline in white oak in the last five, six years," Mr. Vitosh said to the Des Moines Register. "I'm not saying it's because of tatters, but that could be part of the problem."
The syndrome is not limited to Iowa, but has been reported throughout the Midwest.  And the damage isn't limited to oak trees. Hackberry trees have also experienced widespread defoliation, according to Iowa State University Extension forester Jesse Randall, PhD, in an interview with the Des Moines Register. "But nothing will change because it's such a widely used family of chemicals," Dr. Randall stated.
That sentiment is not shared by Beyond Pesticides. Oak tree defoliation as a result of minute atmospheric herbicide concentrations should be a wake- up call not only for regulators, but product manufacturers and farm groups. Although the impacts may not be as acute as those seen by the now-banned herbicide Imprellis, which was responsible for the death of thousands of spruce and pine trees, it points to a broader concern –namely, the pervasive acceptance of chemical-dependency is agricultural production.
Despite the fact that numerous studies have found that certified organic row crops produce equal yields and often increased profits when compared to conventional production, politicians and regulators continue to act as if there is no alternative to a habitual dousing of hundreds of thousands of acres of farmland with synthetic chemicals. Given continued intransigence from policy makers, residents must play a central role in promoting positive change.
Support a safer system of food production by purchasing organic food, which doesn't allow the use of toxic synthetic herbicides, and requires methods to support ecological health. Folks in the Midwest should be aware of oak tatters, and report any signs to their Department of Natural Resources or Forestry Services. By joining together in support of a safer future, residents can make important strides in protecting trees, wildlife, and the wider environment.
 All unattributed positions and opinions in this piece are those of Beyond Pesticides.
Source: Des Moines Register, Radio Iowa
Photo Source: ISU Plant Disease Clinic