09
Jun
(Beyond Pesticides, June 9, 2017) Last week, it was revealed that the inspector general for the U.S. Environmental Protection Agency (EPA) is investigating potential collusion on glyphosate-related matters between Monsanto and former EPA official, Jess Rowland. In a letter sent to U.S. Representative Ted Lieu, obtained by HuffPost, EPA Inspector General Arthur Elkins Jr. stated that he has asked the "EPA OIG Office of Investigations to conduct an inquiry into several agency glyphosate review-related matters."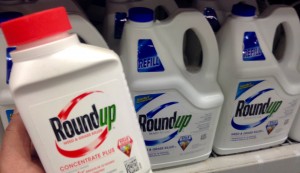 According to Michael Hubbard, a retired Special Agent in Charge for the EPA's criminal investigations division, in an interview with HuffPost, "Inspectors general have wide-ranging authority to investigate matters of corruption at federal agencies. With confirmation that the IG's office is taking up a probe, it's likely that IG investigators will begin interviewing Rowland's former colleagues and bosses, pulling records and looking through his emails."
In March 2017, Congressman Lieu issued the following statement regarding the released files and questions on glyphosate safety.
"Reports suggest that a senior official at the EPA worked to suppress a U.S. Department of Health and Human Services review of glyphosate, and may have leaked information to Monsanto. I believe that a Department of Justice investigation is warranted to look into any potential misconduct by employees of the EPA. I also believe a congressional hearing is immediately warranted."
This followed the release of documents by a federal judge in March 2017 that raised questions of collusion between officials at EPA and Monsanto to fight a cancer classification for the company's flagship product, Roundup (glyphosate). The judge's ruling comes in a lawsuit against Monsanto, charging that the company's herbicide caused the plaintiffs' non-Hodgkin's lymphoma. However, on May 15, the judge rejected a motion to compel testimony from Mr. Rowland.
According to the New York Times, the court documents included "Monsanto's internal emails and email traffic between the company and federal regulators [and] suggested that Monsanto had ghostwritten research that was later attributed to academics." The California lawsuit was brought on following the determination and listing of glyphosate as a probable human carcinogen by the World Health Organization's International Agency for Research on Cancer (IARC) in 2015.
The released files show that Monsanto was "tipped off to the [IARC] determination by a deputy division director at the EPA, Jess Rowland, months beforehand. That led the company to prepare a public relations assault on the finding well in advance of its publication," according to the released documents. According to Monsanto's internal emails, Mr. Rowland had promised to fend off efforts by the Department of Health and Human Services (HHS) to conduct a separate review of the chemical, which never ended up occurring. The documents show a refusal by both EPA and HHS to protect public health over industry interests and advance the science on issues such as carcinogenicity of chemicals. This revelation comes as the Trump administration adopts positions that undermine scientific reviews and funding of regulatory oversight.
Despite the known risks of glyphosate exposure, the U.S. Department of Agriculture (USDA) abandoned its plans to test the U.S. food supply for the presence of glyphosate residues in March 2017. The decision came after heated controversy over the carcinogenicity of glyphosate, which was cleared by a California judge for listing under California's Prop 65 in January of this year. The federal government's pesticide monitoring program, which is run jointly by USDA, the Food and Drug Administration (FDA), and the Environmental Protection Agency (EPA), was criticized by the Government Accountability Office (GAO) in 2014 for its failure to test for the widely used herbicide.
Beyond Pesticides urges individuals concerned about glyphosate exposure to support organic systems that do not rely on hazardous carcinogenic pesticides. In agriculture, concerned consumers can buy food with the certified organic label, which not only disallows synthetic pesticides like glyphosate, but also the use of sewage sludge and genetically engineered ingredients. Instead of prophylactic use of pesticides and biotechnology, responsible organic farms focus on fostering habitat for pest predators and other beneficial insects, and only resort to judicious use of least-toxic pesticides when other cultural, structural, mechanical, and biological controls have been attempted and proven ineffective. To find out more about the work Beyond Pesticides is doing on organic integrity, check out Keeping Organic Strong, or to see all the reasons to go organic, visit Eating with a Conscience. 
Sources: HuffPost, Center for Biological Diversity
All unattributed positions and opinions in this piece are those of Beyond Pesticides.