28
Jun
(Beyond Pesticides, June 28, 2017) In a move that could portend broader action in the case of environmental crimes, Michigan Attorney General Bill Schuette has filed charges of involuntary manslaughter against five state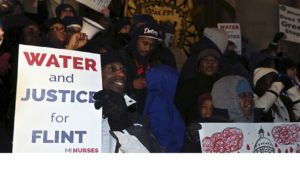 officials in a death resulting from Flint's water crisis. While most criminal charges resulting from environmental mishaps and disasters are filed against corporations or their CEOs, one law review article notes, "Prosecutors have become aggressive in seeking out responsible parties. The net of criminal liability is no longer limited to those directly involved in causing the disaster, but may now extend to those involved in the response, as well as officials whose derelictions in office helped create the risk."
In announcing the charges, the Attorney General stated, "All defendants charged with involuntary manslaughter are charged in relation to the death of Robert Skidmore, 85, of Mt. Morris, Michigan. Skidmore died of Legionnaires' disease after many others had been diagnosed with the illness, yet no public outbreak notice had been issued. The charges allege failure to notify and lack of action to stop the outbreak allowed the disease to continue its spread through Flint's water system." Involuntary manslaughter is punishable by up to 15 years in prison, and/or a $7,500 fine. While a total of 51 charges were filed against 15 public officials, the Attorney General's investigation found that a number of other government employees did seek to inform officials and ensure that the public was protected.
The city of Flint switched water sources, but failed to ensure that lead would not leach from antiquated lead pipes, threatening thousands of children. In addition, several Flint-area residents died of Legionnaires' disease in the time immediately following the switch from Detroit Water and Sewer Department to the Flint River. The corrosive conditions that promoted leaching of lead also provided ideal growing conditions for the Legionella bacteria. The Attorney General's investigation found that public officials who knew of the dangers nevertheless refused to correct the situation due to "a fixation, a preoccupation, with data, finances and costs, instead of placing the health, safety and welfare of citizens first."
The net of criminal liability is no longer limited to those directly involved in causing the disaster, but may now extend to those involved in the response, as well as officials whose derelictions in office helped create the risk." Since public officials make decisions that allow hazardous activities –such as spraying dangerous chemicals– while acknowledging risks to innocent people, property, and ecosystems, it is surprising that they are not often targeted for prosecution. International law holds to principles –Nuremberg principles created in response to Nazi atrocities— holding government officials responsible for violations of international law, even when they are acting under orders of superiors.
A case in point might be the decisions made by the Environmental Protection Agency in registering pesticides, to allow an "acceptable risk" of cancer. The victims of these decisions –unlike Holocaust victims or Robert Skidmore, who died of Legionnaires disease as a result of the Flint water crisis—are nameless statistics. A lawsuit against Monsanto by sufferers of non-Hodgkins lymphoma attaches faces to the statistics. It also issues charges of collusion between Monsanto and EPA officials concerning the evaluation of the carcinogenicity of glyphosate, resulting in an EPA Inspector General investigation of the charges.
An example of the kind of action for which the Michigan Attorney General levied charges against state officials might be EPA Administrator Scott Pruitt's overruling of the judgment of agency scientists that chlorpyrifos presents unacceptable risks to humans and the environment.
Underlying these faulty decisions is the assumption that toxic chemicals are the only alternatives available. Incorporation of organic alternatives could improve decision-making that is currently limited to balancing one toxic material against another with the same limited "fixation . . . with data, finances and costs, instead of placing the health, safety and welfare of citizens first" found in Flint.
Sources: ProPublica, Michigan Attorney General press release
All unattributed positions and opinions in this piece are those of Beyond Pesticides.