03
Jul
(Beyond Pesticides, July 3, 2017) A two-year long study conducted at 33 sites in multiple European countries to assess the effects of neonicotinoid (neonics) insecticides on three bee species in real-world environmental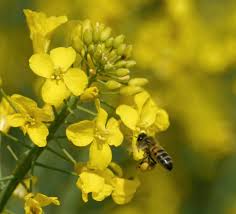 conditions confirms that these pesticides have a deleterious effect on bee survival. The study, the largest of its kind, explored the role of the agricultural use of neonics as seed coatings on bee health and fnds that the pesticides are persistent in the environment, contaminating pollen and nectar that bees forage, reducing colony fitness. The results of the study support ongoing calls for a ban on neonics, including a European Union (EU) wide ban proposed earlier this year.
The new research, published in the prestigious peer-review journal Science, which was in part funded by Bayer and Syngenta – manufacturers of the pesticides, encompassed large field experiments to assess the effects of neonic-treated crops on various bee species –honey bees (Apis mellifera), bumble bees (Bombus terrestris), and solitary bees (Osmia bicornis)– across three European countries (Germany, Hungary and the United Kingdom). The study examines the impacts of clothianidin and thiamethoxam, the neonics frequently used as seed coatings of oil seed rape (canola), and used in the fields under study. This large-scale field study reports negative effects on honey bees that persisted over winter, resulting in smaller colonies the following spring, including reduced worker bees. In the wild species, reduced reproduction was observed, allowing the researchers to conclude that neonics do cause "a reduced capacity of bee species to establish new populations in the year following exposure."
The results differed between countries, however. The survival of honey bee colonies was reduced by exposure to the neonics in the UK and Hungary, but not in Germany where the bees foraged far less on oil seed rape and had lower levels of disease. The researchers attribute this to the fact that bees in Germany get only 15% of their food from the oil seed rape fields, compared to 40-50% in the UK and Hungary. Bees in Germany are therefore feeding on other flower resources in the landscape and are less exposed to neonics. For wild bees, their reproductive success was reduced in all three countries. Interestingly, wild bees were also found to be exposed to imidacloprid, another neonic that was not part of this study. The researchers believe its presence is "most likely a result of environmental contamination from previous widespread agronomic use." Overall, the study finds that exposure to low levels of neonics causes reductions in hive fitness that are influenced by a number of interacting environmental factors that can amplify the impact of honey bee worker losses and reduce longer-term colony viability.
"We showed significant negative effects at critical life cycle stages," said Prof Richard Pywell, Ph.D. of the UK's Centre for Ecology and Hydrology (CEH), and part of the research team. "If the bees are foraging a lot on oil seed rape, they are clearly at risk."
The results of this study are being used to justify and bolster calls for an EU-wide ban on neonics, which was proposed earlier this year. A vote by member states is still being awaited, and recently French Prime Minister declared France will retain a neonic ban, which is set to go into effect in 2018 and is stronger than the current European Union restrictions. In 2013, the European Commission implemented a moratorium on the use of certain neonics for a limited time in order to protect severely declining and threatened bee populations. The moratorium came several months after the European Food Safety Authority (EFSA) released a report identifying "high acute risk" to honey bees from uses of the neonicotinoids. But, the researchers of this study say that even if use of neonics were to be restricted, continued exposure to neonic residues persisting in the environment as a result of their previous widespread use has the potential to impact negatively wild bees.
Neonicotinoids are highly toxic to bees and a growing body of scientific literature has linked them to pollinator decline in general. Neonicotinoids are associated with decreased foraging  and navigational ability, as well as increased vulnerability to pathogens and parasites as a result of suppressed bee immune systems.  In addition to toxicity to bees, neonicotinoids have been shown to also adversely affect birds, aquatic organisms, and contaminate soil and waterways, and overall biodiversity.
Canada's Pest Management Regulatory Agency (PMRA) is finalizing its proposal to phase out imidacloprid after its reevaluation assessment finds that current levels of imidacloprid in aquatic environments pose risks to aquatic invertebrates. PMRA notes that, "Based on currently available information, the continued high volume use of imidacloprid in agricultural areas is not sustainable." Uses proposed for phase out: trees (except when applied as a tree trunk injection), greenhouse uses, outdoor agricultural uses (including ornamentals), commercial seed treatment uses, turf (such as lawns, golf courses, and sod farms), and lawns.
Similarly, the U.S. Environmental Protection Agency's (EPA) 2017 assessment also finds that imidacloprid poses risks to aquatic organisms, and has concentrations in U.S. waters that threaten sensitive species. After much delay, the agency also released its preliminary pollinator assessment for the other neonics, clothianidin, thiamethoxam, and dinotefuran, which finds that they present "no significant risks" to honey bees, despite finding multiple instances where bees are at risk of toxic exposure, and overwhelming independent data to the contrary.
In light of the shortcomings of federal action in the U.S. to protect these beneficial organisms, it is left up to us to act. You can pledge to stop using neonicotinoids and other toxic pesticides. Sign the pollinator protection pledge today. Beyond Pesticides also advocates the adoption of organic land management practices and policies by local communities that eliminate the use of toxic pesticides in our environment. For more information on what you can do to protect pollinators in your backyard, see Beyond Pesticides BEE Protective campaign page.
All unattributed positions and opinions in this piece are those of Beyond Pesticides.
Source: The Guardian, Science Magazine