08
Sep
(Beyond Pesticides, September 8, 2017) Wetlands are important habitats for many creatures, and provide critical environmental services that impact human, economic, and social activity and mosquito management.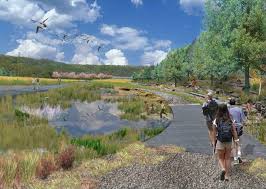 Wetlands improve water quality, sequester carbon, remove or neutralize pollutants, control flooding, protect adjacent areas from erosion, and host a multitude of beneficial plant and animal species — not to mention their recreational and aesthetic value.As recently reported in The Louisville, Kentucky Courier-Journal, a federally funded project underscores the importance of wetlands in controlling mosquito populations.
The Courier-Journal article highlights the construction of 12,000 square feet of new wetlands and marshlands in Louisville. The project was funded with a $9,500 grant from the U.S. Fish and Wildlife Service, and arose from the partnership of the Louisville Metropolitan Sewer District, the Sheltowee Environmental Education Coalition, and a local nonprofit, the Passionist Earth & Spirit Center. Thomas Biebighauser, a wildlife and wetlands biologist, designed the project, which also involved engineering students from the University of Louisville. Impetus for the initiative was in part educational, and in part, a response to the facts that as far back as the 1980s, the area had lost more than 70% of its original wetlands to agriculture and development, and stretches of the nearby Beargrass Creek had been "straightened" to enhance "flood control."
Creation of these new wetlands might cause people reflexively to worry about increased mosquito populations. But as Mr. Biebighauser notes, these new wetlands areas are not the highly polluted wetlands of past decades, which did sometimes spread disease via mosquitoes. A training program in constructing highly functional wetlands says, "Wildlife Biologist Tom Biebighauser has sampled hundreds of natural and constructed wetlands on [Kentucky's] Daniel Boone National Forest. He has found few to none contain mosquito larvae, and nearly all contain mosquito predators. An important fact . . . is that the watersheds of these wetlands are typically vegetated with grasses and trees, with no erosion or pesticide runoff. In other words, they're healthy."
Healthy, functioning wetlands actually can result in fewer mosquitoes, because such areas invite and support a host of beneficial species, many of whom predate on mosquito larvae. Among those are dragonfly larvae, damselfly larvae, water striders, diving beetles, salamanders, frogs, and toads. In addition, swallows, bats, ducks, fish, and adult dragonflies, which thrive in or near such habitats, consume adult mosquitoes. Native sedges, rushes, and wildflowers, which help attract these beneficial organisms, will be planted around the small ponding areas of the project.
Wetlands are sometimes described as Nature's "kidneys" for their cleaning and filtering functions. Wesley Sydnor, a Louisville Metropolitan Sewer District engineer who oversees stormwater programs, and who helped with the effort, says, "There is a lot of water quality value in the practice of routing runoff through wetland treatment before it gets into the stream." Wetlands also reduce flooding because they act as a "sponge," absorbing excess water that might otherwise flood adjacent areas.
Use of wetlands as mosquito management mechanisms may seem ironic; people commonly think of them as sources of mosquitoes because the organisms need standing water for breeding. Indeed, mosquito "control" programs often recommend draining wetland areas as a strategy. But wetlands restoration or construction controls populations by providing good habitat for mosquito predators, and by preventing or reducing flooding in areas that aren't normally wet and therefore support mosquitoes but not their predators.
Mosquitoes have extremely short life cycles (4–30 days), but the laid eggs can remain dormant for more than a year, only to hatch when an area again becomes wet. Areas that have been drained might need only a rainstorm to trigger hatching of existing eggs, and can produce more mosquitoes than they would have had they been left as functioning wetlands. Healthy wetlands can result in fewer mosquitoes than those that have been "managed" with some typical control approaches, such as drainage, channeling, or biological or chemical means.
The Indiana Wetland Conservation Plan points out that when the Essex County (Massachusetts) Mosquito Control Project restored a 1,500 acre wetland, the mosquito population dropped by 90%. The plan suggests, "If you own or manage drained wetlands, you can expect 'blooms' of mosquitoes after every rain. If you're tired of donating blood, consider restoring or creating a healthy wetland. Within days, natural predators of mosquitoes will begin to return. Not only will you be reducing the mosquito population, you'll also be creating excellent wildlife habitat, reducing the likelihood of flooding on adjacent ground, improving water quality, and possibly, [seeing] other benefits, as well."
Outside of wetlands, and often on people's residential or other properties, there are many areas of standing water that do boost mosquito populations — old tires, containers, untended bird baths, clogged gutters, hollow logs, even shallow areas that don't percolate well and create temporary "pools." A single tire collecting rainwater can breed more than 500 mosquitoes. People are concerned, of course, about the diseases that mosquitoes can transmit. It's important to be aware that the West Nile Virus is transmitted primarily by Culex pipiens, the "house mosquito," which does not like to breed in wetlands, but loves to do so in the various areas or containers people tend to provide.
There are myriad ways to support nontoxic approaches to controlling mosquito populations: one is to encourage healthy wetlands by advocate with your municipality and state for wetlands restoration or construction initiatives where that makes sense. Cleaning up any rainwater collectors is another, as is installing bat houses or tree swallow nesting boxes wherever possible to invite these avaricious mosquito predators to take up residence.
Beyond Pesticides emphasizes eliminating such collection objects or areas on one's property to limit mosquito populations and reduce the need for more destructive or toxic controls (such as pesticides), and suggests methods for safely repelling mosquitoes. Learn more about backyard mosquito management, and share the information with neighbors, the community, and municipalities with Beyond Pesticides' handy doorknob hanger.
Source: http://www.courier-journal.com/story/tech/science/environment/2017/08/31/new-wetlands-benefit-bellarmine-university-st-agnes-catholic-school/609351001