10
Nov
(Beyond Pesticides, November 10, 2017) On the heels of Beyond Pesticides' campaign to ban the herbicide dicamba –with thousands of people urging the state to act in the of massive crop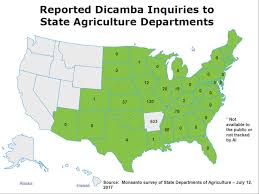 damage, the Arkansas State Plant Board (ASPB) voted earlier this week to prohibit the use of the weedkiller in agriculture during the next growing season. If officially approved by a subcommittee of the state legislature, the new regulations will make dicamba applications between April 16 and October 31, 2018, illegal for Arkansas farmers. The move by the State Plant Board is a huge blow to multinational agrichemical companies Monsanto and BASF, both of which have developed genetically engineered (GE) soybean crops tolerant of dicamba herbicides.
Dicamba has been linked to damage of the kidney and liver, neurotoxicity, and developmental impacts. The chemical has a strong propensity to volatilize small particles of the herbicide into the air and drift far off-site. Sensitive crop species can be damaged by dicamba at levels in the parts per million.
According to ASPB, during the public comment period over 29,000 individuals provided input, with the overwhelming majority in strong support of the state's plan to restrict the herbicide. Perhaps in anticipation of the action, Monsanto filed a lawsuit against ASPB for the temporary ban it passed on dicamba herbicides during this current growing season. Like with the recent determination by the state of California that Monsanto's glyphosate herbicide is carcinogenic, the agrichemical giant appears more than willing to use the courts in attempts to bully states into accepting its toxic products. Advocates hope that the corporation's lawsuit against ASPB will turn out the way it did in California –a failure.
"It is true that the plant board has looked at exhaustive research. They have taken an exhaustive and thorough look at opinions, and where they are at today is a continued use of restrictions for dicamba in Arkansas," spokesperson for ASPB Adriane Barnes told Arkansas Public Media.
Organic and conventional non-GE farmers, as well as consumer health and safety groups, are applauding ASPB for moving forward with restrictions, and hope that the action will encourage other states to follow Arkansas' lead. Over 3.6 million acres of crops in the U.S. were damaged by dicamba exposure this year, according to Reuters, and the crisis stretched beyond Arkansas into neighboring states of Missouri, Mississippi, and Tennessee. Earlier this year, Missouri announced a temporary "Stop Sale, Use or Removal Order" on all dicamba products in the state labeled for agricultural use.
While the U.S. Environmental Protection Agency (EPA) has announced new regulations that would make dicamba formulations applied to GE crops "restricted use," and only allowed to be applied by state certified applicators, the measure has been widely viewed as insufficient to address the scale of the problem. And evidence is mounting that, despite claims by Monsanto that its older dicamba formulations or improper applications is causing the crisis, Monsanto's proprietary dicamba and glyphosate formulation, Xtend, does volatilize enough to cause drift damage.
While chemical companies like Monsanto tout their new line of GE products as the solution to glyphosate-resistant weeds, the fact remains that GE agriculture, by developing crops specifically engineered to tolerate repeated sprayings of glyphosate, brought about resistant weeds in the first place. The good news is that more and more farmers are looking to alternative cropping systems to control resistant weeds and improve yields and revenue. Over past couple decades, organic agriculture has grown significantly. Support the future of farming by buying organic products whenever possible. And see Beyond Pesticides Organic program page on why organic is the right choice.
All unattributed positions and opinions in this piece are those of Beyond Pesticides.
Source: Reuters, Arkansas Public Media