30
Nov
(Beyond Pesticides, November 30, 2017)  A French court suspended the license of two pesticide products citing their toxicity to bees. The products, Closer and Transform,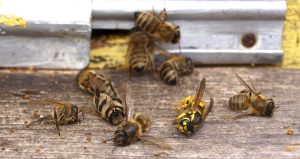 both contain the active ingredient, sulfoxaflor, which is highly toxic to bees. The ruling overturned the decision by France's health and environment agency, ANSES, to allow the use of the sulfoxaflor products. Sulfoxaflor use was also challenged in the U.S. by beekeepers concerned about its impact on already declining bee populations.
Sulfoxaflor is a relatively new active ingredient whose mode of action is similar to that of neonicotinoid pesticides. Even though it has not been classified as a neonicotinoid, it elicits similar neurological responses in honey bees, with many believing that sulfoxaflor is a new generation of neonicotinoid. Its initial 2013  U.S. registration was challenged by beekeepers and subsequently vacated by the Ninth Circuit Court of Appeals due to overwhelming risks to bees and the U.S. Environmental Protection Agency's (EPA) inadequate review of the data. The court concluded that EPA violated federal law when it approved sulfoxaflor without reliable studies regarding the impact that the insecticide may have on honey bee colonies. By vacating EPA's unconditional registration of the chemical, sulfoxaflor could not be used in the U.S. However, EPA then amended its registration conditions for the chemical, reducing the number of crops for which use is permitted, or only allowing post-bloom applications. This included prohibiting use on bee-attractive crops such as citrus, cotton, cucurbits, soybeans and strawberries. With this move, EPA stated that sulfoxaflor would have minimal impact on bees, much to the dismay of beekeepers and against mounting scientific evidence.
The French environmental organization, Générations Futures, brought the lawsuit on sulfoxaflor, arguing that the two products that contain sulfoxaflor persist in the environment, and are therefore a threat to bees. The group complained that sulfoxaflor is part of the neonicotinoid family of substances, which are being phased out in France due to concern over their link to declining bee populations. But ANSES claimed sulfoxaflor remains in soils and plants for a much shorter period of time. The ban is only temporary, however, until a French court hears detailed arguments from both parties. Currently, sulfoxaflor use is permitted for straw cereals such as wheat and fruit and vegetable crops but prohibited for crops that attract pollinating insects. The French court said it was unclear whether restrictions set out by ANSES on the use of sulfoxaflor would be followed. The European Union approved the use of sulfoxaflor in 2015.
Générations Futures praised the ruling and called for an end to all neonicotinoid products. Bee-toxic pesticides like sulfoxaflor continue to be a danger to bees due to their systemic nature —an issue regulatory officials continually ignores or underestimates, according to beekeepers and environmental advocates. Sulfoxaflor is closely related to neonicotinoid pesticides —it acts on the nicotinic acetylcholine receptor (nAChR) in insects, and like neonicotinoids, it is a "systemic" insecticide, which means that when applied to plants, it is absorbed and distributed throughout the plant, including pollen, and nectar.  Residues will remain in pollen and nectar and even contaminated soil and water long after initial application, sometimes for months and years. Bees and other pollinators will continually be exposed, exacerbating the problems faced by an already tenuous honey bee industry and further decimate bee populations.
A recent study published in Scientific Reports finds that bees exposed to field-realistic levels of neonicotinoid insecticides have problems with "buzzing" that results in reduced pollen collection. While this research is the first to quantify changes in buzzing, it is not the first to show that these notorious chemicals inhibit bees' pollination skills. Research in early 2017 found that realistic exposure to the neonicotinoid imidacloprid resulted in worker bees spending less time caring for young and pollinating flowers. This research is consistent with other studies that link neonicotinoid use to reduced learning in bees, as well as other impacts, such as those on colony size, and reproductive success. Another study looking at effects on birds reports that songbirds exposed to widely used insecticides, like neonicotinoids, fail to properly orient themselves for migration, the first such study that adds weight to arguments that pesticides are a likely cause in the decline of migratory bird populations.
Again and again, the pesticide industry attempts to dismiss and criticize independent science that shows the harm of its products. Rather than support the whack-a-mole approach that powerful chemical companies continue to foist on the public, where one chemical is replaced with another, consumers have the opportunity to support a different kind of agriculture. When making your decision at the grocery store, support a food production system that does not rely on toxic chemical use that causes untold harm to the natural world. Whenever possible, purchase organic, which does not allow these toxic insecticides.
All unattributed positions and opinions in this piece are those of Beyond Pesticides.
Source: Reuters