03
Nov
(Beyond Pesticides, November 3, 2017) Eating foods high in pesticide residue is associated with a lower probability of live births and a higher probability of pregnancy loss for women using in vitro fertilization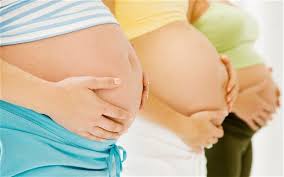 and other techniques in attempts to become pregnant, according to new research published by Harvard University doctors in the Journal of the American Medical Association (JAMA), Internal Medicine in late October. While eating a diet rich in fruits and vegetables remains part of a healthy lifestyle, this new research, the first to evaluate the relationship between dietary pesticide exposure and reproductive success in women, raises serious concerns.
"I was always skeptical that pesticide residues in foods would have any impact on health whatsoever," says Jorge Chavarro, MD, co-author of the research and professor of nutrition and epidemiology at the Harvard TH Chan School of Public Health to TIME. "So when we started doing this work a couple of years ago, I thought we were not going to find anything. I was surprised to see anything as far as health outcomes are concerned."
Scientists began with a group of 325 women enrolled in an ongoing research project, called the Environment and Reproductive Health (EARTH) study at a fertility research and teaching hospital. Each woman enrolled in the project filled out an extensive questionnaire on their reproductive history and lifestyle habits. Data were also recorded on each participant's height, weight, and body mass index.
For the current study, researchers collected additional information on each woman's typical diet, including how often they consumed certain foods, beverages, and supplements over the past year. To measure the impact of pesticide residues in these foods on reproductive success, scientists used the Pesticide Residue Burden Score (PRBS). Using information from the U.S. Department of Agriculture's Pesticide Data Program, which tracks pesticide residue on foods sold in the U.S., fruits and vegetables were categorized into distinct PRBS categories, ranging from one -being the least contaminated, to six -being the most contaminated. (See Table 1 in the study, or to the right for the PRBS of each fruit and vegetable.)
Results show, after adjusting for a range of confounders, that women who eat more conventional fruits and vegetables (more than 2.3 servings per day) with a score of 4 or above on the PRBS had a 18% lower probability of clinical pregnancy and a 26% lower chance of live birth. However, participants in the study who report eating the lowest number of high pesticide residue fruits and vegetables (one or less servings per day) do not have any statistical association concerning successful birth outcomes. Researchers found that as consumption of high PRBS foods increases, the chance of total pregnancy loss increases in lock-step.
Scientists found that replacing just one high pesticide residue fruit or vegetable with low PRBS produce each day improves the odds of clinical pregnancy by 79%, and the odds of live birth by 88%.
While the results are currently only associations and causality has not yet been proven, they are nonetheless dramatic. The outcomes of the study align with what is typically seen in rodent studies on birth outcomes, highlighting both the difficulty and crudeness of the current reliance on translating animal models to human exposure in the federal pesticide registration process. The U.S. Environmental Protection Agency (EPA), when accounting for interspecies differences in exposure levels between animal and human models, usually applies a simple 5X or 10X safety factor, which has the effect of decreasing allowed application rates by roughly a power of 10. Although many may suspect this translation process is more sophisticated, studies like these highlight that the current methodology for evaluating the toxicity of a pesticide is crude.
While inadequate testing of pesticides by EPA continues to lead to contaminated fruits and vegetables, there are still ways to make sure you're not consuming toxic produce. Take a tiered approach based on your current lifestyle and resources. Try to buy only organic certified produce, which does not permit toxic pesticides to be applied to fruits and vegetables. If possible, grow your own! That way, you can be sure about what was applied to your food. If you simply can not make the economics work, you could consider focusing on replacing with organic the foods that you eat most and high pesticide residue produce, but keep in mind the true cost. Organic produce is slightly higher because it does not significantly harm health or the environment, while conventional production passes those costs along to the consumer through higher health care bills, or the need for taxpayer-funded environmental remediation projects.
The researchers of the study are rethinking their food choices. "I am now more willing to buy organic apples than I was a few months ago," said Dr Chavarro to TIME. For more information on why organic is the right choice for you and your family, see Beyond Pesticides article, The Real Story on the Affordability of Organic Food.
All unattributed positions and opinions in this piece are those of Beyond Pesticides.
Source: TIME, JAMA Internal Medicine