10
Jul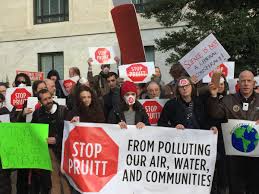 (Beyond Pesticides, July 10, 2018) Scott Pruitt's resignation as Administrator of the U.S. Environmental Protection Agency (EPA) took effect Monday under a cloud of ethics investigations and alleged collusion with industry to systematically undermine, dismantle, and reverse critical protections for air, water, and workers. Deputy Administrator Andrew Wheeler will take the helm as Acting Administrator after serving as Deputy Administrator, a position that required Senate confirmation. Mr. Wheeler, a lawyer who worked  in the toxics office at EPA under Presidents George H.W. Bush ad Bill Clinton, as an aide to U.S. Senator Jim Inhofe (R-OK) – a denier of climate change – and the Senate Committee on Environment and Public Works (EPW), and as a lobbyist for the coal and chemical industry, told the Washington Post: "[I] would say that the agenda for the agency was set out by President Trump. And Administrator Pruitt has been working to implement that. I will try to work to implement the president's agenda as well. I don't think the overall agenda is going to change that much, because we're implementing what the president has laid out for the agency. He made several campaign promises that we are working to fulfill here."
Senator John Barrasso (R-WY), chair of EPW, in a statement, said: "Under President Trump, the EPA has returned to its original mission of protecting America's air, water, and land. During Administrator Pruitt's tenure, the agency has rolled back punishing regulations that were hurting American workers and stifling our economy. It has become increasingly challenging for the EPA to carry out its mission with the administrator under investigation. President Trump made the right decision to accept his resignation." Meanwhile, some Democrats went on the attack. Senator Elizabeth Warren (D-MA) tweeted, "Andrew Wheeler may not have the same stink of blatant corruption as EPA Scott Pruitt, but he's just as dirty. The EPA's new Acting Director is a former coal lobbyist who will work to poison the agency and the environment he's supposed to protect from the inside."
During Mr. Wheeler's confirmation for the Deputy Administrator position, the Sierra Club issued a critical press release: "Wheeler brings his own troubling record of serving as a paid lobbyist for corporate polluters; the fact he would enter the administration in direct violation of Trump's own "ethics" Executive Order; a past history of paid industry sponsored junkets; and a campaign finance scandal under which he raised funds for committee members who voted on him months after he was already the presumptive nominee." Sierra Club executive director Michael Brune released the following statement: "Confirming coal lobbyist Andrew Wheeler to help lead the agency that is supposed to hold corporate polluters accountable is a move straight from the Washington, D.C. swamp. Wheeler's confirmation further enables the culture of corruption in which Scott Pruitt attacks clean air and water standards on behalf of the corporate polluters who've been providing him favors and giving him marching orders. The Senate should be demanding more scrutiny of Wheeler's own problematic record, not rushing his confirmation so that he can stand by Pruitt's side. Wheeler is ethically compromised. In addition to spending a decade getting paid to push corporate polluter interests in Washington, Wheeler has made clear he will do everything in his power to roll back essential safeguards that protect our air, water, and families from harmful toxins like mercury, arsenic, lead, and other pollution."
After months of pressure and an embarrassing encounter at an eatery in DC, EPA Administrator Scott Pruitt has resigned. Pruitt's resignation is on the heels of heavily critiqued spending, ethics, and policy decisions. One of his first orders (and one of his most egregious) in office was to reverse EPA's proposed decision to ban the nerve toxin, chlorpyrifos, a pesticide that decades of science as shown to be toxic to children's brains and harmful to workers. At a hearing last year, U.S. Senator Tom Udall (D-NM) pressed Mr. Pruitt to name a peer-reviewed study that indicates that chlorpyrifos is safe. Mr. Pruitt answered by saying that he had relied on 'interagency dialogue' with the U.S. Department of Agriculture (USDA) before denying the petition to ban the chemical. Regarding chlorpyrifos' safety, Mr. Pruitt stated that his decision was founded on "meaningful data and meaningful science." However, when EPA was followed up with to provide details on this science, Mr. Pruitt's office replied with quotes from trade groups and USDA, but failed to provide any scientific studies on the chemical's safety.
Mr. Pruitt's "changes" to the agency, frequently favored industry interests over science-based protection of the environment and public health. EPA's moves to reduce enforcement, roll back protective regulations, and install industry-friendly personnel have been covered extensively by Beyond Pesticides; examples include: "Where Has All the EPA Enforcement Gone," "The Threat to Scientific Integrity at EPA," and regular posts in its Daily News Blog.
Mr. Pruitt called his approach to EPA's function "Back to Basics," which he said included a refocus on EPA's "intended mission, a return of power to the states, and creation of an environment where jobs can grow." The agency website sets out the "three Es" of the Back-to-Basics agenda: Environment: protecting the environment; Economy: sensible regulations that allow economic growth; and Engagement: engaging with state and local partners. The new agenda was announced in April 2017 at a coal mine in Sycamore, Pennsylvania — a telling gesture that betrayed Pruitt's actual allegiances: to the extractive, chemical, industrial, and transportation interests that are the chief sources of environmental degradation in the U.S. In addition, Mr. Pruitt reassigned or demoted EPA employees who question him; failed to investigate civil rights complaints; delayed rules designed to protect farmworker children; eliminated from EPA advisory boards scientists who have received EPA grants; and attempted to slash EPA's staff in half.
But now with Mr. Pruitt gone, Mr. Wheeler, will step in as acting Administrator. He was confirmed as Deputy Administrator by the Senate in April by a vote of 53-45, despite being one of 30 federal employees who allegedly violated Mr. Trump's executive order barring former lobbyists from working in positions requiring them to manage issues they lobbied in the preceding two years. A former energy lobbyist, Mr. Wheeler's biggest client included Murray Energy Corporation, which is considered to be the largest coal mining company in the U.S. that fought the Obama administration's attempts to reduce carbon emissions and strengthen environmental and public health laws. According to the Natural Resources Defense Council (NRDC), Mr. Wheeler also served as a vice president of a 300-strong federation of coal interests in the capital called the Washington Coal Club and "made time to lobby the U.S. Department of the Interior to open portions of the Bears Ears National Monument to uranium mining." His other clients included Energy Fuels Resources Inc., Xcel Energy and Bear Head LNG Corporation.
The New York Time reports that Mr. Wheeler and the CEO of Murray Energy Corporation, Robert Murray, put together a so-called environmental regulations wish-list which detailed policies aimed at reinvigorating the coal industry — like curbing restrictions on greenhouse gases and slashing staff at the EPA.
His previous boss, Senator Inhofe is a noted climate change denier who refers to the science of climate change as "the greatest hoax" ever perpetrated on the American people. The New York Times notes that he once served at the EPA as a special assistant in the agency's Office of Pollution Prevention and Toxics for four years before he worked for Mr. Inhofe, and is a seasoned political operative who knows how to carefully traverse the system – which could mean even more wide ranging rollbacks.
Ideologically, Mr. Pruitt and Mr. Wheeler are cut from the same cloth, although it is yet to be seen whether he also shares similar lavish spending or desires for private $34,000 phone booths. EPA will continue to be led by Administrators hell-bent on destroying the environment, and under the new Acting Administrator, we can expect more assaults on the environment.
All unattributed positions and opinions in this piece are those of Beyond Pesticides.
Source: New York Times, Vox, NRDC