25
Sep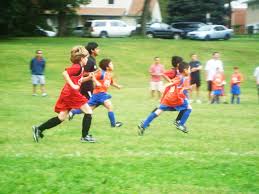 (Beyond Pesticides, September 25, 2018) Last week the pioneering yogurt maker Stonyfield Organic announced a new initiative to convert public fields and parks to organic land management in collaboration with Beyond Pesticides, Nontoxic Neighborhoods, and natural land care experts Osborne Organics. The StonyFIELDS #Playfree initiative will work with 35 communities over the next several years to ensure fields and community spaces are free from the use of toxic synthetic pesticides. The project launches at a critical time, as evidence of the dangers glyphosate and other pesticides pose to children, pollinators, and the wider environment continues to mount.
"Communities across the country are more and more interested in managing their public spaces without toxic pesticides because they are not necessary to maintain beautiful landscapes," said Jay Feldman, executive director of Beyond Pesticides. "Moms, dads, and pet owners are asking for these changes to protect their loved ones, municipal landscapers are adopting new methods to manage turf without subjecting themselves or bystanders to toxic exposure, and local elected officials are seeking out ways to improve public health and increase their community's commitment to environmental protection."
"Over 26 million kids play on parks and fields, most of which are managed using a chemical cocktail of herbicides, insecticides, and fungicides, glyphosate being one of those commonly employed," says Stonyfield co-founder and Chief Organic Optimist Gary Hirshberg.  "Unfortunately, the federal agencies in charge of protecting us from dangers like these are now being dismantled right before our eyes, so we feel the time is right to lend our voice to this critical issue and inspire everyone to become advocates and change agents for the health of their loved ones."
The StonyFIELDS #Playfree initiative will kick off with a Field Day this Friday, September 29 in South Portland, ME's Bug Light field. In 2016, South Portland passed an historic organic land care policy aimed at protecting residents from unnecessary pesticide exposure.'
Over the next year, Stonyfield Organics will work with the following communities:
South Portland, ME
Costa Mesa, CA
Burbank, CA
Tustin, CA
Salt Lake City, UT
Houston, TX
North Miami, FL
Hyattsville, MD
Portsmouth, NH
Dover, NH
Several of these cities have already passed pesticide reform policies or are on their way to transitioning turf sites, and Stonyfield's support will provide extra seed funding and on-going technical support as they continue implementing their organic programs.
Stonyfield is also launching two donation programs for the second phase of the project – a community donation and grassroots donation – in order to assist other communities in making the switch to organic management. Ten communities will be chosen to receive $5,000 in cash to use towards the purchase of organic inputs and/or landscaping equipment needed for organic management, plus in-kind technical support and guidance from expert resources. Residents, town employees, or town elected officials can nominate their community to receive one of these donations, and those interested in applying can find application details here.
In addition, a grassroots donations program geared toward 501(c)(3) non-profit organizations has been established to help local advocates take their community organization to the next level. For this part of the program specifically, a total of $50,000 will be given out to 501 (c)(3) groups based on project proposals.  Interested applicants can find details on the grassroots donations here. Applications will be accepted now until February 22, 2019, and all selected applicants from both donation programs will be announced in April 2019.
Several of the most commonly used chemicals on playing fields are either proven or likely endocrine disruptors, which can interfere with the development of children's immune, reproductive, and metabolic systems," says Philip Landrigan, MD, MSc, Founding Director of the Children's Environmental Health Center at Mount Sinai Hospital in New York and author of the book Children and Environmental Toxins: What Everyone Needs to Know. "I applaud Stonyfield and its collaborators for this initiative and encourage all parents to get involved in their local communities."
For information on the donation programs or to learn about specific community conversions, visit www.stonyfield.com/playfree. For additional information and resources to help you get toxic pesticide out of your community, visit Beyond Pesticides Tools for Change webpage or contact [email protected].
All unattributed positions and opinions in this piece are those of Beyond Pesticides.
Source: Stonyfield Organic