31
Oct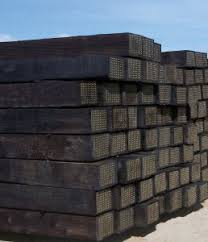 (Beyond Pesticides, October 31, 2018) Residents in the town of Great Barrington, MA are concerned about the health effects that could result from creosote-coated railroad ties stored in their neighborhood. According to a report in the Berkshire Eagle, soon after the Massachusetts Department of Transportation (MDOT) parked a load of railroad ties along tracks that cut through a neighborhood, community members began to complain about the smell. Creosote is a mixture of thousands of different chemical compounds. Derived mainly from coal tar and regulated as a pesticide by the U.S. Environment Protection Agency (EPA), the material represents a significant hazard that puts people and the environment in danger, and can be readily replaced by safer, alternative materials.
"I would want to roll up my windows immediately," Beth Rose told the Berkshire Eagle. Another Great Barrington resident, Jeanne Bachetti, told the paper, "I started to smell them right after they moved [them] in there. Sometimes we get a propane smell from [nearby] AmeriGas, so I couldn't tell. Then it dawned on me — that's not gas."
MDOT is currently in the process of a project to upgrade roughly 40 miles of freight line, and is using 60,000 railroad ties as part of the construction. Many of these ties were parked in the Great Barrington neighborhood over the summer, across from Ms. Bachetti's house. She indicated to the Berkshire Eagle that her mother, sick with Chronic Obstructive Pulmonary Disease (COPD), now requires a second liter of oxygen after the rail load began wafting creosote vapors into the town.
The Berkshire Eagle interviewed Beyond Pesticides' Community Resource and Policy Director Drew Toher, who indicated that the use creosote-coated ties was "unnecessary" given the availability of alternatives. In 2002, Beyond Pesticides joined with other health advocacy groups to petition EPA to suspend and cancel the use of creosote. As part of that petition (Table 1), groups created a lifecycle cost-comparison between wood ties and the use of recycled plastic composite ties, finding significant savings in favor of composite ties. With the economics on the side of alternatives, there is simply no reason to continue using these toxic ties and subjecting communities to hazardous chemicals off-gassing from creosote.
Creosote is considered a probable human carcinogen by the International Agency for Research on Cancer (IARC) of the World Health Organization, and EPA, and is listed as a carcinogen by the European Union and under California's prop 65.  The material has also been linked to organ damage, reproductive toxicity, and certain chemical compounds, such as benzopyrenes and phenols in creosote are considered endocrine (hormone) disruptors. Its use as railroad ties means there is an outsized risk of run-off from contaminated waterways, and fish in creosote-polluted water have displayed lesions and neoplasms after exposure.
The material was once used for a range of pesticidical properties. Up until the mid-1980s it was used as a right-of-way herbicide along roadways, sold to consumers as a garden weedkiller, employed as a fungicide on ropes, and its oil was used an insecticide to fog for mosquitoes. As a result of studies showing cancer and genetic mutations in lab animals, and higher rates of skin cancer for workers that handled the substance, EPA restricted use to only certified pesticide applicators. In its decision to allow the material to remain in production, the agency cited the economic benefits of its use as a wood preservative. However, that was before the improvements in alternative railroad ties, principally a composite material, made over the several decades since the material was first restricted. Composite ties, or if conditions warrant, steel or concrete ties, can effectively eliminate the need to both use and produce hazardous creosote.
The horrible smell described by Great Barrington residents represents a risk of health effects, as well as the failure of EPA regulators to adequately weigh the public health impact of this material. Similar to another wood preservative, pentachlorophenol, banned as a persistent organic pollutant by the Stockholm Conventions, EPA and U.S. regulators have failed to take appropriate action.
For more information about the hazards of wood preservative pesticides, see past Daily News articles, as well as Beyond Poison Poles, a recent update to Beyond Pesticides' original 2000-era reports Poison Poles and Pole Pollution.
All unattributed positions and opinions in this piece are those of Beyond Pesticides.
Source: Berkshire Eagle