24
Apr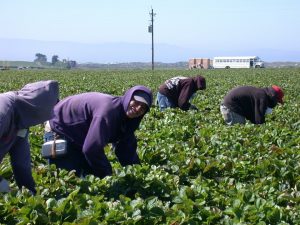 (Beyond Pesticides, April 24, 2019) On April 19, the U.S. Court of Appeals for the 9th Circuit ordered the U.S. Environmental Protection Agency (EPA) to provide a justification for why chlorpyrifos, a neurotoxic insecticide commonly used in agriculture, should remain in the U.S. market. The EPA has 90 days to comply.
Chlorpyrifos has been linked to damaging and often irreversible health outcomes in workers, pregnant women, and children. Low levels of exposure early in life can lead to increased risk of learning disabilities including lowered IQ, developmental delay, and attention deficit/hyperactivity disorder (ADHD). Farmworkers and their children are disproportionately affected by the use of this chemical because they are exposed at work, home, and even at school.
"While we are moving forward, the tragedy is that children are being exposed to chlorpyrifos, a pesticide science has long shown is unsafe," said Earthjustice Attorney Patti Goldman in a statement. "We hope Trump's EPA finally decides to protect the future of countless children and the health of millions of farmworkers."
The battle against chlorpyrifos has been long and drawn out, though there has been significant movement in the last few months. Beyond Pesticides has put together a brief timeline of events:
A Chlorpyrifos Timeline:
2001-2017
2001, EPA negotiates cancellation of chlorpyrifos for residential use.
2007, Pesticide Action Network North America (PANNA) and Natural Resources Defense Council file petition requesting EPA revoke all tolerances for chlorpyrifos.
2015, Obama administration proposes revocation of all tolerances for chlorpyrifos.
2016, EPA's revised human health risk assessment does not change the proposal to ban chlorpyrifos. Donald Trump is elected president.
2017, Scott Pruitt reverses order. A coalition of environmental groups led by Earthjustice promptly sues.
2018
June 2018, Hawaii becomes first state in U.S. to outright ban chlorpyrifos, effective 2022.
July 2018, Scott Pruitt resigns amid over a dozen ethics investigations.
August 2018, Court orders a ban on chlorpyrifos, stating that EPA violated the law. Trump administration quickly appealed the ruling.
December 2018, Senator Brian Schatz (D-HI) introduces the Prohibit Chlorpyrifos Poisoning Students Act.
2019
January 2019, Representative Nydia Velásquez (D-NY) reintroduces The Ban Toxic Pesticides Act, H.R.230 which bans the insecticide chlorpyrifos from commerce.
February 2019, 9th Circuit Court of Appeals rules to rehear the case regarding chlorpyrifos.
March 2019

Senator Tom Udall (D-NM) reintroduces Protect Children, Farmers and Farmworkers from Nerve Agent Pesticides Act of 2019.
Oregon Lawmakers consider House Bill 3058 and Senate Bill 853, nearly identical attempts to ban chlorpyrifos.
A set of documents obtained by the Center for Biological Diversity reveal that the Trump administration knew and actively concealed the fact that chlorpyrifos jeopardizes the existence of 1,399 endangered species.

April 2019

Proposed chlorpyrifos ban in Maryland (HB275, SB270) does not pass for the second year in a row.
Senator Kirsten Gillibrand (D-NY) introduces Safe School Meals for Kids Act to restrict schools from purchasing or serving any food that contains any amount of detectable chlorpyrifos.
Momentum is growing for better protection from pesticide use. However, beyond single-pesticide bans, the widespread adoption of organic management practices is best for holistic protection of human and environmental health from compounds like chlorpyrifos. Beyond Pesticides has long sought a broad-scale marketplace transition to organic practices, which prohibit the use of all toxic synthetic pesticides.
All unattributed positions and opinions in this piece are those of Beyond Pesticides.
Sources: Associated Press, Earthjustice. Maryland Reporter. OPB.