31
May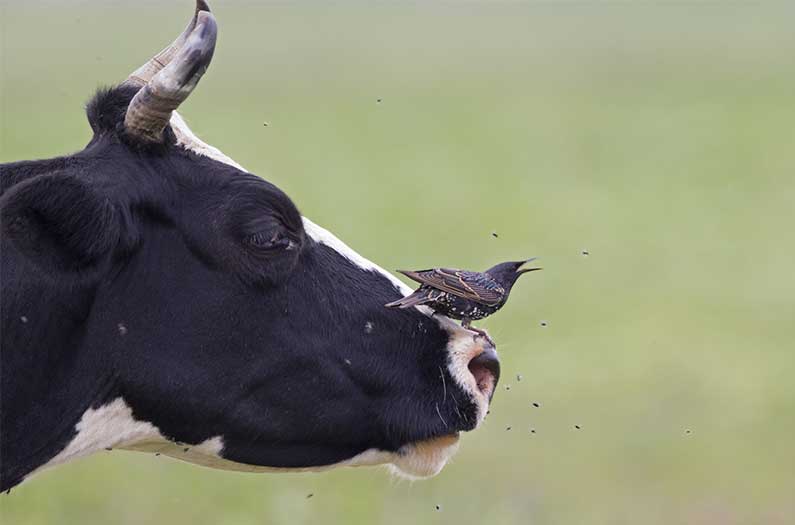 (Beyond Pesticides, May 31, 2019) Research from Finland provides clear evidence that there is a positive relationship between organic animal farms and bird abundance. While chemical-intensive agriculture is currently a major driver of biodiversity loss worldwide, organic practices can, conversely, bolster wild populations. Furthermore, the research points to the value of scientific analysis to inform policy.
Researchers questioned whether agri-environment-climate schemes (AES), policy elements in the EU where farmers are rewarded for various practices that support biodiversity, are having an impact on the abundance of 46 bird species associated with farmland. They studied the effect of various AES measures related to bird species traits (e.g. diet, migration ecology, Red List status). Using citizen science data from local bird watchers and land use assessments, researchers utilized ArcGIS mapping tools and statistical analysis to quantify relationships among factors.
Organic livestock farming was the only AES measure that had a significant effect on bird abundance. Insectivorous birds as well as long-distance migrant species had the highest positive relationship to organic animal farms. In the discussion, the authors reason that organic animal farms with nutrient-rich, antibiotic-free manure likely increases insect abundance which in turn supports insectivorous and, to a lesser degree, omnivorous birds. Previous studies show cow presence (and, relatedly, their manure) being positively associated with grubby fodder for birds.
In contrast to the findings of this study, researchers in France recently measured a 30% decrease in bird populations in the French countryside over the past 15 years. Vincent Bregnatole, an ecologist and author of the study, told the Guardian, "There are hardly any insects left, that's the number one problem." They and others point to intensive pesticide use on monoculture farms as a primary culprit of insect demise.
According to the recent United Nations report on biodiversity, "Species loss is accelerating to a rate tens or hundreds of times faster than in the past." Over 500,000 terrestrial species "have insufficient habitat for long-term survival" and are headed towards extinction unless habitats are restored.
Organic agriculture, and specifically integrated livestock, clearly offers a viable commercial alternative to chemically-intensive practices. Not only does it support biodiversity (ex. soil biota, insect populations, birds), this practice is a potential solution for the climate crisis. Project Drawdown, a nonpartisan non-profit focused on carbon sequestration, states that if managed grazing could be amped up worldwide it could sequester over 16 gigatons of carbon by 2050. Europe provides a model for farming policy incentives, and the directive of the researchers of this paper includes moving to evidence-based, regional targeting to improve ecological outcomes.
It bears mention that as the organic industry grows the USDA organic label is under threat from large agribusiness seeking to benefit from a burgeoning market. Beyond Pesticides advocates on behalf of family organic dairy farmers who believe in the access to pasture rule, which is vital to providing the benefits named above and protecting small farms.
Former Wisconsin dairy farmer Jim Goodman wrote in the Washington Post, "When six dairy farms in Texas feed their thousands of cows a diet of organic grain and stored forage, with no discernible access to a blade of grass, they end up producing more milk than all 453 organic dairy farms in Wisconsin combined. Then they ship it north, undercutting our price. We can't make ends meet and are forced out of the business. We played by the rules, but we no longer have a level playing field." As Beyond Pesticides promotes organic as a solution, it is critical to simultaneously act as a watchdog and strengthen the integrity of the organic label.
Contribute to the movement to protect the organic label by staying abreast of new legal and regulatory developments through Beyond Pesticides' Daily News Blog.  Stay engaged with the organic rulemaking process through Beyond Pesticides' Keeping Organic Strong webpage.
All unattributed positions and opinions in this piece are those of Beyond Pesticides.
Sources:Â PLOS, Anthropocene