05
May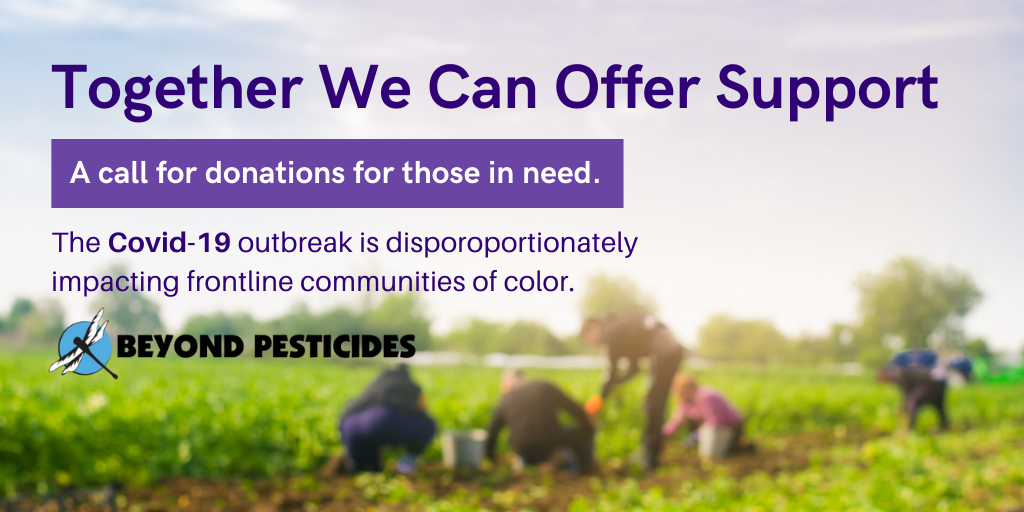 (Beyond Pesticides, May 6, 2020) The coronavirus pandemic highlights pre-existing cracks in social safety nets and environmental regulation. Pollutants, such as respiratory and immune-suppressing toxic pesticides, exacerbate the risk factors for people already vulnerable to Covid-19. Decades of environmental racism and other health factors are contributing to the devastating fact that in the U.S. black and brown communities are disproportionately impacted by this crisis. These same communities make up the bulk of frontline, essential workers; grocery store employees, security staff at hospitals, bus drivers, farmworkers, and others are keeping our country going through the pandemic. Government and corporation responses have been insufficient to help these individuals. As a society, we need to better support workers who are essential, and not expendable.
Farmworkers, the backbone of our entire food system, are at extremely high risk of COVID-19 as well as pesticide poisoning due to crowded working conditions and lack of personal protective equipment. As agribusinesses ask farmworkers to work for less pay in the midst of the pandemic, they need your help.
Giving Tuesday Now is a national donation campaign responding to the pandemic. While Giving Tuesday traditionally encourages donations to non-profits in November, today there is a push to encourage financial assistance to groups that need it most, now. Beyond Pesticides suggests supporting frontline organizations.
You can contribute directly to farm and food workers through these organizations:
Consider donating to your foodbank or joining a mutual aid program

As the economic system goes into a dramatic downturn and workers fear for their lives, the agrichemical industry and the Trump Administration's EPA are taking advantage of the chaos to further deregulate the poisons going into our food and water systems. This is why our work cannot rest. Now, more than ever, we need to stop community pesticide uses, not only because of they elevate risk factors, but because they are not necessary with all the green alternative practices and products we have at our fingertips.
The elimination of toxic pesticide use protects biodiversity and supports clean air, water, and land. Organic practices enhance atmospheric carbon sequestration, which slows global temperature change and allows for a livable future. The road to recovery from the crash of global biodiversity, the coronavirus pandemic, and the climate crisis should center organic practices that promote healthy communities and ecosystems.
To this end, Beyond Pesticides' Autumn Ness is working in the Maui Community to advocate for local food systems change. She and other local advocates successfully collaborated to get $2.5 million that would have gone from the county budget to tourism redirected to support local farmers. Ms. Ness has also helped create a food hub for farmers to connect with residents. This is a model for the country and we adjust to a 'new normal' after we get the pandemic under control.
Donate to Beyond Pesticides and Make Sure the Road to Recovery is Organic
"Beyond Pesticides Hawai'i is dedicated to help set up necessary infrastructure and transaction systems to get local farm products to local consumers," says Ms. Ness, "We are here to help Hawai'i farms get through this crisis and also build long-term systems that drive demand to support the rapid increase in organic farming in Hawai'i. If you are a farm that needs help getting through the COVID-19 shutdowns, please contact us at [email protected]."
Please consider making a donation at any level to frontline organizations and Beyond Pesticides. With your support, we will get through this pandemic and continue to fight for policies that support human and environmental health.