18
Aug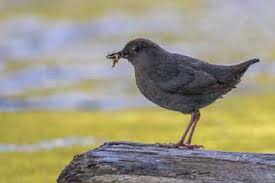 (Beyond Pesticides, August 18, 2020) Ongoing declines in bird population and diversity are being accelerated by the use of neonicotinoid insecticides, according to research published in Nature Sustainability earlier this month. The paper comes on the heels of a groundbreaking study released last year, finding that the United States has lost 3 billion birds since 1970, a roughly 30% decrease from that time. This new research adds further detail to losses that have occurred within the last decade, as farming patterns have shifted increasingly to the use of pesticide-coated seeds that poison.
Researchers used an extensive dataset from the North American Breeding Bird Survey, a project maintained by the United States Geological Survey (USGS). The project takes regular counts of bird species along 2,953 survey routes established throughout North America, accounting for dozens of both grassland and insectivorous birds, and over 630 non-grassland species. Pesticides were weighted for their toxicity to birds, and researchers produced an empirical analysis using regression models in order to establish a casual relationship between neonicotinoid use and bird populations.
Using these models, researchers determined that for every 100kg (220 lbs) increase in the use of any neonicotinoid within a US county, grassland bird populations subsequently decrease by 2.2%, and 1.4% of non-grassland birds die-off. Similarly, 1.6% insect-eating birds are lost, and 1.5% of non-insectivorous species are killed off. Species richness, the number of different bird species in a given area, and species evenness, determined by the relative abundance of different species, also decline as neonicotinoid use increases.
The numbers above are static scenarios. Dynamic modeling, which includes a 'lagged variable' useful in accounting for how population declines in the year before affect current-year declines, show cause for even greater concern. Researchers determined that from 2008 to 2014, neonicotinoids accounted for declines of 4% per year in grassland bird species, totaling nearly 10% over the six year time frame. Insect-eating birds declined at a slightly lower rate of 2% per year, and 4% total, while non-grassland and non-insectivorous birds declined 1% per year, 2% in total.
"Anything that can have an impact beyond what the target species are is concerning," said study coauthor Madhu Khanna, PhD, of University of Illinois at Urbana-Champaign to the Guardian. "Given the integrated nature of our ecosystem, the loss of any one part adversely affects the whole."
The study acts as a culmination of several threads of ongoing research into the impacts of neonicotinoids on bird populations. As far back as 2013, when data for the current study was still being collected, the American Bird Conservancy published a report finding that just a single kernel of neonicotinoid-coated corn contained enough to kill a songbird. Renown ornithologist Pierre Mineau, PhD, sounded the alarm through a study in PLOS One, indicating that acutely toxic pesticides should be considered a critical aspect of grassland bird declines.
A 2014 study by scientists in the Netherlands found results similar to the current study as well. In areas where water was found to be concentrated with high levels of imidacloprid, birds populations were found to decline by an average of roughly 3.5% per year.
A 2017 study found that neonicotinoids like imidacloprid had the ability to disrupt songbird migration, making it more likely that a bird will die during its perilous migration route. And these data were confirmed by a 2019 study, which confirmed that, like pollinators, neonicotinoids are usually not killing migratory birds outright, but instead precipitating a cascade of sublethal impacts that reduces their fitness in the wild, and makes them more likely to die or be killed.
It is evident that the insect apocalypse is beginning to move up the food chain. As we approach irrefutable proof linking neonicotinoid use not only to pollinator declines, but also declines in beloved U.S. birds, we must reckon with an administration completely uninterested in protecting environmental health. Not only has the Trump administration refused to place even modest restrictions on neonicotinoid insecticides, it has rolled back prior safeguards that banned pesticide-treated seeds and genetically engineered crops on wildlife refuges. Thus, even the nation's "wild" public lands represent a threat to America's birds.
A bill in Congress, Saving America's Pollinators Act, championed by Representative Earl Blumenauer (D-OR), would put a stop to all neonicotinoid use, and establish an independent advisory board to consider further actions to protect pollinators (and, by extension birds and other wildlife). Take Action today to urge your member of Congress to join in support of this critical legislation.
All unattributed positions and opinions in this piece are those of Beyond Pesticides.
Source: Nature Sustainability, The Guardian