13
Jan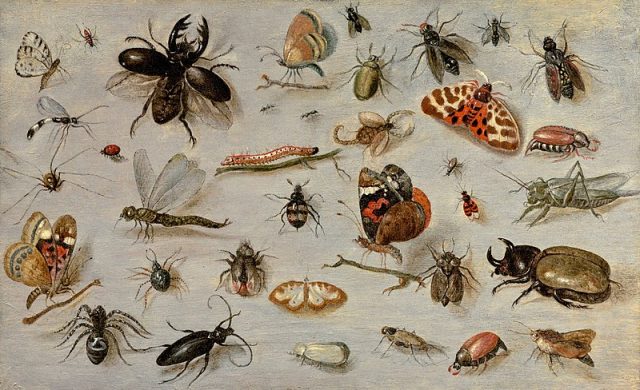 (Beyond Pesticides, January 13, 2022) Insects found in nature preserves are consistently contaminated with over a dozen pesticides, calling into question the ability for these areas to function as refuges for threatened and endangered species. This finding comes from a study published last month in Scientific Reports by researchers with The Entomological Association Krefeld, the team behind the seminal study on the decline of flying insect biomass in German nature preserves, which sparked worldwide discussions about the ongoing insect apocalypse. With pesticide use rampant and contamination ubiquitous, it is imperative that lawmakers and regulators embrace stronger measures to reverse the ominous trajectory society continues to follow.
After finding devastating insect declines of nearly 80% over the last 30 years in German nature preserves, researchers set out to analyze what chemicals these insects were being exposed to, whether there were differences in contamination that could be observed between seasons, and how surrounding agricultural areas influenced insect exposure to pesticide residue. Scientists established a series of Malaise traps – large, tent-like mesh nets that will trap flying insects. Between May and August 2020, two insect collection samples each were taken from 21 nature preserves around Germany. Collected insects were immediately placed into ethanol for preservation. Researchers then followed a novel method of testing the ethanol for the presence of 92 commonly used pesticides.
From among the 21 sites, collected insects were contaminated with 16.7 pesticides on average, with ranges from 7 to 27 different substances on a single insect. Overall 47 of the 92 pesticides researchers tested for were discovered on tested insects. Of these, six were insecticides, 13 were herbicides, and 29 were fungicides. Six pesticides were found at every site, including metolachlor-S, prosulfocarb and terbuthylazine herbicides, and the fungicides azoxystrobin and fluopyram. Scientists noted that these chemistries were some of the highest selling pesticides in the country the previous year (notably, in the United States, the U.S. Environmental Protection Agency has not updated pesticide sales and use estimates since 2017, when it provided numbers for 2008-2012).
Researchers also found the neonicotinoid thiacloprid in 16 of the 21 preserves. The chemical was banned in the European Union, but provided a phase out period until early 2021, indicating that 2020 may have been the last opportunity for farmers to use their stock supply.
As the study explains, "A ban could thus result in a greater impact to the ecosystem if parallel applications take place on a large scale. Hence, for potent pesticides which are banned from the market, it seems advisable to stop granting grace periods and instead destroy remaining stock rather than dispersing them into the environment despite knowledge of their high environmental risks."
Patterns of pesticide use were noticeable as seasons changed. The number of herbicides detected appears to increase in the spring, while fungicide residue detections increase in the late summer months. Although this factor is unsurprising, it has important implications for the health of insect communities, which undergo significant changes in terms of what species are active, dormant, breeding, or emerging at a given time of the year.
The study calls into significant question the ability for these areas to fulfill their stated function of wild species preservation. A correlation analysis conducted by scientists found that the number of pesticide detections on insects corresponded most closely to the amount of agricultural production within 1.25 miles (2,000 meters) of a given site.
In Germany, in response to earlier findings on the decline of insects in nature preserves, the government implemented restrictions around the use of pesticide sin these areas, and moderate buffer zones in the 10s of meters. However, in larger surrounding areas designated by the government as 'flora-fauna-habitat areas,' pesticide use is still allowed. Researchers argue that much broader buffers are required to effect meaningful protections. It was noted that a 1.25 mile buffer around all of Germany's nature preserves would cover 30% of the country. As a compromise, researchers proposed, "that future transformation in land management could be specifically targeted around nature conservation areas to form the required buffer zones of organic agriculture where no synthetic pesticides are applied." This novel policy approach balances human and ecological needs, protecting species in nature preserves while growing food nearby in a safe and sustainable manner.
The findings of this study are relevant to all pesticide reform advocates fighting recalcitrant lawmakers and regulators. Pesticide approvals allow long-lived chemicals to harm non-target species far away from an application site. These non-target species come into contact with multiple different pesticides at different times of the year. Regulators do not consider the long-range transport of pesticides, mixtures of multiple pesticides, or seasonal changes in pesticide exposure to non-target species, prior to the registration of a pesticide.
The study also highlights the problem of allowing a banned pesticide to have a 'phase-out period.' During this time, farmers and pesticide applicators are incentivized to use the remaining stocks of a chemical regulators have already indicated is too dangerous to be sold any further. This approach, where the solution to pesticide pollution is dilution, flies in the face of common sense, yet remains a fixture of pesticide regulation in the United States and abroad.
The real solutions to the pesticide-induced destruction of the natural world are neither impossible nor overly burdensome. The European Union, despite continued regulatory problems around pesticides, is embracing big changes with it's Farm to Fork strategy, as part of its European Green Deal. But the United States continues to be mired in chemical industry corruption, working to oppose the EU initiative by embracing an alternate approach alongside Brazil and the United Arab Emirates. As the EU looks up, recognizes, and begins to confront the challenges of balancing food production and environmental health, the US is actively working to exacerbate these problems in order to fuel the short-term profits chemical companies.
Organic agriculture represents a path forward that understands that growing food outdoors means working with, not against the animals that are already living in that area. Rather than work to create an artificial environment through the use of synthetic materials, organic agriculture embraces the diversity of the outside world and channels that energy into productive means.  Join us today in telling EPA and Congress that the failed pesticide program needs a new start, and USDA must remove barriers that are preventing a national transition to organic agriculture.
All unattributed positions and opinions in this piece are those of Beyond Pesticides.
Source: Scientific Reports