14
Jul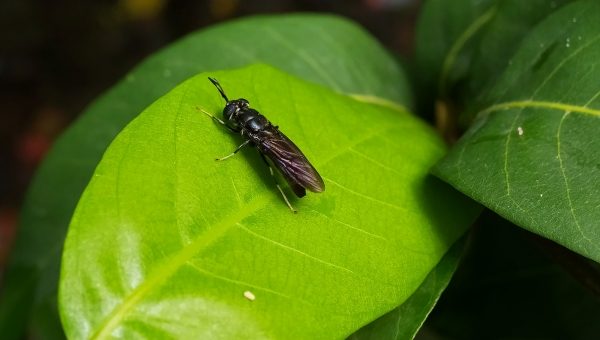 (Beyond Pesticides, June 14, 2023) The exoskeleton of the black soldier fly (BSF; Hermetica illucens) has the potential to be an effective organic fertilizer. A study in the journal Agriculture, Ecosystems & Environment highlights the positive impacts on plant size, flower count, seed production, appeal to pollinators, and resilience to herbivory that the fly's molted exoskeleton (or exuviae) can have when used as a soil supplement. The use of insect exuviae as an organic alternative to harmful synthetic fertilizers is an important step toward an environment free from chemical contaminants, and BSF are uniquely equipped to contribute to a regenerative organic agricultural system.
The study set out to determine the impacts of BSF exuviae on plant growth, resilience to herbivory, and pollination. The scientists divided black mustard plants into four different treatment groups: 1) grown in soil amended with BSF powdered exuviae; 2) control group planted in chemically-treated (conventional) soil; 3) grown in amended soil and subjected to increased herbivory from caterpillars (Pieris brassicae) and aphids (Brevicoryne brassicae); and 4) planted in conventional soil and subjected to increased pest exposure. Scientists measured plant growth, flowering status, seed production, herbivore abundance, and pollinator activity.
After three weeks, the supplemented soil grew plants with enhanced height, width, and leaf length compared to the control. The supplemented plants produced more seeds and flowers, attracting a greater number of pollinators. Moreover, the plants maintained their enhanced growth despite herbivore attacks, signaling a heightened level of resilience. The study authors note, "When infested, plants grown in amended soil were better able to compensate for tissue or assimilate loss and resisted the attack better, not only maintaining their larger size, but also their enhanced seed production."
Plants interact with a large variety of organisms above and below ground. On the surface, mutualistic plant-pollinator interactions are crucial for successful reproduction, but plant herbivory can negatively affect a plant's survival. Underneath the soil, plant roots interact with countless microbes that can be both beneficial and harmful to the plant. BSF exuviae contain large amounts of the natural biomolecule chitin, which enhances the growth of beneficial microorganisms. Chitin increases the concentration of plant-growth-promoting rhizobacteria (PGPR), a microorganism useful to the plant's defense system in fighting plant pathogens and insect pests. Moreover, PGPR leads to faster regrowth by enhancing nutrient and water uptake.
The idea of a "circular agricultural system" is often discussed in advocating for a more sustainable future. But what is circular agriculture, and how exactly does it address the issues of pesticide use and climate change today? "Circular agriculture aims to minimize inputs of concentrate feed and chemical fertilizer as well as outputs of harmful substances and waste. Residual products from one chain are feedstocks for another." In a circular system, inputs and outputs are localized as much as possible, removing the need for chemical soil additives. For example, instead of cultivating a monoculture field, a farmer grows a variety of crops, including livestock feed. Rather than importing animal feed from an external source, the farmer's cows can eat feed locally grown on the farm. Cows produce manure, and manure is an effective fertilizer. Rather than importing chemical fertilizers from an external source, the farmer can use the manure as an organic fertilizer—and the cycle repeats. Circular agriculture works toward a more self-sustaining approach in contrast to industrial farming today. This system "can reduce resource requirements and the ecological footprint of agriculture. It can also help ensure a reduction in land-use, chemical fertilizers and waste, which makes it possible to reduce global CO2 emissions," according to the United Nations Department of Economic and Social Affairs.
Black soldier flies are already the "most widely used insects produced for animal feed" and are known for their ability to break down organic matter. Along with their most recent use as soil supplements, BSF can contribute to a circular and organic agricultural system. BSF are a nutritious source of protein for livestock; insect farming inevitably produces molted exuviae, which fertilize the soil and allow flies to break down any organic waste produced throughout the process. A consistent food supply of organic waste ensures BSF will reproduce, and the cycle can begin again.
To broaden the use of BSF as an organic fertilizer, society needs to invest more in scientific research and development and encourage insect farming practices. Not only does BSF fertilizer benefit the natural environment through sustainable crop development and conservation of ecosystem services, but the boost in crop yield and productivity enhances economic gains as well. Additionally, the use of harmful pesticides has drastic consequences for human health. By eliminating pesticides and synthetic fertilizers, we can alleviate the disturbing prevalence of health risks from chemical exposure.
Beyond Pesticides advocates for the transition to organic agriculture and offers resources on the website highlighting insects and other pollinators' role in the global food system. Click here if you want to learn more about the dangers of chemical-intensive agriculture, and here to learn about its threats to food security. Take action to support organic farmers and an agricultural system free of harmful pesticides. Land management of public spaces, including parks and play fields, also plays an important role in reducing pollution and mitigating threats to biodiversity and climate. To convert your community to organic land management, see Beyond Pesticides' Parks for a Sustainable Future.
All unattributed positions and opinions in this piece are those of Beyond Pesticides.