25
Aug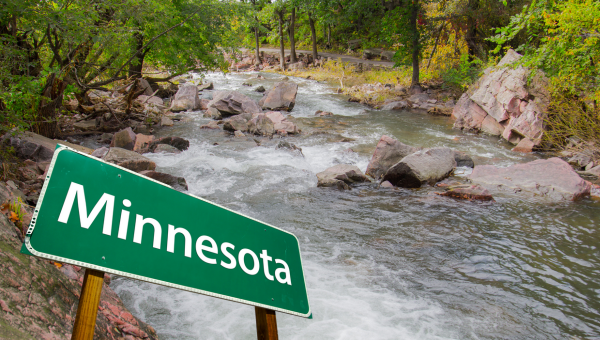 (Beyond Pesticides, August 22, 2023) A U.S. Geological Survey (USGS) and National Park Service collaborative survey report finds a harmful mixture of pollutants, including pesticides, pharmaceuticals, caffeine, methylparaben, algal toxins, and fecal and parasitic bacteria, in Pipestone Creek at Pipestone National Monument in Minnesota, U.S.— adding to evidence of widespread pesticide contamination in waterways across the U.S. Pesticide contamination in waterways is historically commonplace. A 1998 USGS analysis revealed pesticides are commonly found in all U.S. waterways, with at least one pesticide detectable. Thousands of tons of pesticides enter rivers and streams around the US from agricultural and nonagricultural sources, which contaminate essential drinking water sources, such as surface water and groundwater. As the number of pesticides in waterways increases, it has detrimental impacts on aquatic ecosystem health, especially as some pesticides work synergistically with others to increase the severity of the effect. Reports like these are significant tools for determining appropriate regulatory action to protect human, animal, and environmental health. 
The survey collected water samples from Pipestone Creek, the pipestone quarries, and Winnewissa Falls, all of which are on the U.S. Environmental Protection Agency's (EPA) list of impaired waters for turbidity (reduced water clarity) and fecal coliform bacteria (E. coli). Turbidity and fecal coliform levels are high enough to suggest a probable health hazard.
With 21 water-quality samples from eight creek sites and three quarries, the researchers analyzed the samples for over 250 water-quality parameters and contaminants. All sample concentrations for nitrate, total nitrogen in Pipestone Creek, and some sample concentrations of total phosphorus in quarries exceed Minnesota standards and EPA nutrient criteria. Measurable concentrations of pollutants are present in samples, including 13 pesticides, five pharmaceuticals, two other types of micropollutants (caffeine and methylparaben), two algal toxins (cyanotoxins), three fecal indicator bacteria, and parasitic bacterium. The pesticides atrazine, deethylatrazine, metolachlor ethanesulfonic acid, and total coliform bacteria (fecal coliform and Escherichia coli [E. coli]) are detectable in all 21 samples. Although none of the pollutant concentrations exceed any Minnesota standards or EPA aquatic life benchmarks, except the acute toxicity benchmark for atrazine in nonvascular plants, federal regulation fails to consider the potential synergistic and additive threats of these chemicals and pathogens to ecosystems and organisms.
Pesticide contamination of surface waterways and groundwater raises an issue of deficient waterway monitoring and regulations that allow pesticides to accumulate in waterways. While EPA is responsible for protecting human and environmental health from pesticides under the Federal Insecticide, Fungicide, and Rodenticide Act (FIFRA) and point source pollution in waterways as controlled by the Clean Water Act, EPA's waterway regulations have been criticized as highly deficient. Critics say that they do little to protect aquatic ecosystem health, which marine and terrestrial species, including humans, depend on. Previously, USGS-NAWQA criticized EPA for not establishing sufficient water quality benchmarks for pesticides. According to NAWQA, "Current standards and guidelines do not completely eliminate risks posed by pesticides in waterways because: (1) values are not established for many pesticides, (2) mixtures and breakdown products are not considered, (3) the effects of seasonal exposure to high concentrations have not been evaluated, and (4) some types of potential effects, such as endocrine disruption and unique responses of sensitive individuals, have not yet been assessed."
Previous USGS reports demonstrate that pesticides are ubiquitous in the aquatic environment and a pervasive contaminant of freshwater ecosystems. Many of the most commonly used pesticides in the U.S. are detectable in both surface and groundwater, which serve as drinking water sources for half of the U.S. population. However, Pipestone Creek reinforces an all too familiar pattern of pesticide contamination in waterways, not only across the U.S. but the globe. Pesticide-contaminated rivers and streams can discharge polluted water into oceans and lagoons like the Great Barrier Reef (GBR), where a mixture of over 20 different pesticides are present in 99.8% of GBR samples. Additionally, water quality surveys usually detect the presence of more than one pesticide compound in waterways and the possible toxicity on marine organisms. 
Pesticides can adversely affect terrestrial organism health (e.g., endocrine disruption, reproductive defects, neurotoxicity, cancer, etc.), exacerbating infectious disease prevalence, especially in these aquatic environments. For instance, pesticide pollution, attributed to runoff from agricultural farms, indirectly increased the rate of the tropical disease schistosomiasis in Kenya, infecting over 280 million people (2018). Schistosomiasis (snail fever), or bilharzia, is a tropical disease caused by parasitic flatworms (trematodes) in the genus Schistosoma and transmitted via freshwater snail (genus Biomphalaria) to its definitive human host. While the snail could withstand pesticide contamination, the chemical killed off predators of the freshwater snail, resulting in an unabated increase in freshwater snails as an intermediate host for the parasitic flatworms. Additionally, pesticides like glyphosate have antimicrobial properties that indiscriminately kill bacteria, most often living behind resilient, pathogenic bacteria like E. coli and Salmonella. These glyphosate-resistant strains alter gene function to enhance the outflow of glyphosate from the bacterial cell. Thus, this resistance mechanism can encourage cross-resistance against antibiotics for pathogenic bacterial species like E. coli and Salmonella.
Pesticide use can also create bacteria-dominant ecosystems as these chemicals cause "vacant ecological niches, so rare organisms become abundant and vice versa." The bacteria outcompete beneficial fungi, improving soil productivity and increasing carbon sequestration capacity. The resulting soil ecosystem is unhealthy and imbalanced, with a reduction in the natural cycling of nutrients and resilience. Thus, like humans, plants grown in such conditions are more vulnerable to parasites and pathogens. 
Water is the most abundant and important chemical compound on earth, essential to survival and the main component of all living things. Less than three percent of that water is freshwater, and only a fraction of that freshwater is groundwater (30.1%) or surface water (0.3%) readily available for consumption. However, ubiquitous pesticide use threatens to reduce the amount of available freshwater as pesticide runoff, recharge, and improper disposal tend to contaminate adjacent waterways, like rivers, streams, lakes, or underground watersheds. With rivers and streams only accounting for 2% of surface waters, protecting these vulnerable ecosystems from further degradation, including aquatic biodiversity loss and a decrease in water quality/drinkability, is essential.
To protect the nation's and world's waterways and reduce the number of pesticides that make their way into your drinking water, reliance on pesticides must cease. Beyond Pesticides has long advocated for protective federal regulation that considers potential synergistic and additive threats to ecosystems and organisms from admixtures of pesticides — whether in formulated products or "de facto" in the environment. Unfortunately, current administration regulations fail to consider the environment holistically, thus creating limitations in the ability to enact widespread change that improves ecosystem health. However, advocating for local and state pesticide reform policies can protect you and your family from pesticide-contaminated water. Furthermore, organic/regenerative systems conserve water, nurture fertility, reduce surface runoff and erosion, reduce the need for nutrient input, and critically eliminate the toxic chemicals that threaten many aspects of human and ecosystem life, including water resources.
For more information about pesticide contamination in water, see the Threatened Waters program page and Beyond Pesticides' article Pesticides in My Drinking Water? Individual Precautionary Measures and Community Action. Tell the U.S. Environmental Protection Agency to "turn off the tap" on forever chemicals and persistent toxic pesticides must be considered to pose an "unreasonable risk to the environment under FIFRA, resulting in the cancellation of their registrations.
Source: USGS